Did you ever notice how effective many musicians are at communicating?
OK, I know not all of them are (Ryan Adams, I'm thinking of you) but the real stars are experts at it. Most of them have a great mix of talent and training in communicating well.
So what is it that makes them great? Joseph Lalonde is going to answer that below. He is a youth leader at Oak Crest Church of God and an awesome writer. He usually writes at his blog, where he shares leadership tools and encourages you to become a better leader, but today we're blessed by his wisdom here. I encourage you to connect with him on Twitter as well. He's got some good stuff in both places.
Take it away Joe…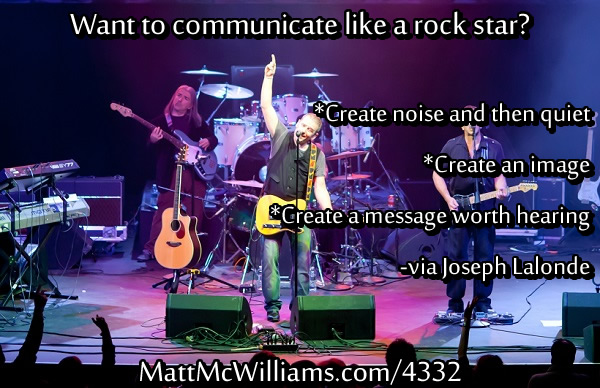 Can you remember the last time you went to a rock concert?
The music was loud. The crowd was excited. The singer may have shared a few words.
There was energy in the room. People were ready to listen to the guys on stage.
They couldn't wait to get what the band offered.
Have you been able to create an energy like this in your organization? My guess is most likely not.
Your presentations may be dull. They don't catch the attention of the audience. And those who heard you speak may not remember what you said.
If you're there, I'd like to encourage you to begin communicating like a rock star. It could change the way you communicate forever.