What if you could magically have an extra half hour or more to yourself or with family each day?
And what if you could increase your productivity by as much as 50% at the same time?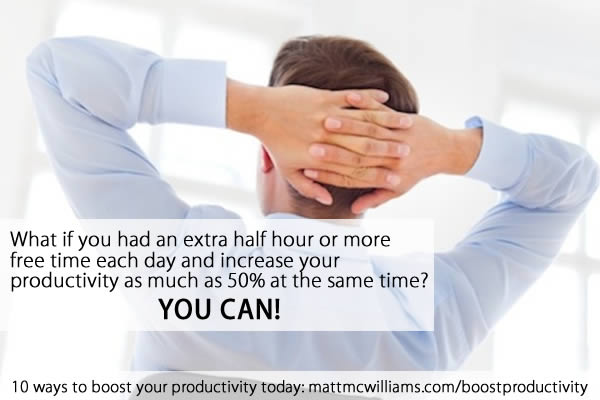 What if you had more free time and got more done at the same time? You can! (Tweet That) | Share this Graphic on Pinterest | Share on Facebook
Does that sound like something you'd like? I know it sounds unrealistic, but it's entirely possible. Let me show you how.
Before we go any further, let me make something very clear. Not one of these 10 tips is a magical productivity bullet. There is no such thing.
Let me also be clear that this list comes from my own personal experience struggling to stay focused and meet deadlines. Each of these works for me, but some of them might not be ideal for you. If you implement a good number of them, though, you really can find yourself spending less time at work and getting more done.
10 ways to boost your productivity…today
1. Realize this first
Before you apply any productivity hacks or new routines, first realize and acknowledge to yourself that you will never, I repeat never, accomplish everything in one day that you need to.