"My business is failing."
With a look of resignation and defeat, Tom uttered those pitiful words to me in early spring.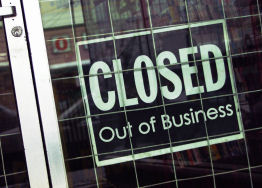 The future is undetermined. If you talk about your future negatively, you prophesy your own downfall.
(Click to Tweet)
By summer, it had become a reality. His business had failed. He was down to his last few dollars and looking for work.
According to him, it had "been failing" for two years, since the economy made a turn for the worse.
I didn't realize it at the time, but Tom was speaking prophetic words. He was speaking future events into current reality.
Saying "my business is failing" is, in its essence, a prediction of future events. It is no different from saying, "I am going to eat." That is a predictor of future behavior and activity. Hours later I "will have eaten."
To suggest "my business is failing" is to declare that at some point in the future it "will have failed."
"My marriage is failing" is no different than saying "I'm going to be divorced."
"My child is failing math" tells me that the end result will have been an "F" in math.
If Tom were to tell me now what he told me then, I would respond much differently than I did then. Here is how the conversation might go today:
Tom: My business is failing.