Leaders and high performers can't afford to get sick.
Yet, with cold and flu season in full swing, we need to be prepared to avoid it and beat it if needed.
Almost every year, I find myself with the beginnings of some sort of sickness. Just last week, I woke up Tuesday having swallowed a porcupine. In the past it usually turned into a full-blown, knock-me-out, watch-Bob-Ross-all-day nightmare.
Until I started following my new all-natural recipe for beating colds and flu.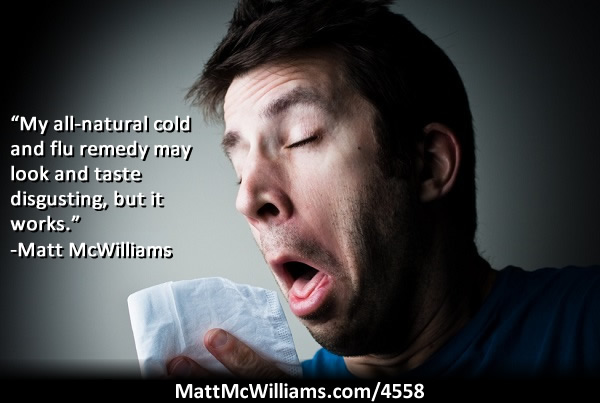 Now, before I continue, let me make two things clear:
1. It works very well for me, but it might not for you.
2. In case you didn't know, I am not a doctor. If you've got some other stuff going on (i.e. high blood pressure, chronic bronchitis, etc.) you should still see your doctor. Also, don't do what I suggest if you are on any long-term medicines. I don't know what might happen.
So with those caveats out of the way, here's what I started doing a few years ago. I have been sick approximately five times since then, about the same number of times as usual. But it has never materialized past the third day and never gotten worse than a mildly sore throat and sniffles.