2012 was officially the "Year of Changes" for me.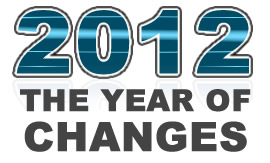 Below are the five biggest changes I made and the lessons I learned from them…that you can learn too.
Became an early riser. I started studying what successful people do and one of the glaring things that stood out to me was that they all wake up before the sunrise. Prior to the summer of last year, I usually woke up either when I felt like it or at the last possible second before I had to get ready. By the end of the year, I was waking up at 5:30 A.M. with purpose. Everything else positive that happened this year is a result of this one change. For more on rising early, check out Andy Traub's Early to Rise Challenge.
Ran a 10k. I wrote about the most valuable lesson I learned running a 10k last year. The training for it was great. I woke up before 6:00 most days and immediately got out and ran. I would arrive home before 8:00 most days already having done a great workout and listened to some great podcasts or audiobooks. This was my time and it became somewhat sacred. I am already looking forward to the warm weather again. Whatever your fitness goals are, I highly suggest finding some way to make it competitive. Competition is one of the greatest forms of motivation.
Started this blog. Oh yeah, that little thing. 95% of starting and maintaining this blog was possible because of change #1. 95% of my writing is done before the sun comes up. 95% of the promotion is done before the sun comes up. In less than five months, this blog has:

Attracted an audience of more than one hundred views per day.

Averaged more than twenty-two comments per post.

Had more than one hundred subscribers via email and RSS.

Impacted lives in ways I could never have imagined. From the Thank You Revolution (especially Jon Stole's story) to inspiring people, I've been blown away by the impact this thing has had in the past few months.
All because I started it.

Took naps. I started taking semi-frequent naps mid-day as a way to decompress and recharge my batteries for the second half of the workday. There is a lot of science to naps. But I think it's a pretty simple concept. Sometime approximately halfway through your workday (for most people that will be five to seven hours after awaking), you lie down, close your eyes, think of nothing, and relax completely for twenty to twenty-five minutes. No more or less. Try it for thirty days and I can almost promise you that you will thank me.
Let me be me. Professionally, I made a decision mid-year to let me be me. This meant showing a bit of my goofy side. It also meant prioritizing the things in my life that matter most to me, like customer service and creativity. When I wrote, I wrote in my style. And people liked it. Numerous affiliate marketers told me that my emails were the only ones they opened. One told me that she reads my emails to her daughters. That is crazy. All because I let me be me. And it paid it off as I came one step closer to one of my major goals this year: winning the Pinnacle Award for Affiliate Manager of the Year. I was recently named one of three finalists.




Are you letting you be you? What incredible changes could you this year that you will be writing about next year?