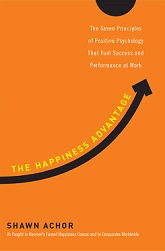 Subtitle: The Seven Principles of Positive Psychology That Fuel Success and Performance at Work
If you want a preview of the book, watch the video below. It describes it better than any review I could write.
This book is a life-changer.
It's full of helpful psychological insight as well as practical tips to improve your happiness, which in turn will improve your productivity and rates of success.
I've mentioned Shawn twice and this book has influenced my thought life more than any other book other than the Bible. Watch the video below and decide for yourself if you think this book will change your life as much as it has mine.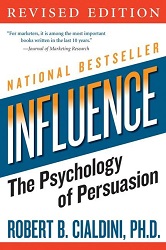 Persuasion is not a dirty word. It's all about knowing how to use it.
Dr. Robert Cialdini uses study after study to show you how to be more persuasive, whether it's at work, at home, in marketing, or leading others. He also shows you how to not to fall for the persuasive tricks of others.
Let me be clear…this book will blow you away.
I've written about the lessons I've learned from this book more than any other. Why? Because it really is that good.
Posts I've written about Influence by Robert Cialdini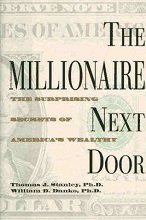 Until you read this book, there is a good chance that everything you've ever thought about millionaires is wrong.
They aren't usually the ones driving flashy cars, wearing pinstripe suits, and showing off their $10,000 watch. They are often the family next door who own a decent business. They live in a moderately priced home, drive cars that are older than their children, and 85% of the time, they are first generation rich.
Thomas Stanley and William Danko show you what works for most wealthy Americans. How they built their wealth, how they keep it, and how they spend it.
This book is not only educational and helpful, but surprisingly inspirational. It's mostly data and research, but they stories and real-life examples inspire me.
There are no top secret get-rich-quick ideas in here, but if you want practical, proven advice on how to build wealth, read this book.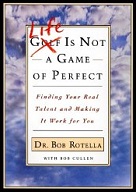 I first read this in college and it didn't do a thing for me.
So why do I recommend it? Because the lessons I learned in this book somehow made their way into my subconscious. And they changed me.
I became a fan of Dr. Bob Rotella because of his sports psychology books. I grew up playing competitive golf and his books helped me to be the #1 high school golfer in Tennessee, to be ranked 14th in the country in college, and win multiple prestigious tournaments. This book has done the same for my life.
Ultimately, this book is about potential. Your potential. And how to reach it.
Check out the posts I've written about this book and about Dr. Rotella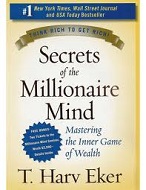 This is one I debated including.
No, life is not all about money. Yes, life is very much about mindset.
The secret of this book is that it's power lies not only in money, but in every endeavor you undertake in life. Money is just a proxy for whatever your definition of success is. Not to mention…it never hurts to be really good with money.
This book is exactly what you might think from the title. It's about the mindset of millionaires. Let's be honest, rich people think differently than poor people.
For the last spot, it was between this T. Harv Eker masterpiece and Robert Kiyosaki's Rich Dad, Poor Dad (one I'd also recommend checking out).