For what are you thankful this year?
Below in the comments I would love for you to share those things for which you are thankful this year.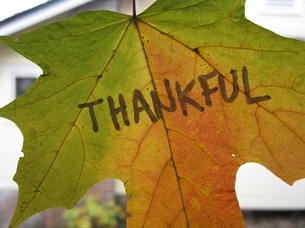 By the way, did you notice that my title used proper grammar? ("Things For Which I am Thankful" vs. "Things That I am Thankful for"). Five points for me.
It really does seem that this time of year lends itself to more reflection and thankfulness. Part of it might be the weather. Part of it might be, personally at least, my exhaustion with work (this is the craziest time of year for me). And part of it I think is that I know full well that next Thursday if I expect to partake in any of the copious amounts of meat, starches, and sugars, I must have a few ready-made answers to the question, "What are you thankful for?" (Hey, I'm not saying others are going to use proper grammar…just keeping it real here).
Here is a partial list of the things for which I am thankful this year.
That "dude" is becoming increasingly acceptable in business circles. I say "dude" a lot. You're a dude, I'm a dude, she's a dude. We're all dudes, so it's good that everyone from CEOs to marketing VPs are cool with being labeled as such.

That my daughter is considerably smarter than I am. My daughter is so incredibly smart, among other amazing traits. Which brings me to #3…

That my wife, Tara, has sacrificed career, money, and surely a piece of her sanity to spend virtually the entire day with our daughter. Aracelli is 19 months now and has an incredible mother who, every day, reads 10-30 books a day with her, plays with her, teaches her, and prays with her. I pray that more and more children would be blessed in this way.

That I finally figured out how to delete the wrong email address for one of my contacts, so I no longer email him only to realize that a former boss just got an email making fun of him. (Yes, I know I shouldn't make fun of people, but really, 72% of my life's enjoyment comes at the misfortune of others, so please, don't take away my joy!)

For sunrises. Prior to this year, I had not seen very many, but this year has been amazing. I've seen them while writing at the kitchen table. I've seen them at the 3 mile marker while running. I've seen them while doing nothing at all. I've seen them over a warm, dew-covered hill and over a frigid, frost-covered lawn. Every single one of them is beautiful and serves as a reminder that, indeed, God's mercies are new every morning.

My men's group at church. This year I found a group of guys who come from all sorts of backgrounds, life experiences, hurts, joys, and races who come together every week to support each other, listen to each other, love each other, and pray for each other. If heaven is better than this group of men (and I know it is), it's a thousand times better than anything I can imagine.

That the Tigers swept the Yankees. Enough said. One does not have to be a Tigers fan to enjoy a good beating at the Yankees expense.

Chris LoCurto (and the Little LoCurtos as someone called us once). Chris, I'll make this brief. You are the reason I have hope in my leadership and a vision of what can be with my business. Thank you to you, your wonderful tribe, and to Debbie and Dave Ramsey for allowing you to do so much to help others like me.

That in an era when the average marriage lasts about as long as the average NFL career (3 years-ish), my wife and I will celebrate our fourth anniversary on Thanksgiving Day this year. It hasn't been all cupcakes and frolicking unicorns, but we have stuck together, often battled our way through adversity, and learned a ton. 

That I continue to learn from so many sources. Here is a short list (and if I have left you off, I either forgot you or didn't learn a thing from you this year…just kidding). 

Andy Andrews, whose books have inspired me, educated me, and often moved me to tears), Michael Hyatt, whose book, Platform, inspired me to start this blog, Rick Warren, P.K. Hallinan, Hunter Ingram, who challenges me virtually every week to get out of my box and has loved me better than a brother for more than 17 years, Lily Kreitinger, Dan Black, Bret Wortman, Mark Seiverkropp, Brendon Burchard, whose books The Millionaire Messenger and The Charge, rocked my world this year, Joel Fortner, Carol Dublin, Todd Liles, Michael Holmes, Jon Acuff, whose book Quitter made me realize how incredible my "day job" is after all, Joshua Rivers, Luke Stokes, Laura Johnson, Dan Rockwell (the Leadership Freak), Jon Stolpe and so many others. I am perpetually in class thanks to all of you.

That I literally get to wake up every day excited about the work I do. I work with some of the most amazing people in the world and while there are moments of stress, every day is fun and rewarding.

For you, my readers. Your comments and feedback are the fuel that gets me going most days. I love you all.
For what are you thankful this year?