When achieving your goal is certain, do you keep pushing to get better?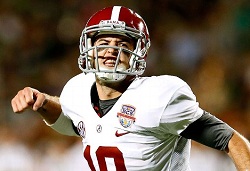 In one respect, this post is painful for me to write because, as a former athlete at the University of Tennessee, saying anything positive about Alabama borders on sacrilege.
I did not watch the national title game, but a friend sent me the forty-five second video below that I encourage you to watch.
Here is the situation. Alabama is up 42-14 with 7:00 to go in the game…and they have the ball. That's right, they are up by 28 points, with one of the top five defenses in the country to back them up, with barely seven minutes left. They are seven minutes from achieving their goal, a national championship.
In other words, victory (achieving the goal) is all but certain. Let the victory parade plans begin.
And then this…
That's what champions do. That right there is why Alabama has won three of the last four college football national championships.
With victory all but guaranteed, their quarterback, A.J. McCarron, is still pushing, still chasing perfection. His passion for excellence does not wane, no matter the score.




Neither does it wane for their coach, Nick Saban, who is fired up with a twenty-eight point lead and seven minutes to go as some coaches get all year. He still expects excellence. He knows that his team can do better and anything less than their best will not be tolerated.
What about you?
How do you adjust in the face of pending victory or achievement?
Do you let up? Tolerate mediocrity? Do you coast?
Or do you keep pushing? Perhaps even push harder?
Do you run through the tape or to the tape?
When victory is clearly in sight, champions in sports, in business, in life, push even harder. They turn it up a notch. Excellence, in the eyes of a champion, is not shown only on the scoreboard. It's shown in giving everything they've got on every play.
So, what about you? What do you when you're about to reach your goals?