Congratulations to Carol Dublin for winning a free copy of a great book, CrazyBusy: Strategies for Handling Your Fast-Paced Life by Dr. Edward M. Hallowell.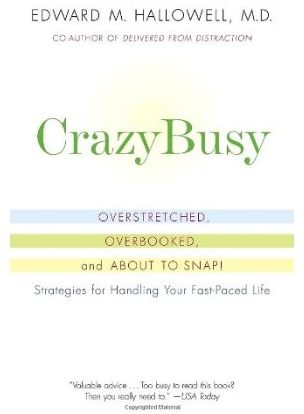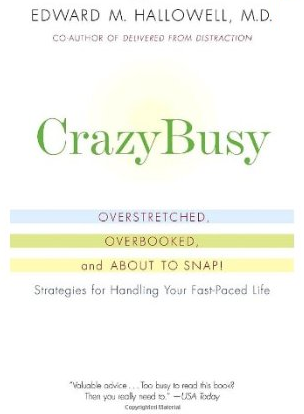 About CrazyBusy:
Hallowell (who also wrote Delivered from Distraction) takes his study of Attention Deficit Disorder and applies it to everyone on hot to handle our increasingly busy lives, what he calls the "problem and the opportunity" of modern life. Edward M. Hallowell, M.D., was an instructor at Harvard Medical School for twenty years and is now director of the Hallowell Center for Cognitive and Emotional Health.
Although his background is in ADD research, this book applies to everyone. I personally think that nearly everyone in the United States today displays some of the characteristics of ADD. It's just a part of our – did I tell you about the time I played golf with Vince Gill…oh, and I have some exciting news coming up soon about the Thank You Revolution – culture. Sorry…squirrel.
In Hallowell's own words:
Look at what's happened to the usual how-are-you exchange. It used to go like this: "How are you?" "Fine." Now it often goes like this: "How are you?" "Busy." Or "Too busy." Or simply "Crazy."
Without intending for it to happen or knowing how, when, or why it got started, many people now find that they live in a rush they never wanted. If you feel busier than you've ever been and wonder how this happened and how you can keep up the pace much longer, you are hardly alone.
Crazy? Maybe not. Dysfunctional? Yes, indeed. We all have more to do than ever before — and less time to do it. In this highly listenable audiobook, the foremost expert on ADD, Ned Hallowell, explores the society-wide phenomenon of culturally induced ADD.
Being busy may very well keep you from doing what matters most, or it may lead you to do things you deem unwise (like getting angry, for example). Being busy is a problem for almost all of us. This audiobook is about both the opportunity and the problem — where this peculiar life comes from and how to turn it to your advantage. Offering solutions to this difficult, complex problem that might work for you, most importantly, Crazybusy may prompt you to create solutions of your own.
If you find yourself constantly distracted, unfocused, or just too plain busy and scatter-brained, this book is for you.




Here are the top commenters last month. Thank you all for contributing so much to this community!
Mark Sieverkropp
Steve Pate
Jon Stolpe
Lily Kreitinger
Carol Dublin
Wade_Thorson
Bob Winchester
Kathy Leicester
Jim Ryan
Joshua Rivers