If you want to influence people, you have to understand them first. If you want more sales, more followers, or more raving fans, you have to walk a mile (or ten) in their shoes.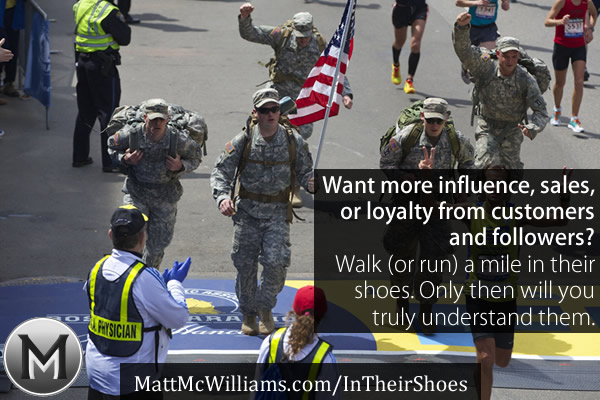 Last year, I ran my first half marathon.
The first two people to take off from the starting line were two soldiers, dressed in full gear. I'm talking camouflage pants and coats, boots, and a nearly 100-pound backpack. For 13.1 miles!
As I passed them near the one-mile marker and then watched them cross the finish line long after me (I'm bragging that I beat two guys carrying the equivalent of my wife on their backs!), I realized something:
I couldn't have done one mile like that. At least not at the pace they were going. I would have passed out at the half-mile marker.
A day in the life of…
USAA understands this. USAA is an insurance company based in San Antonio, Texas (go Spurs!). They only offer their services to military members and military families.
New hires don't have to have military experience, but they are required to understand the military life. USAA makes them walk in their customers' shoes…literally. And wear their customers' helmets, backpacks, and flak vests.
They also eat the same food the military eats in battle – MREs (short for "Meals Ready to Eat). They read letters from soldiers and their families. They live a day in the life of a soldier (actually a few days).
And it doesn't stop after the training phase. The company operates on military time. They call their customer service reps "troops." Each year, the average employee continues to go through 20+ hours of military-type training.
In short, USAA makes sure that their team members understand their customers' lives, which completely changes how they serve them.
The result?
If you think that's overkill, just look at the numbers.
USAA has a 98% retention rate. In a commodity world like insurance, that is virtually unparalleled loyalty.
82% of their customers label themselves as "passionate supporters." 82%! For an insurance company. 
I have a background in the insurance world and I'm not even passionate about insurance. I can't think of many things more boring than insurance, but USAA goes beyond dollars and cents and focuses on understanding their customers.
In whose shoes do you need to walk?
Who are your customers?
Who are you leading?
Who are you influencing?
Who do you want to follow you?
Who are you trying to recruit?
Have you walked a few miles in their shoes?
What is your version of eating an MRE or wearing boots? What do you need to understand more about your target audience? What are their hopes, dreams, and fears?
Until…
Until you truly understand your customers, your sales will continue to suck.
Until you truly know your audience's needs, you will never influence them.
Until you have felt the pains your employees feel, you can never lead them effectively.
But once you walk those miles, feel those pains, and understand your audience…you will have:
A newfound purpose
True believers
Undying loyalty
Focused attention
Abounding influence
A passionate army of supporters
Action item: Walk a mile in someone's shoes today. Ask what others need or want. Discover how to create an army of loyal followers.
In whose shoes do you need to walk?