Changing the world starts with one simple act. It starts with one decision. With one new experience. With one new idea. With a stretching of the mind. I can assure you that changing the world is rarely as grandiose, glamorous, or difficult as most people think.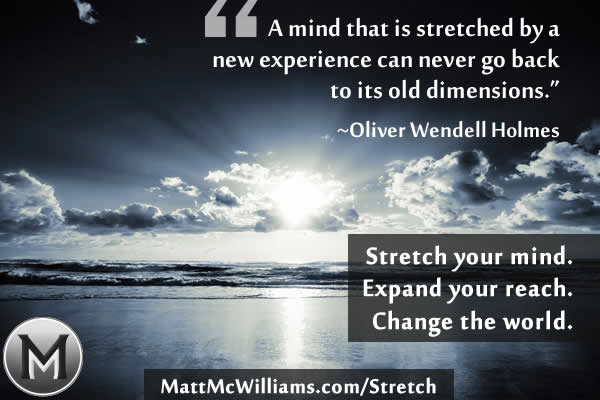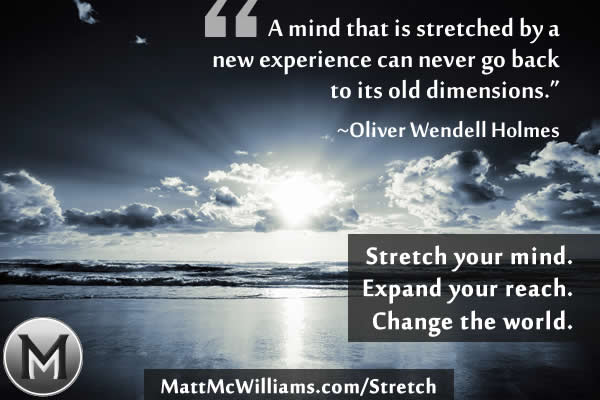 Changing the world usually has roots in one simple act:
Starting something.
That one simple act leads to stretching your mind.
Oliver Wendell Holmes said:
A mind that is stretched by a new experience can never go back to its old dimensions.
My expanded mind
I've only recently begun to develop the philosophy that we are all born to change the world. Six months ago, that seemed preposterous. It seemed childish and perhaps even irresponsible.
But then it hit me…why else would any single person exist?
If we aren't here to change the world, we are unnecessary.
As that concept developed in me, I began to see myself in that light. I began to see myself as a world-changer. I began to see myself as possessing immeasurable abilities and influence.
And it's impossible for my mind to return to its previous limited dimensions. Ever.




It only takes one
Shortly after first considering this concept, I received a letter from a reader that read, in part:
Thank you for doing what you do… has been an answer to prayer. I was looking for someone to mentor me before I started reading your blog. Although you are not my true mentor per se, with the wisdom and insight I have received from you, it's the next best thing. There are a lot of blogs out there and I subscribe to about five of them, but yours has a deeper connection with me.

I pray that you keep doing what you do. You have kept me challenged and you keep me changing, evolving into a better version of me.
That was one of many such notes I received in the weeks immediately following the development of my new philosophy. It was literally as if God was confirming what I now thought was true.
And once I got just a few of those letters or emails, I knew I could never stop. Ever.
I had changed a life…and in doing so, changed the world.
So, yes, I am a world changer. You are, too. We all are.
I write because someone is reading this. I write because someone needs this. I write because it changes the world.

Action item: Expand your mind today. Consider something that you can start or have already started that can change the world. Whatever that thing is, start on it today and don't ever stop doing it.
What one thing can you do today to change the world?