Congratulations to…Jim Ryan for winning a copy of Andy Traub's new book, Early To Rise: Learn To Rise Early in 30 Days. Congratulate Jim on Twitter: Click here to tweet a message.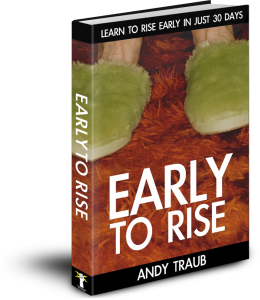 This is a book that has seriously changed my life. The post you are reading (and almost every post you have ever read here) was written before the sun came up. The Early to Rise book and challenge allowed that to happen!
Later this month, I will be interviewing Andy about the book, the Early to Rise Challenge, and much more, so stay tuned.
Here are last month's top commenters. As you can tell, it was the #10 commenter who won the book this month. Last month, it was the top commenter. As a reminder, each month, a winner will be chosen at random from the top ten commenters. The higher you rank, the more entries you get in the drawing. I do this to encourage more people to participate and have a chance to win as opposed to just rewarding the top commenter.




Thank you to everyone on this list and who just missed it. You all make this fun!
Mark Sieverkropp
Jon Stolpe
Tom Dixon
Wade_Thorson
Lily Kreitinger
Carol Dublin
Bret Wortman
Dan Erickson
Steve Pate
Jim Ryan