We're very close to launching my long-awaited podcast, The World Changer Show with Matt McWilliams.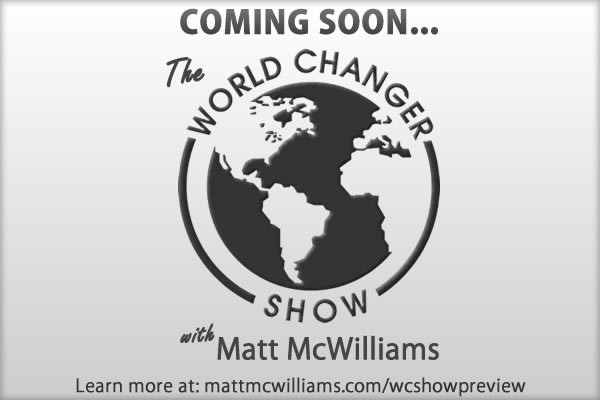 It's been nearly two years in the making and it's coming on September 16, 2014! (It sure feels good to write that date and put that out for all to see)
The show's focus will be on learning how to be a world changer. We will release two new episodes each week, with each lasting approximately 30-40 minutes. There will be a variety of episodes, some solo lessons with just me and some interviews with amazing world changers. We're even going to ask you to help us select some great people to interview. We want to introduce the world to those world changers who aren't necessarily famous.
Along the way, you'll grow as a person, develop as a leader, be motivated to succeed, and learn how to communicate better, surround yourself with a support group, and much, much more. I'll share my tips and tricks to help you change your life and ultimately the world. I'll also motivate you to get out of your comfort zone and be the world changer you were born to be.
HOWEVER, we need your help to make this happen. Before we start producing the first season and launch this thing on September 16 (that's only 7 weeks away!), we want to make sure we're covering the right topics and have the right guests.
That is where you come in. Please take 1-2 minutes to answer this super-short survey—it's only two questions…
What are the top 3 topics you want me to cover in my upcoming podcast and what world-changing guests would you like to hear on the show? That's it. Two quick questions so I know what to cover and on September 16, we change the world together. Sound like a plan?
NOTE: The survey is 100% anonymous, but if you would like to officially nominate a world-changer to be a guest on the show, click here after you complete the survey.
Thanks for your help! We're super-excited about this launch.
Remember, Tuesday, September 16 is the big day. I'll be sending you more information soon about the launch and how you can subscribe and help to change the world. So, stay tuned.
Launch Team
If you are interested in being a part of my Podcast Launch Team, simply click here and I will be in touch soon with more details on how you can help launch the podcast.