"But we pay well, have free food, and a company arcade. This is a great job" Those were the words of the leader of a fast-growing startup (we'll call him Simon) who was hemorrhaging team members. As fast as he could hire one person, it seemed like two were out the door.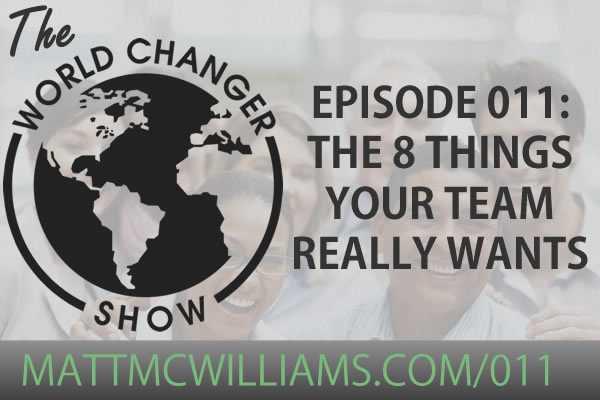 OK, it wasn't that bad. He has more than one hundred team members and is forecasted for nearly $200 million in revenue this year. The seven-member executive team seems happy and all but one of them have been in place for the past three years.
Sales are up, costs are down, and yet…he can't seem to keep any mid-level talent. The average tenure of his managers and VPs is less than eighteen months. Three positions are currently unfilled. His past two hires quit before they reached six months. Simon was at his wit's end. The good news is that he recognized that if he didn't address the problems, they would be his downfall. He had a strong desire to fix them. What he didn't know are the eight things his team really wants. They are the same eight things most professionals want.
So whether you are leading a company, growing a non-profit, or leading a team of salespeople, this podcast episode is for you.
Listen to this Episode
Episode Links and Resources
Post: 7 steps to developing, communicating, and drilling home a vision
FREE BOOK: The 8 Things Your Team Really Wants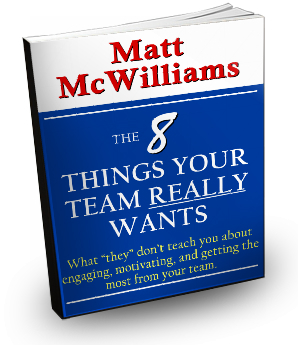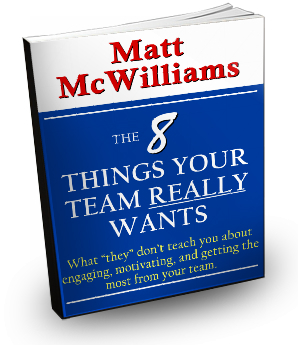 Ask Me a Question
If you have a question, comment, thought or idea, you can leave a voicemail for me or contact me via email.
Subscribe to the Podcast
Share the Love
If you enjoyed the show, please rate it on iTunes and write a brief review. That would help tremendously in getting the word out and raising the visibility of the show so that we can inspire other World Changers just like you.
Next Episode
Join me for the next episode, an interview with Tammy Helfrich, as we discuss how to find a community to support you, transitioning to work you love, and sharing your voice with the world.