"I don't know that my father ever said 'I love you.'"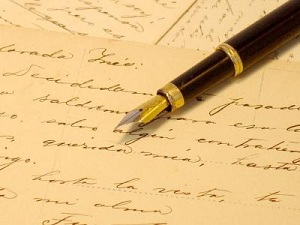 I said this to a life-long friend recently. He couldn't believe his ears.
He reminded me that dad had written me hundreds of letters over the years, prior to his death in 2005. Each of them was signed, "Love, Dad." They were his way of expressing love to me.
Today, my biggest regret is losing those letters.
I didn't realize how meaningful they were at the time I lost them. I had just moved back home after college and had no space for anything when I moved back in with my mom. My focus was on my career, not a box with some letters and old mementos. Today, I have no record of any of his writings.
My father's notes were frequent and meaningful. His handwriting was immaculate and my grandmother had the report cards to prove it. In the 50's and 60's, they still taught penmanship in school…and my father got straight A's. To this day, when taking the time, I will occasionally write a sentence that looks like his handwriting and smile. I realized recently that I have always tried to emulate his style, but I've never had the patience it takes to write that well.
His letters were carefully crafted pieces of literature to me. Often about golf (he was my golf instructor after all) and often about life, his words always seemed so carefully thought out and from the heart. Rarely did a page have an error on it, and if it did, it was perfectly blotted out and a new line begun. He never wrote on lined paper and yet the lines were always perfectly straight. I always assume he wrote with a lined piece underneath for direction…but he didn't.




I've gone into this much detail to show that my father did say "I love you." With every stroke of the pen. With every thought put on paper. With every painstakingly crafted word he wrote.
More than seven years ago, my father passed away peacefully in his sleep from Amyotrophic lateral sclerosis (Lou Gehrig's Disease). He'd stopped writing when the dementia set in a year before. The beautiful prose I'd come to love was suddenly gone with no warning, the victim of a dreadful disease for which there is still no cure.
The same friend who reminded me of the letters was the one who broke the news of his death to me. Thanks to him, although I do not have the physical pieces of paper, his words live on in my mind and heart forever. He reminded me of a father's letters to his son.
The written word is unparalleled in all of mankind for its ability to inspire, spark imagination, and express love and appreciation. And it is memorable beyond comparison (music being a close second).
Rich Langdon shared a video in a comment on Jon Stolpe's guest post here, The Power of Gratitude: A Thank You Thursday Story, that reminded me again of my father's letters. It's a TED Talk by Hannah Brencher entitled Love Letters to Strangers. I share it with you below in the hope that you too, if you have not already, may begin to put pen to paper and express your love and appreciation as my father did.
What will you write today and to whom will you send it?