Thinking of buying Ryan Levesque's QUIZ Funnel Masterclass? Make sure to read this first. You'll kick yourself later if you don't. Full review and $12,219 exclusive bonuses below.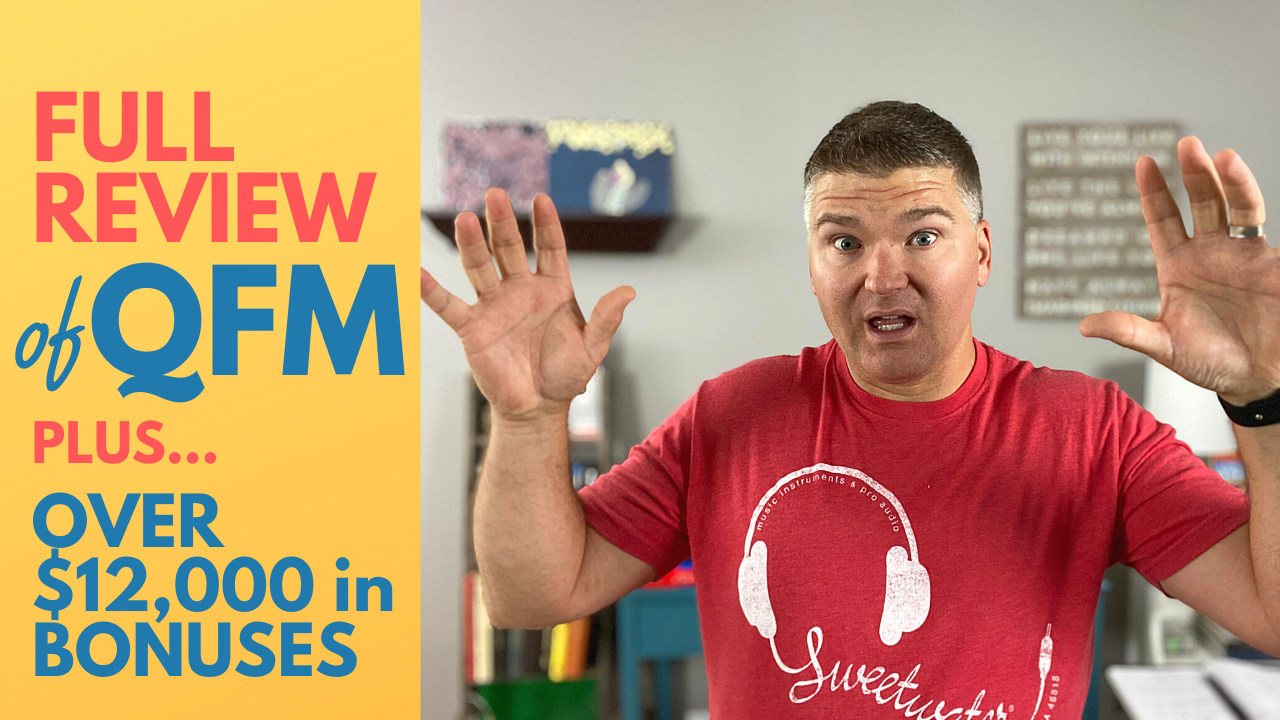 So…the big question…what is Ryan Levesque's new QUIZ Funnel Masterclass? This full review will answer many questions you have and some you didn't even think to ask.
First off, a full disclaimer: I am an affiliate for Ryan's course and I consider Ryan a friend. But to be clear, that does not affect what I share below in any way. It does mean, that if you purchase Ryan's course through my affiliate link I'll get a small commission (gotta love capitalism, right?). It also means that if you purchase through any link in this review, you will earn access to my exclusive bonuses
Ok, now that we've got the boring disclaimers out of the way, onto the fun stuff…here's my full review of Ryan Levesque's QUIZ Funnel Masterclass. You can either watch the video or read the review below. << Skip to the Bonuses >>
Who is Ryan, and What's So Good About His QUIZ Funnel Masterclass?
Ryan and the ASK Company Get Results
Ryan isn't new to online marketing. In fact, he's written multiple top-selling books for online marketers and has been featured across national media including Wall Street Journal, Entrepreneur, USA Today, Forbes, NBC, & Fox.
They are a 5-Time INC 5000 Company and are #50 for the fastest growing Education Company in the United States.
QUIZ Funnel 3.0 is a program to help people thrive in this new 3.0 world that we are embarking on.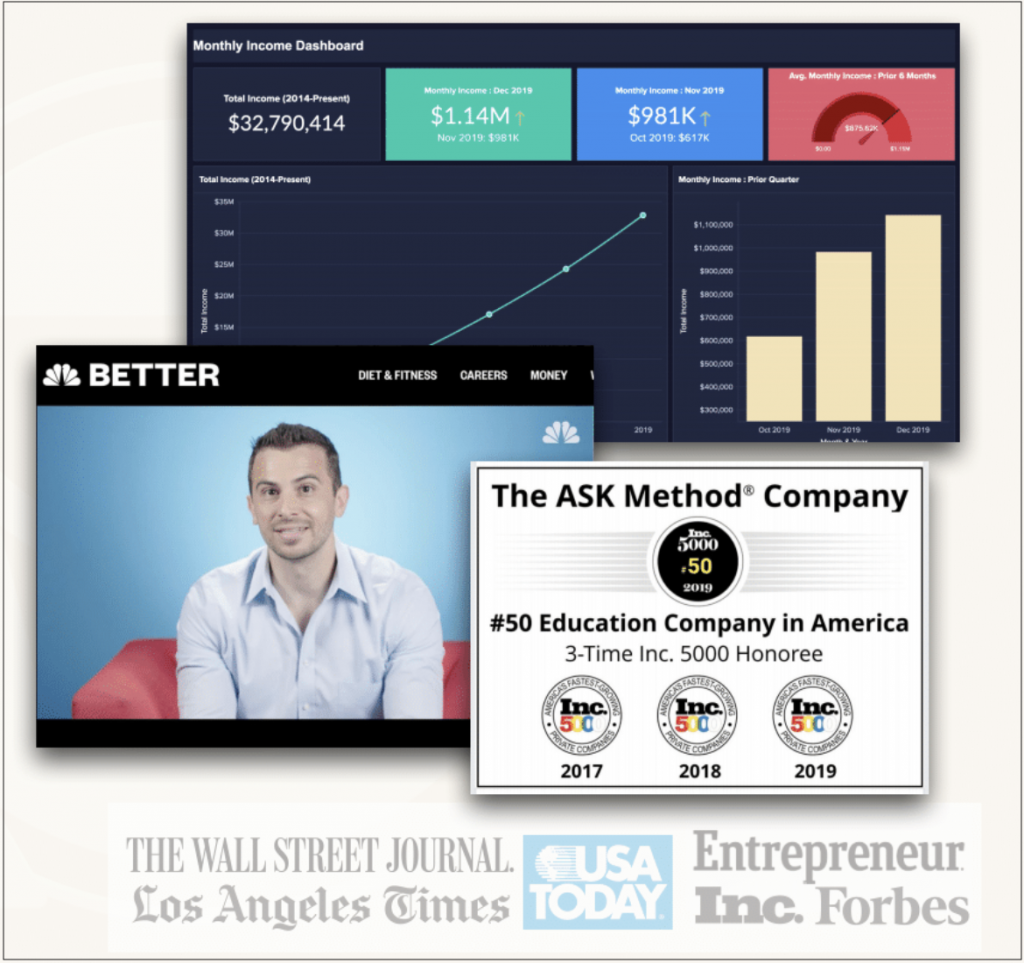 Ryan and his team have helped entrepreneurs like Michael Hyatt and Amy Porterfield revolutionize their business. Platform University introduced their quiz and increased their monthly revenue from cold traffic by 61%.
Their quiz funnel software, bucket.io, has had over 30 million + users just in the past 12 months.
Let's put it this way…they know a thing or two about funnels because they've seen a thing or two…or 30 million.
Web 3.0 is changing the way we do things. And that includes digital marketing. Everywhere you look, you can see shifts…
…from Big Tech to Data Privacy…
…from 3rd Party Data to Zero Party Data…
…from spying to ASKing…
Never before has it been more important to own your own data and build trust.
Quiz Funnels Work
There are some things that simply work better now than ever before.
And quiz funnels are one of them.
They are the "right here, right now" tool marketers can leverage for better results.
There are 5 big reasons quiz funnels have emerged as such a powerful sales tool:
Incredibly valuable data

Incredibly cheap leads

Incredibly high conversion

Incredibly fast results

Better sell and better serve
After using the methods in the QUIZ Funnel Masterclass, Ryan and his team have proven that quiz funnels:
reduce lead cost
bring in more leads by up to 80x
give you the best data about your audience
convert higher based on customized offers
help you sell and serve better by providing the best fit for your audience's current situation
Just look at some of these results…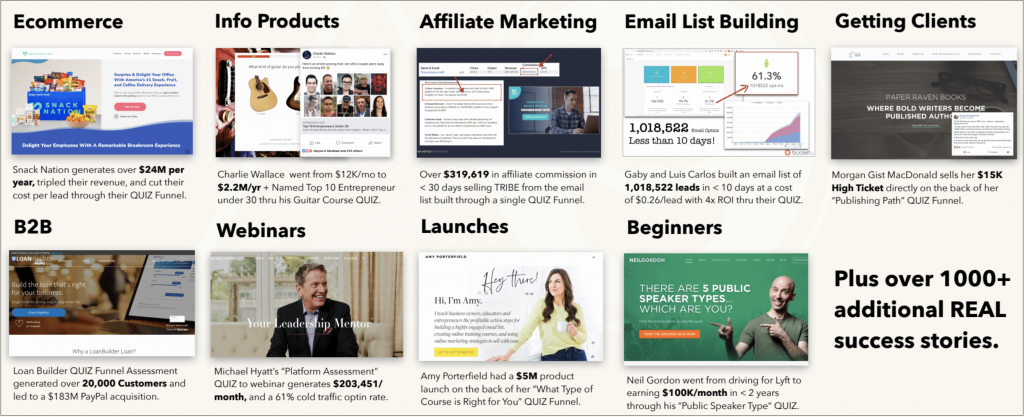 It's hard to deny that this system works.
What's NOT So Good About the QUIZ Funnel Masterclass?
1. This Is A New Course
The course material has been around for years, however, it's the first time it's been presented as an online course.
The team has built over 1,000 quiz funnels in the last year.

Access to more data and have more experience than anyone on the planet.
There are New Case Studies
People are succeeding now from a

ll around the world.

Different markets and d

ifferent industries are jumping on board.
There's New Launch Content 
Everything has be recreated, reimagined and reenvisioned.

Ryan and his team have spent the last

18 months t

esting, t

weaking and optimizing. 
And then, there's QUIZCart!
Converts clicks into customers

Custom Checkout Pages

1-Click Upsell Flows

All based on QUIZ answers
So QUIZ Funnel 3.0 may not have tens-of-thousands of people who have gone through the course. But, there have been many thousands of successful students who've grown their businesses by 50% or more using the strategies QUIZ Funnel3.0 is based on.
Ryan has taught and implemented the techniques he teaches in this course in his own businesses as well as with his clients with great success (see above…).
You'll find testimonials from people he has worked with readily available on his site.
So yeah, this is a "downfall"…but not really when you consider the framework he teaches he's tested with some of the biggest names online.
2. There's a TON of Great Material
This isn't a "not so good" part of the course necessarily.
But, the overwhelming amount of research that has gone into what Ryan teaches, as well as his experiences with his coaching and consulting clients can be too much if you're afraid of taking Ryan's advice step-by-step.
3. I Haven't Personally Reviewed All The Material
How could I have gone through this when this is the first time this course is released.
This is an honest review, so it is important for me to tell you that I have not looked through all the course content myself.
My team and I have watched the portions of the training and can tell you first hand that what we've seen is amazing.
Though I haven't reviewed everything in this course personally, I have been watching Ryan for a long time and I can tell you that he never does anything halfway, so have no doubt that the QUIZ Funnel Masterclass is awesome…in fact, my team and I are currently going through it revamp many of our offers.
Who Is The QUIZ Funnel Masterclass For (And Who Is It NOT For?)
Who Is The QUIZ Funnel Masterclass For?
The QUIZ Funnel Masterclass is for anyone who currently has an audience and business or who is looking to start a business and wants to do so profitably sooner rather than later.
This includes:
Entrepreneurs
Speakers
Authors
Designers
Bloggers
Podcasters
Consultants
Experts
Influencers
…anyone looking to massively grow their audience and sell the right products at the right time.
Who Is The QUIZ Funnel Masterclass NOT For?
As with many of the products I review, many of the reasons this course would NOT be for you revolve around YOU and YOUR choices.
This course is NOT for you if one or more of the following are true:
You're unwilling to invest the time necessary (6 weeks of training)
You're unwilling to make the monetary investment in the course (as of this writing the course is

$2,499

 ).
You think this is a "get rich quick" plan that will magically cause money to appear in your bank account.
You don't want to grow your business by giving prospective customers exactly what they want.
You are already a pro at creating quiz funnels and segmenting your audience to serve them best.
In short, if you aren't willing to jump in with a desire to learn from Ryan and put the work to develop your own quiz funnels, then I would strongly recommend that you NOT purchase this course.
What's Inside the QUIZ Funnel Masterclass?
The QUIZ Funnel Masterclass is based on their $5,000 Quiz Funnel Bootcamp in-person training.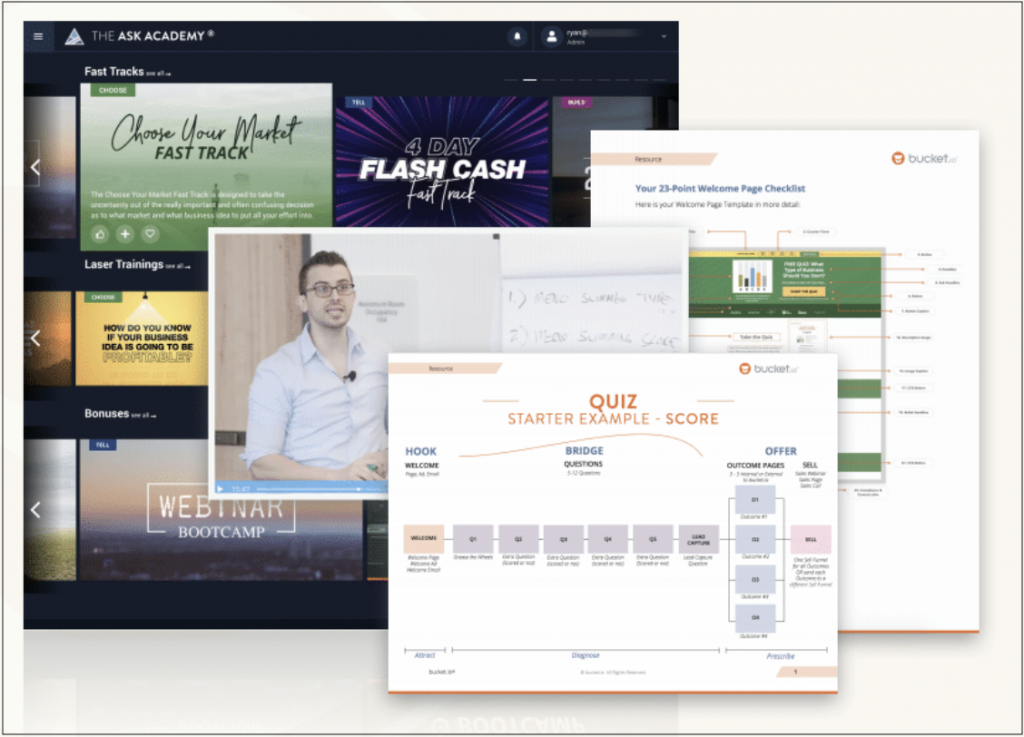 This brand new 3.0 version of the Flagship Online Training Program features:
Module 1 – Your Quiz Hook
Module 2 – Your Quiz Questions
Module 3 – Your Post-Quiz Offer
Module 4 – Your Quiz Pages
Module 5 -Your Traffic Strategy
Module 6 – Optimization & Beyond
Training Also Includes
Live Q&A Calls with recordings available
Live Funnel Reviews
Step-by-Step Checklists & Templates
The Ultimate Quiz Swipe File
90 Day Access to the Private Facebook Support Group
Lifetime Access to the Training
Access to the NEW Bucket 2.0 Enterprise Software
And the Mother of All Bonuses…Ryan and his team will build your quiz for you!
And, here's something Ryan has added that takes your QUIZ Funnel 3.0 experience to another level…different…
VIP Upgrade ($500 one-time cost)
Here's how the VIP Upgrade impacts your investment:
You get:
Web 3.0 Funnel Training

QUIZ Funnels: The Ultimate Web 3.0 Funnel

All standard bonuses

Bucket.IO Enterprise Account

DFY "Build Your QUIZ" Super Bonus

All Standard Features Plus

Traffic & Advertising:  The Future of Advertising in a Cookieless World

Digital Products:  Using Blockchain, Tokens, & NFTs in Your Products

Data & Privacy:  Going from relying on 3rd-Party to Zero-Party data

Email & Text Marketing:  The future of follow-up in the post iOS 15 world

Plus:  Priority DFY and Q&A VIP Access Pass

Plus:  Verified Course Completion NFT Certificate that will be permanent
What Risk Is There?
This is one of the biggest questions people ask themselves when investing in courses…and probably at least partially why you are reading this review now.
What risk is there in purchasing Ryan's QUIZ Funnel Masterclass?
To be honest, next to none.
Seriously.
If you take a look at Ryan's track record – running an INC 5000 company, then consulting with people like Michael Hyatt, Amy Porterfield and many more, there is really no question as to his ability to build successful quizzes that can explode your business.
Really, the only variable is whether you are going to be teachable and put in the work necessary!
But, still the same, Ryan offers a 14 Day 100% Money Back Guarantee.
All he asks is that you complete the course work from Module 1, showing that you at least gave it a try…and if you still decide the course isn't for you, Ryan will send you a swift and full refund.
(But with all the research and preparation that went into this course, I highly doubt you will go through the masterclass and NOT experience great results!)
My Exclusive Bonuses When You Join The QUIZ Funnel Masterclass
BONUS #1 – EXCLUSIVE BONUS WITH RYAN LEVESQUE

Explosive Growth With Paid Traffic & Your Quizzes ($3,000)

Later this year, after you complete the Quiz Funnel Masterclass and launch your first quizzes, I'm teaming up with the man himself…Ryan Levesque.

In this exclusive LIVE training event, we're digging into the next-level strategies to use cheap and high converting traffic thorugh paid advertising to your quizzes to 2X, 3X, or even 10X your results.

This bonus is only available to those who join Quiz Funnel Masterclass through my link.
Bonus #2 – Watch Us Build OUR Quiz Funnel ($1,000)
Watch behind the scenes as we create our funnel.
Learn the process and strategies we use to determine which funnels to build, who to target, and how to deploy them to get the best results.
Bonus #3 – Copy & Paste Template of Our Quiz Funnel in Bucket ($250)
Now that you've seen how we designed our quiz funnel, we want to make it insanely simple for you to use.
In Bucket (the software included with Quiz Funnel Masterclass), you'll get a copy & paste version of the quiz funnel we created for our business.
But you only get this template when you join Quiz Funnel Masterclass through my link.
Bonus #4 – Workshop: How to Promote Quizzes as an Affiliate ($497)
Quiz funnels help you grow your list and know what products to sell.
But what happens when you don't have the time or resources to create the product your audience is begging for?
You promote affiliate offers for other products. As an affiliate, you'll earn a commission for each product you sell and don't have to create a single thing.
In this training, you will learn the specific strategies and tactics to use your quizzes to promote affiliate products and create passive revenue, but only when you join Quiz Funnel Masterclass through my link.
Bonus #5 – Workshop: How to Get Affiliates to Promote Quizzes ($497)
You may create the perfect quiz funnel and product, but without paid ads or organic traffic you might stall out.
That's where having an ARMY of affiliates comes in.
Imagine growing your traffic (and revenue) by 2x, 3x, or 5x by bringing on affiliates to promote your quiz.
Bonus #6 – Destroying Your Limiting Beliefs Workbook ($399)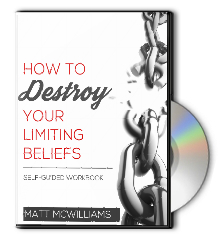 It takes a certain mindset to build a large, profitable following — and sustain it! That's why I'll give you the Limiting Beliefs Self-Coaching Guide. There are four types of limiting beliefs that you will need to overcome and I teach you how to do so in this self-coaching plan.
Until recently, this workbook was only available to my private coaching clients, but I know how critical it is to conquer your limiting beliefs to do something awesome (and daunting) as creating a killer quiz funnel and business.
Bonus #7 – Access to the Replay of my Networking With Purpose LIVE Event ($197)
If you go through my link to purchase Ryan Levesque's Quiz Funnel Masterclass, you'll get access to the replay of my Networking With Purpose LIVE event that I hosted with relationship rockstar John Corcoran and Mark Sieverkropp.
Getting your quiz and site in front of a large number of potential members requires the right connections. That's why I'm GIVING you access to the replay of my Networking with Purpose Live event.
This live online event replay will show you how to build, grow, and nurture your network to help you launch your membership site.
I share my own experiences, techniques, and connection-building strategies PLUS I invited some of my connections that are networking experts to come and share their techniques and strategies with you as well.
The cheapest ticket was $197 and that was with a hidden, secret promo code. But it is yours when you join Quiz Funnel Masterclass through my link.
Bonus #8 – List Launch Challenge ($497)


Yes, Ryan shows you how to build and succeed with a small list, but the larger your list, the larger your business.
The List Launch Challenge shows you how to start, build, and grow your email list from the ground up.
It's a proven system with amazing results. It is currently unavailable to the public (we only open enrollment once a year) and normally sells for $497, but it is yours free when you enroll in Quiz Funnel Masterclass through my link.
Bonus #9 – Turn Your List Into Cash ($997)
As you grow your list through quiz funnels, you'll want to monetize in new ways.
Each subscriber on your list should generate an average of $3.00-$8.00/month in revenue.
This bonus will give you the secrets to monetizing your greatest business asset – your email list!
And this is yours when you join Quiz Funnel Masterclass through my link.
Bonus #10 – $10k In 10 Weeks ($197)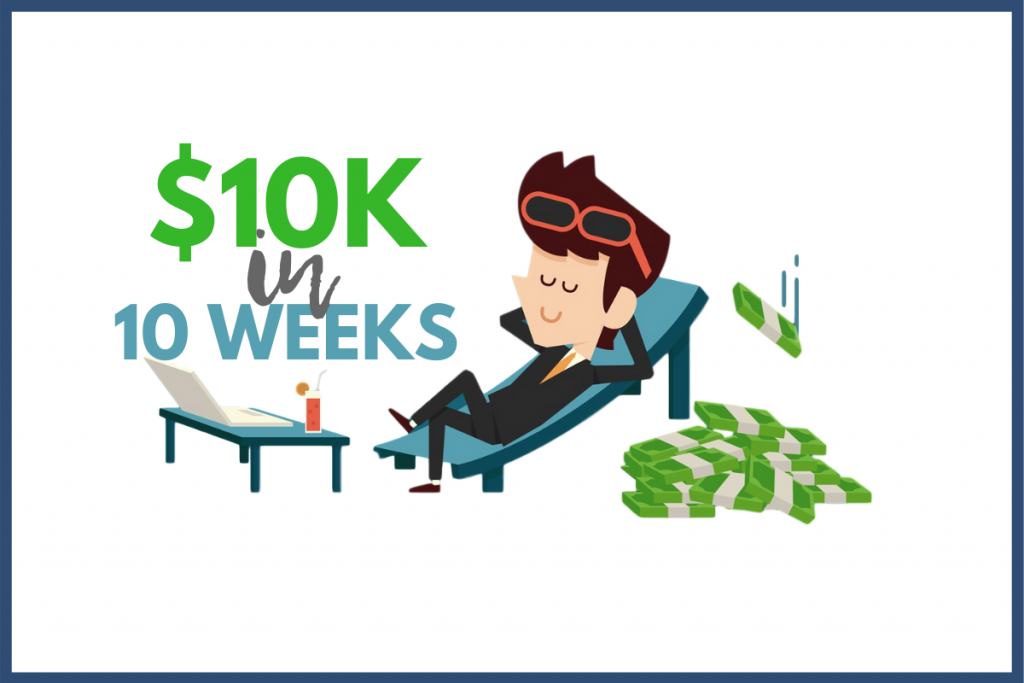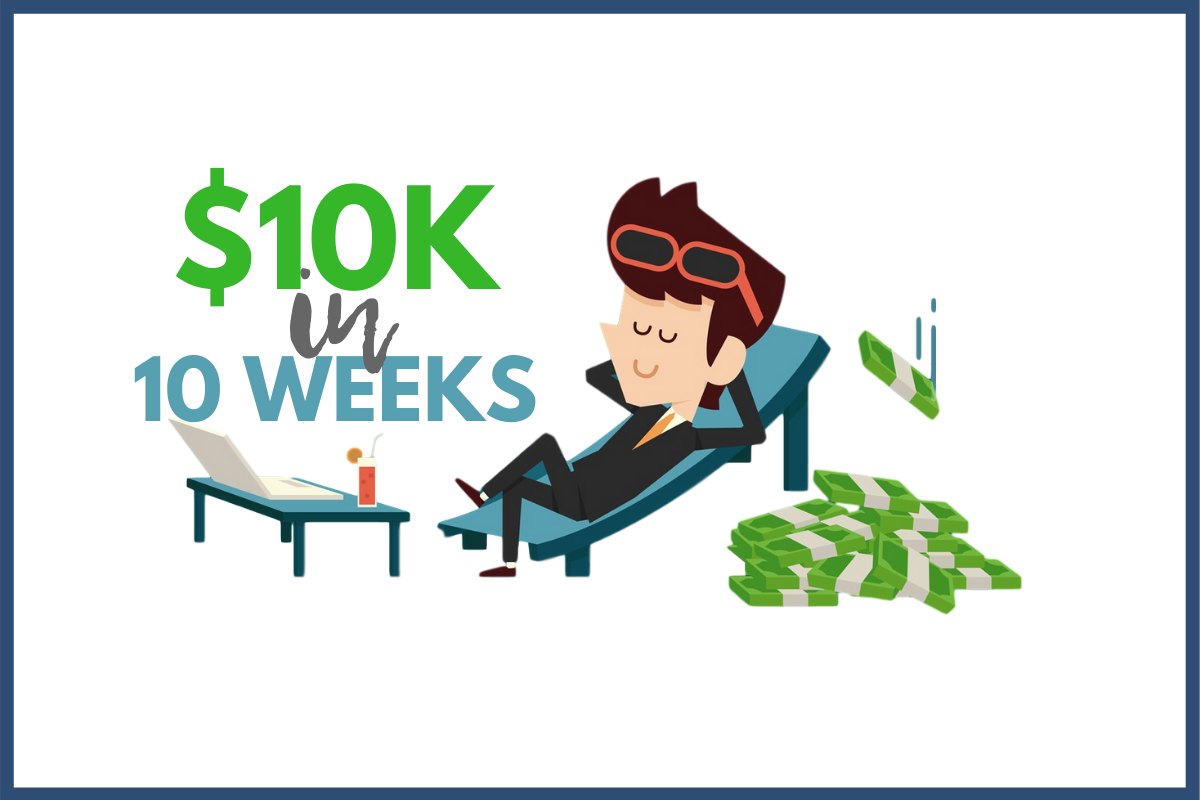 In this in-depth video training, you'll learn exactly how I set up and monetize my Recources Page (that generates $10k+ per month) and WHY I organize it that way – so you can copy exactly what I do and add one to your membership!
You'll get over 90 minutes of me going through resource pages that my students created, giving feedback and suggestions, as well as what I like about each one, to give you more ideas for your own page.
While there are certainly best practices for your resources page, there are many ways to apply them. I've curated 12 great examples of a good resources page so you can quickly take a look at each one to get formatting and design ideas (and maybe some ideas for products you might want to promote).
Learn exactly how to add a resource page to your site when you join Quiz Funnel Masterclass.
Bonus #11 – The Affiliate Code Unlocked ($997)

How could you grow your business through quiz funnels if you had an army of affiliates working for you?
Recently, I revealed nearly all of my secrets from over a decade as an affiliate manager to a small group of people…And the response was UNBELIEVABLE!
The strategies I share helped me build a $12.6 million dollar affiliate program in 18 months and run multiple 6 and 7 figure affiliate programs.
This is nearly five hours spilling ALL of my affiliate management secrets and strategies!
It is overflowing with tips and strategies you can implement right away.
You could literally take what I teach in this event and build a massively successful affiliate program for your business.
Get access to all my top insider affiliate strategies when you join Quiz Funnel Masterclass through my link.
Bonus #12 – 7-Figure Affiliate Launch Course ($1997)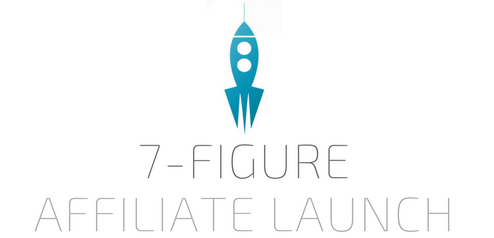 In order to grow your business, you will need to enlist the help of others.  There is no better way to expand your influence and reach more people than harnessing the power of affiliates.
In this training which I normally sell for $1997, I will teach you how to find affiliates to share your message with the people that they know.  The tools and techniques I share in this training have allowed me to recruit thousands of affiliates in several different industries and have made my clients millions of dollars. Clients such as Michael Hyatt, Zig Ziglar, Kevin Harrington, Rich Schefren, Ray Edwards, Jeff Goins, Lewis Howes, Brian Tracy, and more.
And if you purchase Ryan Levesque's Quiz Funnel Masterclass course through my link, you will get this $1,997 course absolutely free.
Bonus # 13 – Email Copywriting Workshop ($997)
How do you ensure your new subscribers buy the products and services you provide? Through your email copy
In this training, you'll learn from several of the best copywriters in the world. They will teach you how to write effective email copy so your audience takes the actions you want them to take and achieve the results they're paying you to achieve.
Usually, this training is only available with our paid courses, but it's your's free when you join Quiz Funnel Masterclass through my link.
Bonus #14 – 2,000 Subscribers in 2 Weeks ($697)
How many lives could you change if you had the top experts in your field teaching the material?
In this bonus, you'll discover how hosting a virtual summit can explode your list, massively build your reputation, and ignite your business…from someone who has generated more than 200,000 subscribers using this method.
This training typically costs $697, but is your's free when you join Quiz Funnel Masterclass.
TOTAL BONUSES VALUE: $12,219 (Updated June 9, 2020 at 1:35pm ET)
So now that you've read to this point, there is really only one question…
What are you waiting for?
Click Here to purchase Quiz Funnel Masterclass from Ryan Levesque and get ready to quiz funnels to massively grow your business!
Questions?
Call me at 317-825-8826
(I'll do my best to answer, but if I miss your call, leave a message and a good time to call you back…can't wait to talk!)