Every revolution needs an army and the "Thank You Revolution" is no different.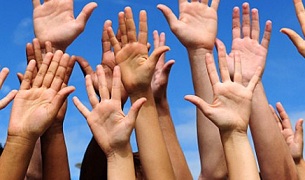 The Thank You Revolution is growing. I'm hearing stories, like the one that Jon Stolpe shared, via Twitter, in the comments here, and even via notes like the one at the bottom of this post.
All of this has led me to conclude that spreading the revolution…recruiting volunteer soldiers if you will…is one of my core missions in life.
To that end, I recently began work on an e-book tentatively titled The Power of Gratitude: Stories from the Frontlines of the Thank You Revolution.
But more importantly than that, I want to enlist you today to be a part of the Revolution..
What does that mean?
It means I want revolutionaries who are willing to:
Commit, for at least one year, to joining me in writing at least one handwritten thank you note per week.
Share your thank you story with me and possibly have it published. When something amazing happens, I would love to hear about it.
Tell others about the revolution.




That's it. Do you want to change the world one "thank you" at a time?
We can. I can feel it.
Are you in?
If you are, you have to let me know. To enlist go here and sign-up. I'll share further instructions with you soon and each week I will share a special message with you to keep you on the right path.
Also, let the world know that you are a proud member of this army by leaving a comment below to say "I'm in."
And feel free to let others know about this. Use the Click to Tweet link or the Share buttons above and below the post to tell your friends about this. More importantly, tell them "I am a part of the Thank You Revolution!"
Let's make 2013 the Year of the Thank You!
Are you in? Join now.


Here is that touching note I recently received that I wanted to share: