Have you ever wanted to kill your boss?
I don't mean literally. Maybe more along the lines of hoping he or she comes down with a bad case of food poisoning and misses the next, say, 3 1/2 years of work.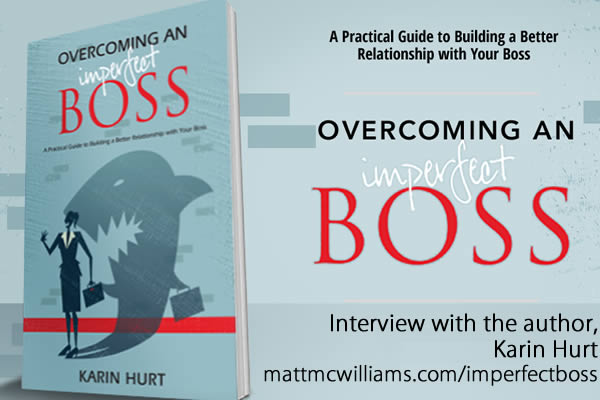 Want to kill your boss? Learn to build a better relationship from @LetsGrowLeaders. (Tweet That) | Share this Graphic on Pinterest | Share on Facebook
I know the feeling. It's one of the reasons I went scorched earth and got rid of bosses altogether. But what if that's not for you? What if you're stuck with a boss that is (gasp!) imperfect?
The good news that there is hope. You don't have to "just deal with it" and you certainly don't need to daydream about 37 ways to get your boss to stand on an unstable cliff.
I was fortunate recently to interview Karin Hurt about her new book, Overcoming an Imperfect Boss: A Practical Guide to Building a Better Relationship With Your Boss. In the interview below and in the book itself, you will learn how to develop a better relationship with your boss, even if that seems impossible now.
Not just for non-bosses
Oh…and good news…if YOU are the boss, this book still applies. It will help you become the boss you wish you had. So go spend less than $10 to be a better boss or to overcome the imperfect one you work for. Check out my guarantee at the end. Buying the book is 100% risk-free.