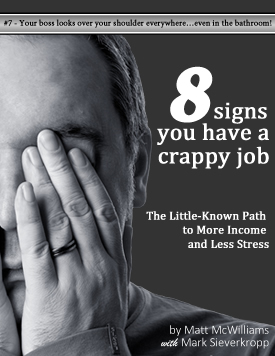 I partnered with my friend and career expert Mark Sieverkropp to create a free resource for everyone who has a crappy job.
If you're reading this chances are that you are not excited to go to work tomorrow morning. Heck, you're probably reading this and not happy that you are at work now! You feel unfulfilled, unchallenged and unappreciated in your current position.
How do we know this? A recent Forbes article put it this way when summing up a recent Gallup poll: "…work is more often a source of frustration than one of fulfillment for nearly 90% of the world's workers."
So, if this is you…if you are in a crappy job and want out, download your free book below.
(Privacy Guarantee: I will never share your e-mail address with anyone else.)