The Thank You Revolution has exploded. 
It has had a bigger impact than I ever imagined.
Over the past few months, I have received some amazing stories from members of the Thank You Revolution. So over that span, I began to put them together in the form of a book. That book became what you see below, Two Powerful Words: Revolutionize Your Work, Your Relationships, and Your Life with the Power of Gratitude!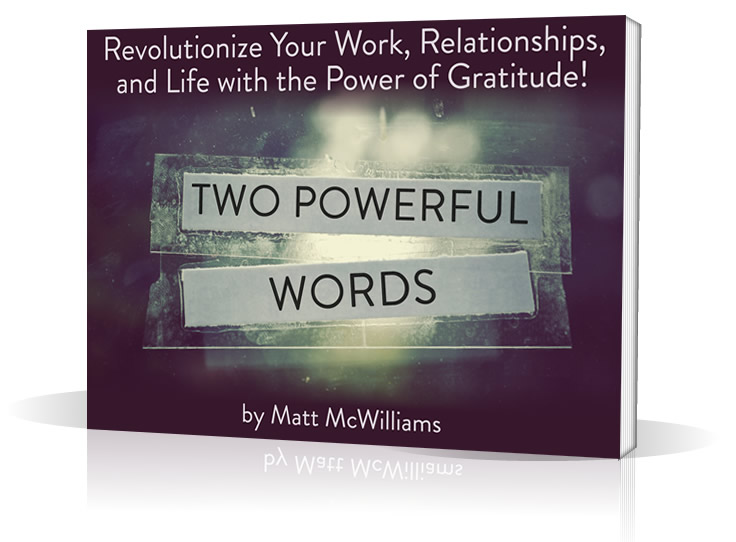 In it you will read about how the Thank You Revolution has improved workplace morale, brought families closer together, and earned a lowly IT manager an audience with the executives of his company. You will hear from revolutionaries such as Mary, Pat, Jon, and Leo who shared their stories with me and ultimately allowed me to share them with the world.
The book will be released as an e-book next week on February 7. It will be free to those who subscribe to blog updates via email starting then. If you currently subscribe via email, you will receive the e-book that morning via email, so make sure to look for it!
Thank You Revolutionaries (members of my free Thank You Revolution series) will receive the book on week earlier, this Thursday, January 31 (or anytime that you sign up). If you want to get your hands on one early, sign-up here for the Thank You Revolution.
Each of the stories in the book is the type of story that, when I read it, caused me to sit back and shake my head in amazement. They will inspire you, instruct you, and invite you to join a revolution.
In addition to the stories, there is plenty of practical advice on how to get started and keep writing your thank you notes. You'll learn what to write, whom to write to, and tips to pack more punch with your notes.
As you can probably tell, I am excited to share this. I am putting the finishing touches on it now and look forward to hearing what you think when it's done.




Again, if you want to get an advanced copy this Thursday, sign-up here for the Thank You Revolution and you will be among the first to read this powerful book.