What lessons can you learn from a dog?
I've written before about the importance of greeting people like dogs and today Dan Erickson shares three more lessons from his dog, Shep.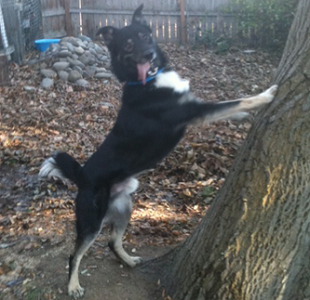 Dan is a writer, blogger, teacher, and musician.  He was the child victim of a religious cult and struggled through his twenties, but came to forgive his greatest enemies.  His first book, A Train Called Forgiveness, chronicles his own story in a captivating fictional format.  Dan blogs about writing, music, and life, and emphasizes the importance of forgiveness in our lives.  You can follow him on Twitter @DanErickson8.
About a year ago I rescued a Border Collie/German Shepherd mix. I had spent lots of time researching dogs before I chose this kind of mix.  I wanted an active dog. I also spent several hours with a variety of dogs and took "Shep," on several walks before making the decision to bring him home. My research paid off.  I wound up with a great dog.
In fact, I have learned a lot about life and business from Shep:
1. Be Loyal: Dogs in general are loyal. Shep seems more loyal than most. If we're loyal to our family, our friends, and our customers, it will go a long way. Loyalty, unfortunately, is less common among humans than it is among dogs. Having the character to be loyal to others will lead to reaping greater rewards.  When others know that you'll be there for them, they are much more likely to respond to you.
2. Get after the ball: Shortly after we brought Shep home, we discovered he loves to play fetch. In fact, I have never seen a dog more driven to get the ball.  He is so determined to get that ball, that he would probably jump of a 100-foot cliff to reach his destination: the ball. If we work on our own relationships and business ventures the way Shep "gets after the ball," we would have the resolve to complete every project we start. I'm taking lessons and picking up Shep's "get after the ball" attitude.
3. Never give up: Of course, every ball-driven champion loses the ball from time to time, just as we get off track in our own lives occasionally. When Shep loses the ball, he doesn't give up.  He will pace the entire back yard repeatedly until he finds it. We can all learn something from this.  When we lose sight of where we are going, we can refocus and start again from where we left off.  The key is to never give up.
My dog Shep has taught me a lot. He's taught me to be more loyal to my family, friends, readers and customers. He has taught me to go after my dreams, to keep writing, blogging, and recording music. And he has taught me to stick with it, even when things get a little off track.
What lessons have you learned from unexpected places?