One-on-one meetings were all about me, the boss.
Or so I thought.
If I am having a one-on-one meeting and I am the boss, it's should about me, right? My goals, my deadlines, my pet projects, me, me, me. That's who I want to talk about. I'm giving you 30 minutes of my time, you better buckle up and listen buddy.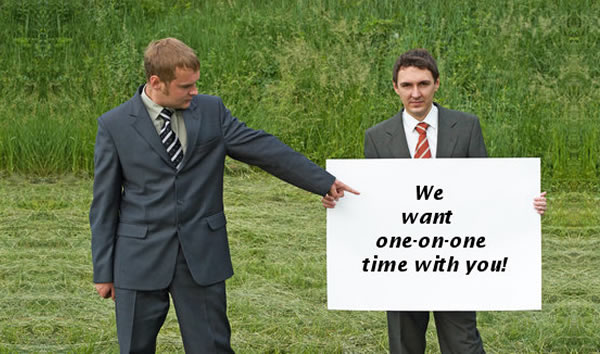 If you haven't figured out by now, I am wrong a lot. And early on as a leader, it was laughable. When I first started doing one-on-ones it was my second stint as a team leader. Since my first one was an unmitigated disaster and I was all of two years older and wiser and managing a team mostly made up of guys twenty years my senior, I was nervous…and determined to succeed. So I studied. Hard. I also asked some friends for advice. One of the things that came out of one of our talks, though not directly, was the need to do one-on-ones.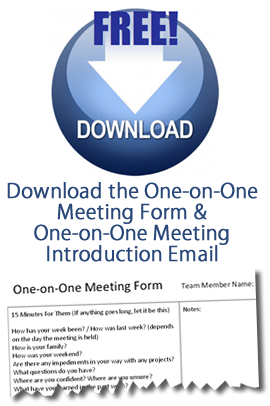 "Great," I thought. I can communicate everything I need in a face-to-face, personal setting. I can tell them everything I need them to know, find out how they are doing on the projects important to me, and make them feel super special for getting thirty minutes of my time to themselves. Wrong!
Here are the first four big mistakes I made when I started doing one-on-ones. Tomorrow's post will have mistakes 5-8…or 9…maybe even 10. I might have to stop myself after a while, because I really screwed them up at first. The remaining two posts this week will address the solutions I discovered to these problems and the positive results.
My Top 4 One-on-One Meeting Mistakes
It was all about me, me, me. I talked only about what was important to me, asked questions that were only important to me, and made absolutely sure the other person knew I was smart, important, and had inside secrets. Basically it was a 30-minute "stroke my own ego" session.
I kept the conversation to business only. I didn't get to know my team members at all. Heck, I didn't even try. I didn't inquire about their week, their family, their interests, or even how their personal life was going within the confines of work. It was all about projects, tasks, deadlines, and crises at work.
I turned it into a weekly job interview. I'm sure this was very comforting to my team members. I asked a lot of questions about performance, time frames, and numbers in a tone that made them think they were interviewing to keep their job…every single week. Can you even imagine that?
I provided immediate feedback and answers. On the surface this may seem like a good thing. Until you meet the old me. I would immediately dismiss any idea that was presented and almost instinctively say "no" to any request made during the meeting. Not once, early on, did I take the time to digest what they said. Soon, I had shut down all input entirely, which meant all new ideas would come from me. Sadly, I might have said "Mission Accomplished" at the time.
Have you made any of these mistakes in one-on-one meetings or had a leader who did?




This is a part of my series on one-on-one meetings. For all posts in the series and free downloads to help you start and run the meetings go here: One-on-One Meetings for Leaders