Do yourself a favor…the next time you start to say something bad about yourself, SHUT UP! Seriously, shut up. Don't say it.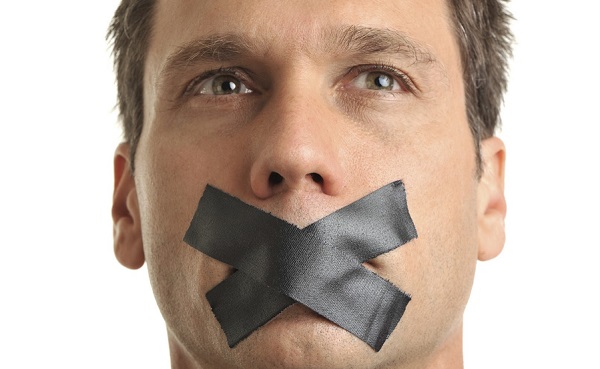 You can think it, but don't say it. Don't mumble it under your breathe. Don't say it to someone else. Don't write it down.
Your negative thoughts don't have to become reality. In fact they can't be, because you are too valuable to the rest of us to live that way.
So shut up.
Your parents or grandparents probably told you:
If you can't say anything nice, don't say anything at all.
The same applies to talking to and about yourself.
I'm not telling you to live in fantasy land. The world will keep you from ever doing that. It will knock you down, drag you around, tell you lies, and leave you the cleaning bill. I am telling you to control what only you can…your words about yourself.




And the Lord said "Shut Up!"
If you know the story of John the Baptist, you know that he was born to parents well beyond their years. When Zechariah, John's father, was told his wife would soon give birth to a son, he verbally doubted the angel Gabriel.
Gabriel's response was classic:
I am Gabriel. I stand in the presence of God, and I have been sent to speak to you and to tell you this good news. And now you will be silent and not able to speak until the day this happens, because you did not believe my words, which will come true at their appointed time.
In other words, "Do you know who I am and who sent me? Now, shut up or you'll talk yourself out of a son.
When the Israelites were sent to capture Jericho, God told them to march the city for seven days…in silence. He knew they would mumble. He knew they would talk to each other and soon rumors would spread. Before long, they'd all be grumbling. Just like it did forty years before.
Twelve times they walked around in silence as God had told them.
Do not give a war cry, do not raise your voices, do not say a word until the day I tell you to shout. Then shout!
In other words, they shut up. They learned that if they couldn't say something nice about themselves to say nothing at all.
Now you do the same…stop saying negative things about yourself (and others for that matter). If you can't, shut up. Say nothing at all. The silence is better than the negativity.
What do you need to stop telling yourself?