In this world nothing can be said to be certain, except death and taxes.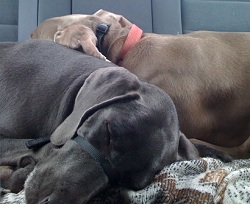 Our girl Weimaraner Jasmyn died on April 15, 2010. She had undergone surgery to remove a tumor that was choking her. It was cancerous.
Later that day as we were walking into the vet hospital, we got the call that her heart had stopped. She was nine years old. We just missed getting to say goodbye.
For much of the previous year and half, I found myself annoyed with her dog habits and needs. Being a dog somehow did not give her the same knowledge and abilities as I had, as though God actually created her to be different from me. People are that way too. We are not all created equal, but we should be treated as equals.
She used to slobber on me from time to time. I was always annoyed by that but now I would give anything to be slobbered on by her right now.
She smelled like an unusual mix of original Doritos with a slight hint of burnt shoe leather. It wasn't a pleasant smell to my own sensitive nose but I miss that smell so much right now.
Later that night Tara and I paid our taxes. We went to the Post Office at 7:00PM and unlike years past, it was not open late, but it did have an automated thing to print out postage that was time stamped. The line was almost out the door and the old guy in front of me was rambling on about something and then could not figure out how to operate the machine. My frustration level was growing rapidly.
We already had postage on there so now we were going to waste another dollar on this. The dollar wasn't the issue but the mere thought of giving the postal service another penny was killing me. I wanted to just wallow in my own self-pity and be angry. I had important things to do and these people were holding me up!
Then they don't take cash and our debit card is in the car with my wife and other dog. Apparently in the home of Dave Ramsey, his teachings are a mystery to some.
As I walked back in to an even longer line and the same old guy still trying to figure out the machine, I suddenly I realized that my attitude sucked and, quite frankly, I was getting on my own nerves. So I decided to change.
Suddenly we were joking, helping each other with the machine, and giving out leftover stamps to each other as we left so that some people would not have to wait in line as long. All this, in part, because I led the crowd in changing the mood. By simply choosing to smile, helping the old man, and quipping a few jokes. One person, having a rough day, for 15 minutes. That was all.
As I left, I handed a stamp to a couple that just looked worn out and maybe the $0.44 was worth something to them. They were so grateful and tried to pay me back. I have no idea what struggles they are having. I might have made their week.
Even now I cannot shake the feeling that I should have done more. Even in those moments, my selfish nature ruled when I could have easily have bought $30 worth of stamps and handed them out to everyone in line. I know that God would have wanted me to do that.
I wonder what kind of impact that would have had on people there? I wonder if during that moment, I had forgotten my own problems and my own needs and realized that every person in that line was in just as much of a hurry as I was. They have just as many problems and frustrations. I wonder if that is what the apostle Paul meant when he told us to "in humility consider others better than yourselves"?
My view of many things changed that day. I still wish that I had bought those stamps, but my eyes have been more open for many similar opportunities.
I still miss Jasmyn and always will. But I am thankful for our time together and for the memories she leaves with us.
Has your attitude ever sucked like mine? What did you do to change it and what were the results?