I wanted so desperately to be a great leader.
I was 27 years old, leading a team of twenty people in a fast-growing start-up and I was responsible for about $12,000,000. Only two years prior, I led a team of exactly one (myself). Now, I was in over my head. The pressure was getting to me…and it showed.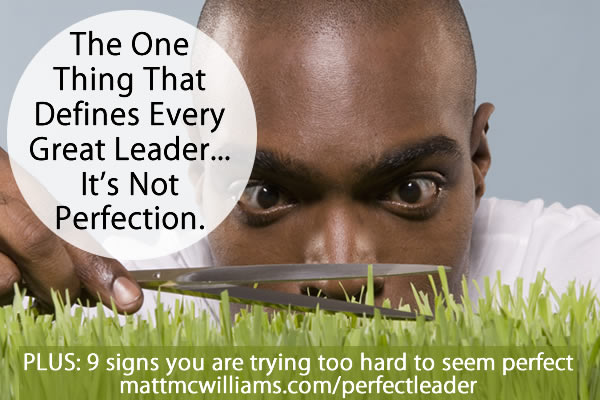 Real leaders make the most mistakes. They break the most stuff. They are not perfect. (Tweet That) | Share this Graphic on Pinterest | Share on Facebook
I wanted to be a great leader because in my 27 year old mind, that meant two things:
But I also wanted something deeper, something less tangible than dollar bills or a write-up in the local paper and a nicer office.
I wanted to be seen as the one with all the answers. I wanted to be seen as the problem-solver. If I am being 100% honest, I wanted to be seen as…perfect.
The problem with perfection
That's where my problems began. Perfection, or more accurately maintaining the illusion of perfection, is a 24/7 job. It required constant attention, all of my energy, and a commitment to avoiding all things risky. It required me to avoid failure at all costs…or to cover it up well if I did mess up.