If you run an affiliate program, NOW is the time to start preparing your affiliate program for the holidays. If you are an affiliate marketer, NOW is the time to start preparing for the holiday season. For many of you, even if you aren't in a "holiday" niche, you can make as much as 30-50% of your revenue in a short 4-6 week window. So, to help you navigate this lucrative but often challenging time, I'm putting together the ULTIMATE guide to running your affiliate program during the holidays and to doing affiliate marketing during the holidays. Below you will find a twelve-part series on holiday affiliate promotions, plus related bonus articles, videos, and live training. Be sure to sign up below to be notified when new content is added to this guide.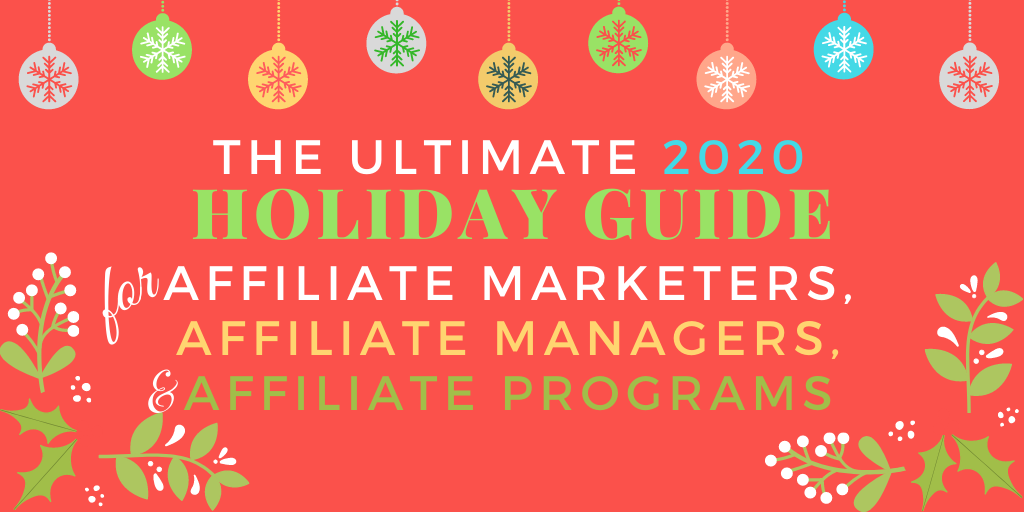 Click Here to be notified when this guide is updated with new and relevant information about holiday affiliate promotions.
For Affiliate Managers & Programs
LESSON ONE: 2020 Holiday Affiliate Guide: Analyze Your Top Affiliates
It's The Most Wonderful Time of the Year. and that means it's time to get your affiliate program ready for the holidays. This episode will show you how!

LESSON TWO: Your 2020 Holiday Season Affiliate Program Prep Starts NOW!
According to the National Retail Federation, about 40% of consumers actually begin their holiday shopping before Halloween. That means if you wait much longer to start preparing your affiliate program for the holiday season, you're waiting WAY too long! In this episode, I share the 11 steps to start taking RIGHT NOW to prepare your affiliate program for the holidays.

LESSON THREE: Failure to do this ONE Thing Will Ruin Your Holiday Promos (Ultimate Guide to Holiday Affiliate Promotions)
The holidays are a great time for affiliate marketing, but failure to do this ONE thing will frustrate your audience and cost you a lot of money. Today's episode shares a big problem with a simple fix.
LESSON FOUR: Use the Holidays to Find & Recruit Affiliates
The holiday season is the best time of the year to find new affiliates and recruit them to your affiliate program. In this episode, I'll share 4 strategies to help you inject some new life into your affiliate program and not only finish this year strong but set up next year to be your best ever!
LESSON FIVE: Give Your Affiliates What They Want for the Holidays
Affiliates are busier than ever during the holiday season. If you don't make it easy for them, make your offers convert, and give them what they want and need, you will fail. This episode will help you to give your affiliates exactly what they want for the holidays.
LESSON SIX: How Your Affiliate Program Can STAND OUT in the Holiday Clutter
Tis the season…for affiliates to get a LOT of emails. Your affiliate program is not the only one affiliates are promoting this time of year, so what can you do to STAND OUT? Today I share 10 ways for your affiliate program to stand out in the clutter.
LESSON SEVEN: How to Optimize Your Affiliate Program by Partner Type for the Holidays
One of the most important things you can do during the holidays is optimize your affiliate program by partner type. Today, I'll share what to do with four specific types of affiliates: content sites, loyalty sites, coupon/deal sites, and content syndication sites.
LESSON EIGHT: How to Keep Your Holiday Momentum ALL Year Long
You're going to put a LOT of effort into making this holiday season your best ever for your affiliate program (and your affiliate marketing). Don't waste that effort and let the momentum stop when Christmas passes or the new year begins. Today, I'll share some of my top strategies to keep the holiday momentum going all year long!
For Affiliate Marketers
LESSON ONE: Holiday Affiliate Promotions: Plan, Plan, Plan
Top affiliates can make 30-50% of their entire year's revenue in just a few weeks…if they follow this plan. Listen and up rock this holiday season!
LESSON TWO: The "Secret Sauce" of Successful Holiday Affiliates – What to Do RIGHT NOW
This is the next in our series on holiday affiliate promotions…but it should have been part one! Today's episode is all about what you should be doing RIGHT NOW to get ready for your holiday affiliate promotions.

Click here to see the LIVE training we did called "5 Myths About Holiday Affiliate Promos."
LESSON THREE: Holiday Affiliate Program Tip: Know the Important Dates
Do you know all the important dates for your affiliate program this holiday season? Over the past few decades, the list has gotten longer and longer and continues to increase. Today, I'll share all the important dates and what YOU can do to maximize your affiliate sales.
LESSON FOUR: Simple Strategy to DOUBLE Your Holiday Affiliate Sales
This single strategy could more than double your affiliate sales over the holidays. It's SO simple, you might be tempted to brush it off…but it absolutely works! What is it? Well, listen up to find out.
LESSON FIVE: The Top 5 Hottest Niches for Holiday Affiliate Promos in 2020
Choosing the right products has a HUGE impact on the success of your promotions this time of year (and all year) and THIS year is going to be a holiday season unlike any other in our lifetimes. Which is why I'm breaking down which niches are the HOTTEST during the 2020 holiday season and how to choose the right products to promote.
LESSON SIX: How To Promote Flash Sales As An Affiliate
Bonus Resources
How to Warm up Your List for Affiliate Promotions
All our recommended affiliate programs
LESSON SEVEN: The Difference Between Successful Affiliates and Everyone Else During the Holidays
What separates successful affiliates from not-so-successful affiliates during the holidays? Well, it's the same thing that separates them all year long. Below I share what it is.
LESSON EIGHT: How to Use Holiday Affiliate Promos to GROW Your Email List
Is it possible to grow your affiliate sales during the holidays…AND grow your traffic and email list? You bet! I show you exactly how with the strategy in this part of the Ultimate Guide to Holiday Affiliate Promotions.