There is a children's book that has condensed hundreds of years of psychological research into a book that can be read in one potty training trip.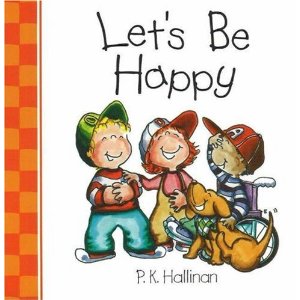 It's called Let's Be Happy by P.K. Hallinan and it sums up all that has been said by William James, Martin Seligman, and decades of positive psychologists and other gurus. As far as impact on my life and ability to inspire, I put it right up there with Oh, The Places You'll Go by Dr. Seuss in the Must-Read Children's Books category.
If I gave too many snippets, I'd give away the whole book and likely incur the wrath of the publisher. It is, after all, only approximately 300 words long and the pages are made of cardboard. But the message is strong and the wisdom, though simple, could not be more right.
I like to be happy – it's the very best way
To start out each morning…
And end up each day!
Who wouldn't want to start out the day happy? In fact, it might be the single most important thing you can do all day. If breakfast is the most important meal of the day, then what you do with your mind in the first fifteen minutes is even more important.
Are you laughing out loud early in the morning?
Are you smiling?
Are you grateful for something that happened yesterday or is going to happen today? Or someone who loves you?
And why not go to bed that way too? You will sleep better and wake up happier. It is truly cyclical and compounding.
And often I whistle
As I work in the yard.
Then hardly, if ever,
Is the yard work too hard.
When is the last time you whistled at work? Or hummed? Or just smiled for an extended period of time?
For some of you, it was this morning. Or yesterday. For others it was last month…or last year. But the book is right…when you choose to smile, work does fly by, even work that is otherwise not enjoyable.
And when problems come
And others grow glum,
I try to be upbeat –
And even have fun!
You can decide to let others drag you down, or you can decide to be happy. It really is your choice.
Circumstances will try to bring you down. Their success is up to you. Past failures will creep into your thoughts. Doubts will drown out your positive self-talk. Fear will paralyze you. But none of these can overpower your happiness or take away your joy:




'Cause time after time
I've happened to find
That just being happy
Begins in my mind.
In your mind. Whatever is there will rule the day. Happiness, sadness, fear, guilt, confidence…it all begins in your mind.
The book ends with a reminder that happiness is contagious and serving others is often the greatest source of happiness there is.
I couldn't agree more.
What lessons have you learned from children's books? Are you choosing to be happy today?