I've talked a lot about WHY you should start affiliate marketing. I'm sure it's no surprise to you that I think you should be doing affiliate marketing. There are a TON of reasons that you should, but there are some benefits of affiliate marketing that aren't as widely known. Today I will share with you the top 3 hidden benefits you will get from affiliate marketing.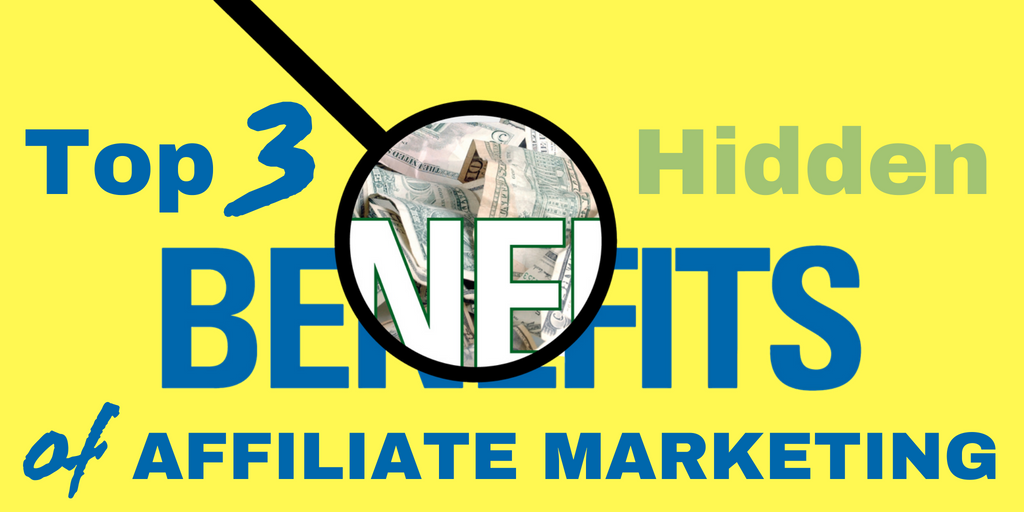 The reasons to start affiliate marketing are countless. But there are some hidden benefits that are REALLY awesome. These are the benefits that most people don't talk about, but they can't have a HUGE impact on your business.
Here are the top 3 hidden benefits of affiliate marketing.
You Learn What Your Audience Wants
When you first start your blog, you are still learning what your audience wants and needs. You have no idea what products they are interested in buying, what price points they buy at, or what is the best way to sell to them.
In other words, creating a product of your own on day one is RISKY. Just ask anyone who's created something, ordered 1000 of them and parks their car in the driveway not the garage as a result.
Affiliate marketing teaches you what your audience wants. You get to test different products, topics, price points, and sales methods.
You also learn what specific people on your list are interested in. That allows you to segment them over time.
For example, if you promote Danny Iny's Course Builder's Laboratory (and I highly recommend it…), and 200 people opt in for one of his free resources, you can start to get an idea that those people might be interested in creating online courses.
Then, the next time you see an affiliate promotion that is related to online course creation, you could start targeting those people first for that promotion.
This reduces list fatigue and more importantly, allows you to SERVE your audience better by sharing resources and products that they are interested in.
You Learn How To Sell (and Prove To Yourself That You CAN!)
Promoting affiliate offers taught me how to sell long before I ever had a product of my own. I understand how to warm up my audience, how to engage them, what copy worked best, and what worked and what didn't.
In other words, I got to test my sales skills out on other people's products, not mine.
I learned when to email during a promotion, what length of emails worked best, what subject lines worked and so much more.
Promoting affiliate offers taught me how to sell but most importantly it proved I could. Instead of being reluctant and doubting myself when I launched my first product, it was like second nature.
When I launched my affiliate marketing training course, No Product No Problem, earlier this year, I had absolutely no stress about the marketing. I'd done it 20+ times already. Creating the promotional plan for the course launch was, quite frankly, one of the easiest things I've done in my business.
It Helps You Get Noticed By Influencers and Other Affiliates
Here's a little secret…even the biggest names in the online marketing world like to get noticed.
They like to see their names on affiliate leaderboards. They like when they promote something and are recognized. They like beating other marketers. (If you're running your own program, this is a really good reason to use affiliate leaderboards as well!)
When you start in affiliate marketing early, you get better at it earlier and you get noticed earlier. That means you are able to connect with other people who can help you massively scale your business.
I know this happens because it's exactly what happened with me. I began promoting affiliate offers, I started getting on leaderboards, and people started reaching out to me.
Today, I consider many of those people friends (and clients).
Realistically, you don't need to be at the top to get noticed. Being listed anywhere is enough to give you credibility and raise some eyebrows.
Once you learn what your audience wants and you learn how to effectively sell it to them the sky is the limit with your success in affiliate marketing AND with your own products.
Couple that with getting noticed by other influencers and developing relationships with them and success is within reach!
But the BEST part is, there are a TON of other benefits that you'll get as you begin affiliate marketing as well.
Click Here to download my free report, 10 Reasons To Start Affiliate Marketing Before You Have a Product to learn even MORE great reasons!
And if you're wondering, yes this report will help you even if you already have a product!