Last year, Michael Hyatt created a brand new productivity course and released it to his audience.  This year, Free to Focus will be available for affiliates to share with their audiences as well.  We couldn't be more excited to add this launch to our affiliate offerings for the upcoming year.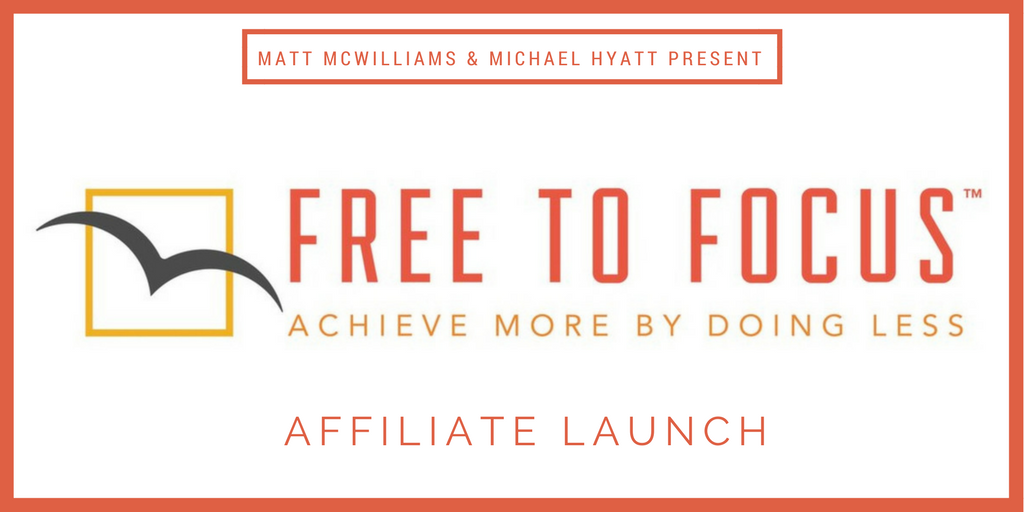 I am personally very excited for this launch for four reasons:
Michael has had a HUGE impact on my business personally.  I'd been involved in online marketing and affiliate management for nearly a decade when I first read his book, Platform: Get Noticed in a Noisy World. While at an affiliate conference in 2012, sitting in one of the sessions, I registered this domain and began this awesome journey. All thanks to Michael.
Michael is one of the most genuine people I know online (and offline). This past year as we brought Michael on as a client I've had an opportunity to get to know Michael the person, and he is who he says he is, genuine and kind, yet driven. There is no "online persona" with him.  Michael is Michael, whether you're watching one of his videos, reading his blog, or chatting with him at his house.
Everyone LOVES Productivity. Seriously, everyone wants to be more productive — get more done in less time, AND get the RIGHT stuff done.  It isn't specific to a specific industry, it's universal, which means that this course will have appeal across all industries and niches.
This course is going to convert. Michael's products convert VERY well.  This product will not be any different.  They are doing another internal launch this spring and we'll have more numbers to share after that launch, but I can tell you that Michael's team told me that this is one of their BEST converting products ever after the initial launch last fall.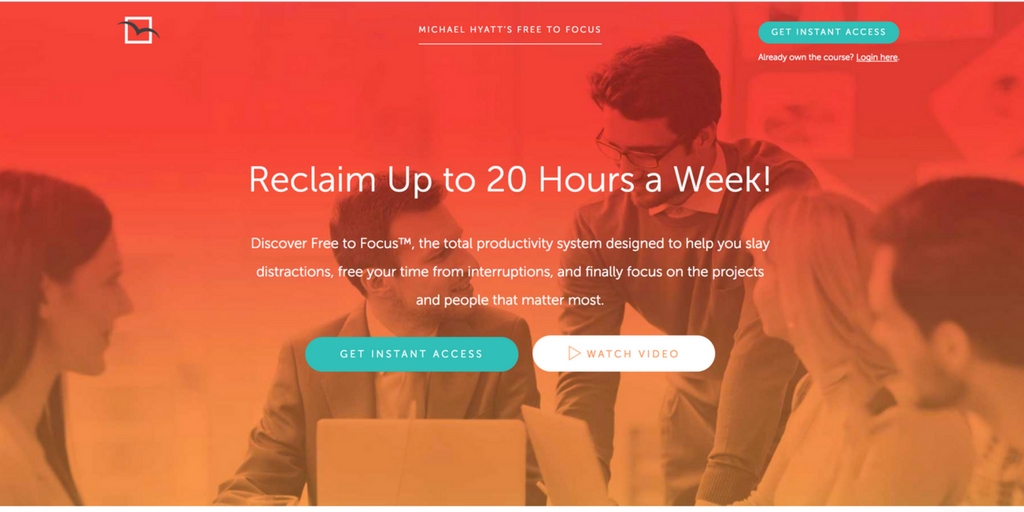 You are definitely going to want to mark your calendar for this launch!
SIGN-UP AS A MICHAEL HYATT AFFILIATE
Here are some details about the launch:
About the Course
Free to Focus™ is a total productivity system designed to help high achievers accomplish more by doing less. Using the top tier strategies in this course, young leaders and elite professionals alike can free up time and energy to focus on the people and projects that matter most.
Sadly, most leaders spend 80% of their work days tackling the urgent and only 20% on high-leverage ventures that move their businesses forward. This system flips that ratio.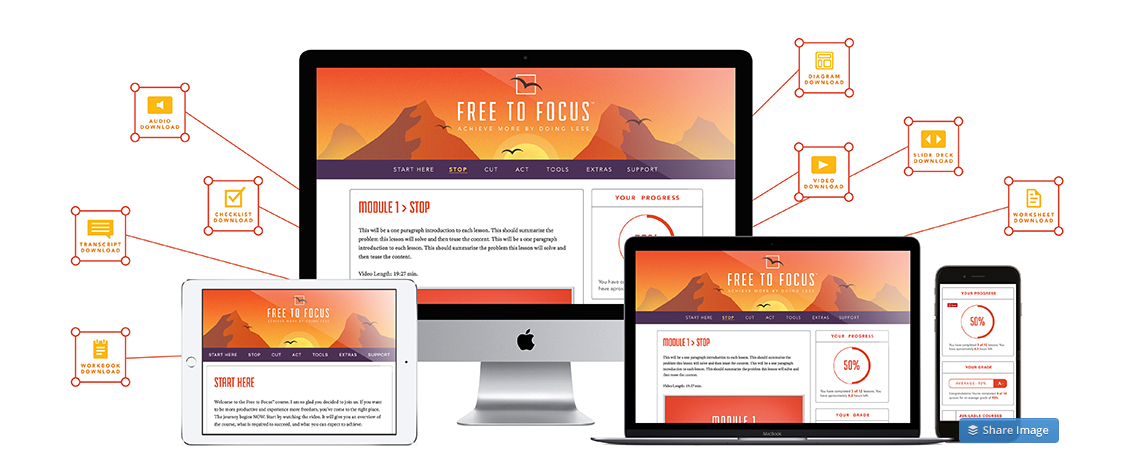 Unlike other productivity systems, Free to Focus™ provides an essential framework for clarifying priorities.
Rather than teaching high achievers how to "get more done faster," it shows them how to identify the most important commitments and tasks and execute on them for powerful results. Better yet, it does not require conformity to a strict or complex set of rules — instead, Free to Focus™ conforms to the way an individual prefers to work.
Applicable to any level of business — from start-up to major corporation — this system scales easily as the high performer's workload grows.
Providing versatile solutions to complex obligations, Michael Hyatt has distilled the best and most effective productivity methods from over three decades of corporate and entrepreneurial experience, packaging them neatly in this all-in-one solution. With a bank of proprietary tools, a supreme vault of bonuses (worth over $2000+) and a live intensive workshop option, this course offers a transformative work-life balance solution for every overwhelmed responsibility magnet.
Those who are ready to escape the clutter, overwhelm, and inefficiency of our fast-paced work culture can use Free to Focus™ to restore balance to their personal lives and start making their greatest contributions.
Target Audience
Here's how the sales page puts it: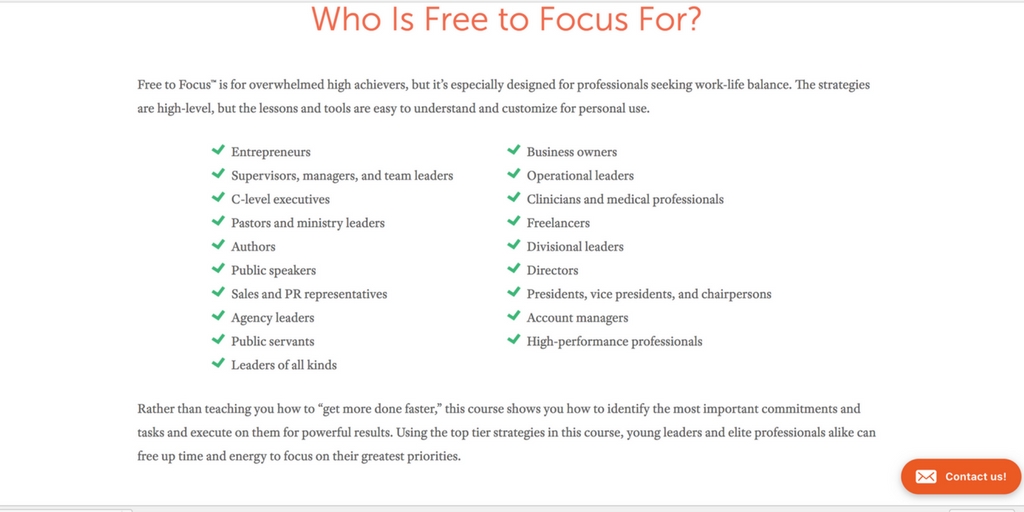 Free to Focus™ does not require any proficiency in digital solutions for productivity — it's as much for those who love apps as those who prefer pen and paper.
SIGN-UP AS A MICHAEL HYATT AFFILIATE
What's Inside the Course?
The course includes everything needed to increase your productivity and focus on the things that are most important.
Here is some of what is included:
9 video lessons + downloadable resources (exercise worksheets, audio files, transcripts, slide decks, instructional materials… PLUS a $2000+ bonus vault for those who enroll in the Premium or Ultimate editions).  Here is the first video for the course: 
Proven principles for implementing the 3 fundamental strategies that will reinvent your productivity mindset, reduce your workload, and sustain your efficiency
An all-in-one solution for reclaiming time for the people and projects that matter, regardless of whether you prefer digital or analog calendars, planners, and to-do lists
Unlimited access to our Free to Focus Productivity Summit interviews (one-on-one interviews with 8 top productivity experts, including Jason Fried, Greg McKeown, Gretchen Rubin, Shawn Stevenson, Chalene Johnson, and more)
The two higher tiers of the course also include Michael's Elite Bonus Vault, which includes:
Exclusive access to the

private Free to Focus Facebook group
50+ of Michael's ultimate time-saving email templates,

ready to download

How to travel like a pro

(2 exclusive videos + a packing list)

How to organize your workspace

for maximum efficiency (tutorial video)

5 step-by-step, in-depth screencasts

of Michael's favorite productivity tools, including Evernote, Nozbe, Slack, TextExpander, and Workflowy

How to design morning and evening rituals

that will set up your productive day (PDF kit)

Michael's 7-part productivity formula

for calculating your projected increase in revenue (PDF ebook)

Your Secret Productivity Weapon

, a 4-part mini-course which teaches you how to find, train, and leverage a world-class executive assistant

(Ultimate only)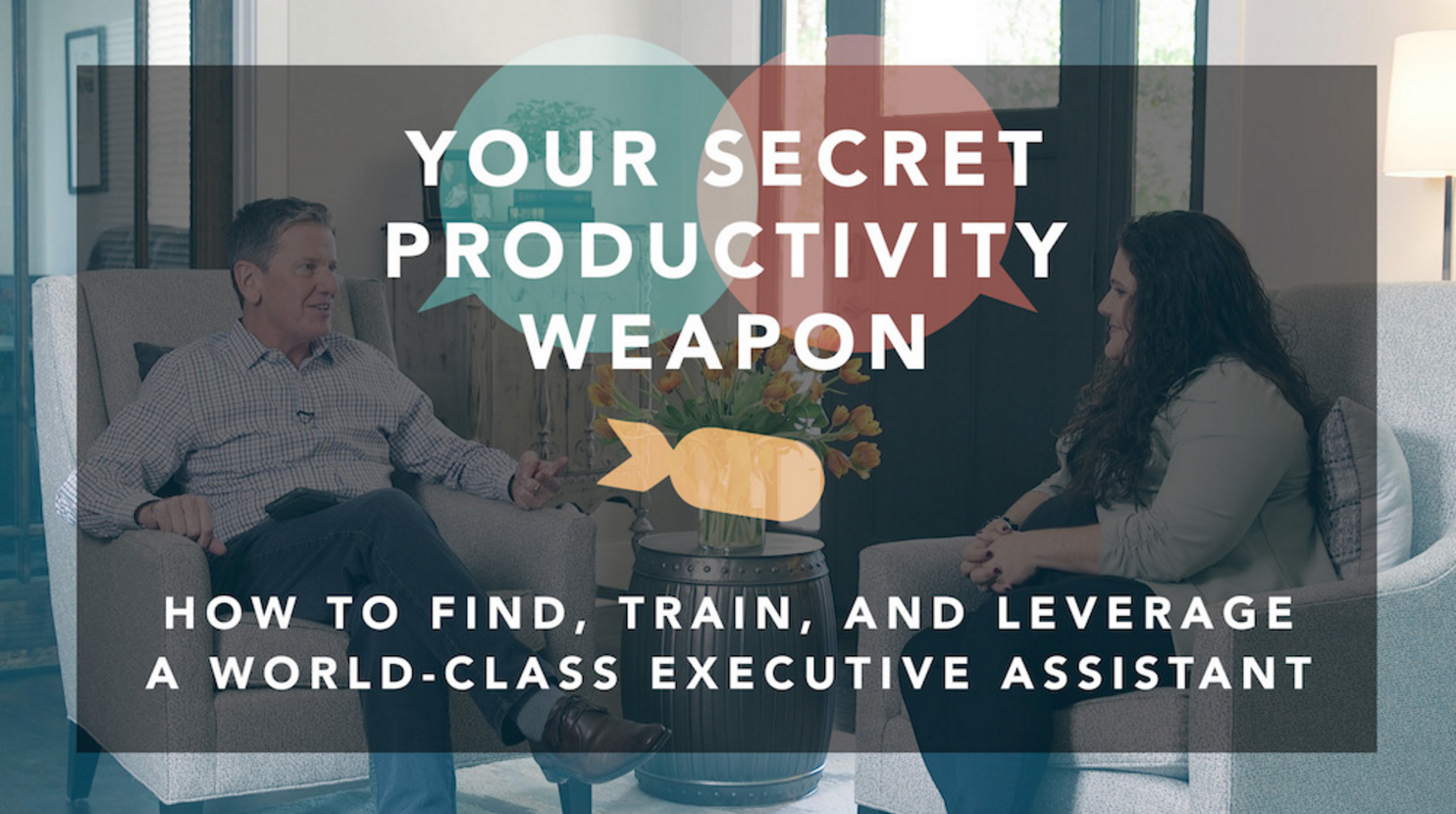 That is over $2,000 worth of bonuses!!
Pricing
There will be 3 Tiers available – Basic, Premium and Ultimate.
Pricing for the tiers will range from $497 to $2,497.  Payment plans will be available as well.
And remember, the Premium and Ultimate options will also include Michael's Elite Bonus Vault.
SIGN-UP AS A MICHAEL HYATT AFFILIATE
Commission
Affiliates will earn a 40% commission on the course and any upsells or downsells purchased within the following month of launch.
Free to Focus has been one of the best converting products Michael has had after it's initial launch last fall, so get ready to make some money from this launch!
Important Dates
2018 dates are TBD, but this launch is going to be HUGE.  Sign up and get it on your calendar now!