Have you ever pushed yourself to the brink of disaster?
You've worked so hard for so long. Fatigue takes over. Sickness ensues.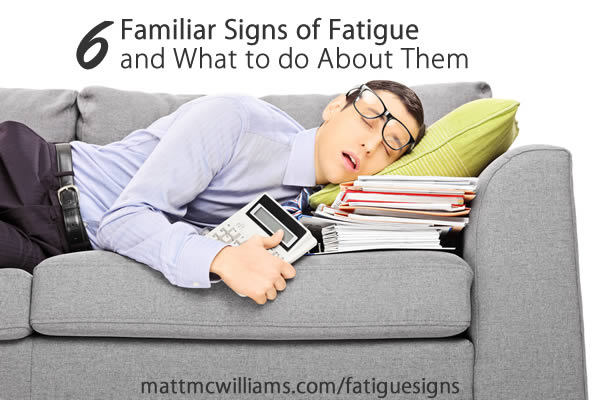 Do you recognize any of these familiar signs of fatigue? (Tweet That) | Share this Graphic on Pinterest | Share on Facebook
I've been there. I remember it like it was yesterday.
Fourth Quarter
I woke up Christmas morning 2012 completely exhausted. I felt sick, I'd gained fifteen pounds in less than two months and I didn't want to get out of bed…ever. Was this really how I was supposed to feel on Christmas morning? Our daughter's second Christmas…she was so excited…and I was a mess.
For the previous seven weeks, I strung together a series of 10 to 12-hour days. Day after day, with (thankfully) only Sundays off. I was now at the end of this nightmare stretch and my mind and body had paid the price.