One of the most common excuses I hear for not writing thank you notes is:
"I don't have time."
Actually, you don't have time not to write them. Let me explain…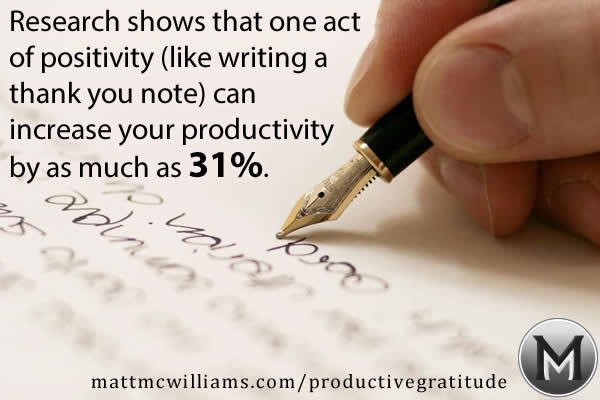 Writing thank you notes can make you 31% more productive. (Tweet That) | Share this Graphic on Pinterest | Share on Facebook
Now before I tell you why that is a lame excuse and tell you why you have to write them, I need to admit something.
The number one excuse I use is that "I don't have time."
Thursday rolls around and the calendar says "Write thank you notes," just like it does every Thursday. Thursday, for me, is like Christmas for some, I know it's coming. I know what it means, but I always act surprised when it comes around and I never budget the time to write notes.
Meetings at 10:00 and 2:00, interview at 3:00, phone calls to return, blog posts to finish, and lunch…I'd like to eat. And I have a mound of email. But no time for thank you notes.