Do you remember when you were a child and you played "make believe?"
You were a spy, a doctor, an astronaut, or perhaps an athlete. You took on the persona of whoever you were pretending to be. You talked like a spy would, you thought like a doctor, you did the things that kind of person would do.
In other words, you acted "as if."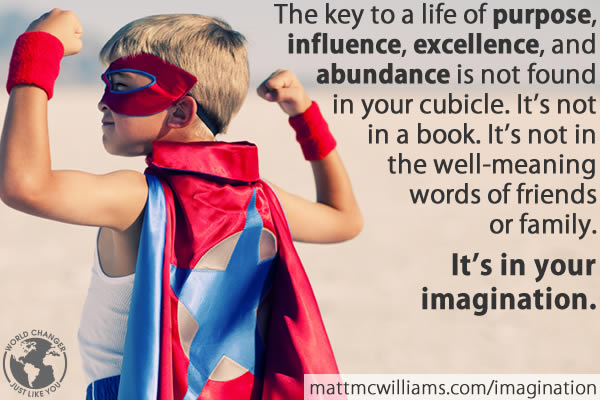 The key to a life of purpose, influence, excellence, and abundance starts in your imagination. (Tweet That) | Share this Graphic on Pinterest | Share on Facebook
The dictionary defines "make believe" as:
pretending that what is not real is real
Kids have the most amazing imaginations. I am experiencing this with our daughter now. Aracelli is 3 1/2 years old and she was talking to my mother this week. She told my mom all sorts of amazing tales of adventure, of dogs flying airplanes, chasing the deer through the woods, and doing all sorts of wild and exciting things.