If your audience is made up of Moms and Dads who cherish their children, this opportunity is for you.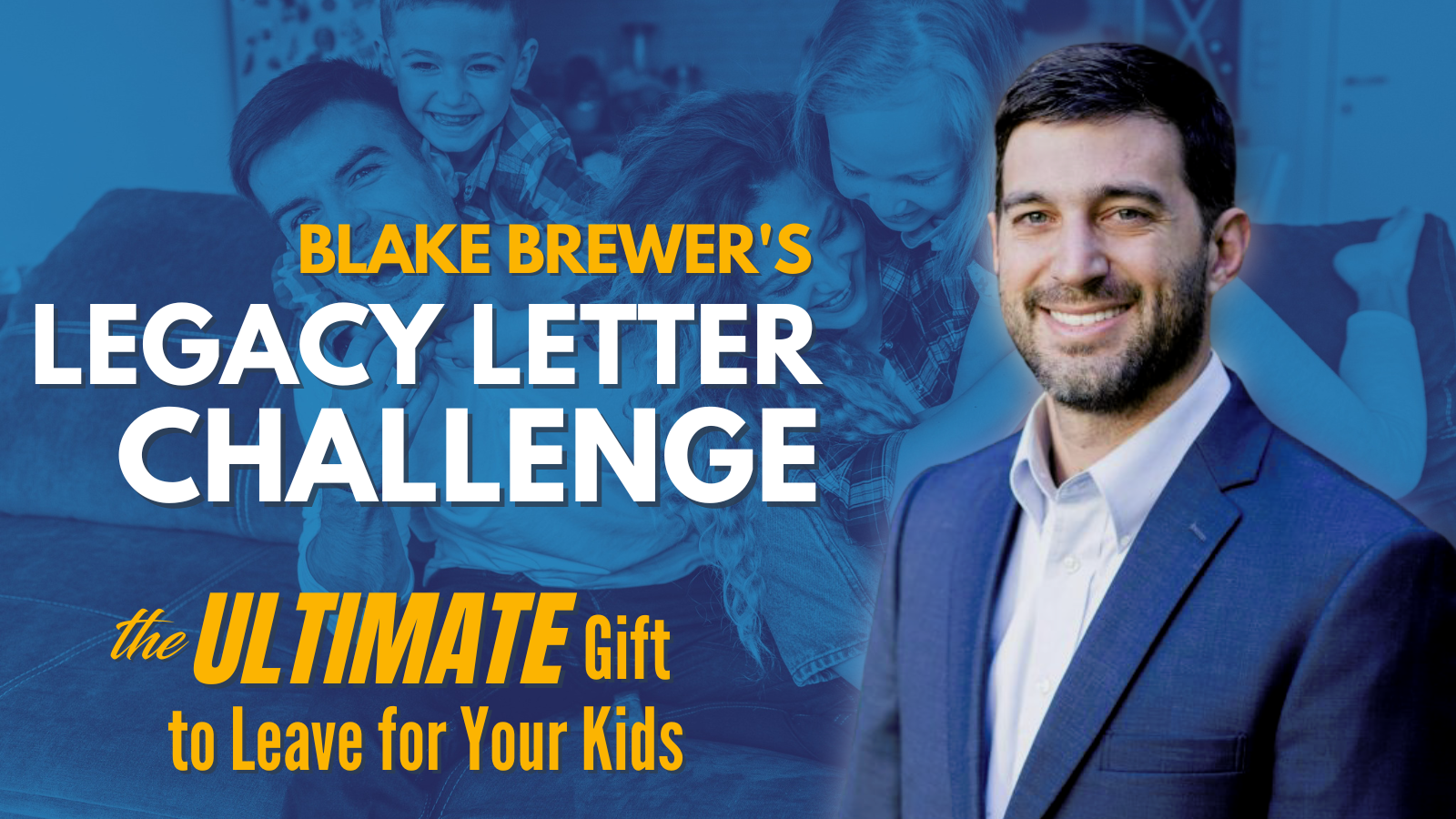 Blake Brewer is on a mission to help 1 million dads and moms write at least one well-written, meaningful, lasting Legacy Letter to their children. A Legacy Letter shares your values and virtues along with words that will affirm and communicate your love and impact your children's lives today and forever. 
I'm excited about this opportunity because:
1. Blake's mission comes from the heart. When he was 19, his parents took the family on an amazing trip to Hawaii. On the first day, Blake and his dad went out snorkeling. All of a sudden, they got caught up in a rough spot known as Witches Brew. His father started yelling for help and before Blake knew it, his dad was underwater. Unfortunately, Blake was unable to save him. Hours later, his mother came into the room and handed him a "gift" from his dad. It was a legacy letter his dad had just finished working on and it changed Blake's life.
2. He KNOWS how to help you connect with your children on a deep level. Obviously, Blake's personal experience provided him with insight into how to create a message that allows you to connect with your children on a deeper level, help them reach their potential, and to become better dads. But his true gift is being able to help you craft a legacy letter that communicates to your children in YOUR voice for lasting impact.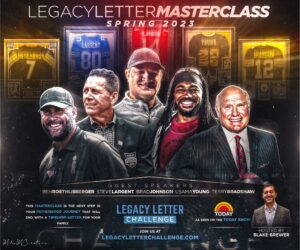 3. Blake is making incredible strides. Blake and The Legacy Letter Challenge were recently featured on the Today Show. He shared his story, the impact these letters are having on families, and plans for the Legacy Letter Masterclass featuring five celebrity sports dads as guest speakers.
About Blake Brewer's Legacy Letter
A few years ago, Blake decided to write his own legacy letter to his children, so that they would have something of him when they needed it most. But when he sat down to start writing, he saw how difficult it was.
He had plenty of ideas to put onto the page, but organizing them into the right words was hard. Other fathers he had talked to over the years, who resonated with Blake's story, had also found the process difficult.
At the same time, God brought several other men into his life that received letters from their fathers. And these letters also changed their trajectory. This is what spurned Blake's mission to help one million dads write at least one letter. Now, he's expanded to helping moms write their letters as well.
He'll help you write a letter that will communicate to your children how you feel about them and guide them as they navigate life. The words in this letter will bring your children confidence no matter the situation they are facing now or in the future.
Watch Blake's Recent Appearance On The Today Show
What's Included:
There are three components to the Legacy Letter Package:
Legacy Letter Challenge: Introductory Workshop (dads and moms on the same call)
1-hour introductory workshop via zoom.

Times to choose from each week.

You'll be guided through each section of the letter followed by a Q&A.

2 sample letters to look at.

Legacy Letter Challenge: Masterclass (dad's version and a mom's version)
Includes Live Introductory Masterclass.

Includes "Heart & Mind Preparation" Lessons.

Each section of the letter has a 5-10 min video with a deep dive that explains "the why" and "the how" along with examples of what to write and what not to write.

Go at your own pace.

Online community of other dads and moms.

10+ Example letters and "power phrases" to use.
Legacy Letter Challenge: Legacy Experience
Be in a private group with other dads and moms.

Three 1-hour Zoom sessions. 

Blake will personally walk you through the entire process of writing your letter.
Target Audience:
Dads and Moms who have children they want to equip with lifelong virtues and values.
Pricing:
Legacy Letter Challenge: Introductory Workshop ($47)
Legacy Letter Challenge: Masterclass ($197)
Legacy Letter Challenge: Legacy Experience ($1,000)
Commissions:
40% with the opportunity to earn bonuses and commission bumps each month.
Affiliates Committed So Far:
Some of the committed/interested affiliates…
Ken Canfield  

Aaron Walker 

Victor Marx 

James Reid 

Anthony Trucks

Terry Bradshaw 

Andy Garrett

 
Testimonials:
Blake has gathered some of the tried and tested insights from letter writing that I have used over the past 32 years, working with men in prison to those at the highest political and corporate levels… but what makes Blake unique is that he has honed and focused those insights into a course that helps dads as they leave a legacy. Blake's personal testimony not only validates this approach but will give you a boost as a father. I heartily endorse his program and work. – Ken Canfield, President & Founder, National Center for Fathering
I had Blake on my show and I instantly knew I needed to write my children a Legacy Letter. It was an amazing experience as we went through it together. Every dad needs to do this. – Anthony Trucks NFL, Ninja Warrior, Motivational Speaker
I am very grateful for Blake and the Legacy Letter Challenge. Blake helped me craft a letter that expressed to my girls how I feel about them along with some good life advice.  I loved being able to give the letters to my girls on each of their birthdays. – Tim Delaney, Arizona Cardinals Vice President, Digital Content and Creative
This was the most powerful experience I've gone through as a Dad. Keep going, Blake!!!!!! The world needs more Legacy Letters in it! – James Reid, Founder & CEO | International Performance, Mental Game, & Life Strategist
NOTE: You can watch this video of moms and dads sharing their experience (3 min)
How would you like to have your affiliate program featured?