I'm trying to act more like my dog.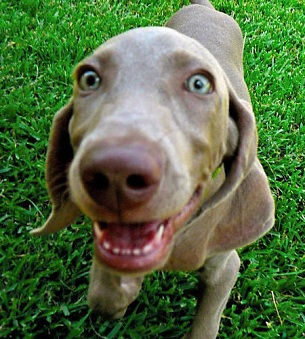 In a week, my wife, Tara, and I will celebrate our fourth wedding anniversary. During the past four years, I've noticed that she usually treats our dog, Benton, better than me.
That has eaten at me for a while until I realized it was my own fault. Benton treats her better than I do, especially in how he greets her when she gets home…or when she gets out of the bathroom…or when she comes back down the hall from the laundry room.
He is truly excited to see her. Every single time. And he shows it. This 80 lb. Weimaraner starts tap dancing at the first sight or sound of anyone arriving home. He does this cute little wiggle thing and puts himself front and center in the hall. The message is clear: "I'm so excited you're home. I missed you. Please come and pet me. I've been waiting anxiously for you."
But how do I greet Tara when she gets home? Occasionally with a big hug or excited welcome, but often with nothing more than a "Hey" as I peer up from my reading or my work. And when I get home? Prior to a few weeks ago, it was pretty lame.
The same can be said when someone dared to enter my office or knock on my door at work. At best, they got the slow "head raise of death." You know it…when someone continues to work for a few seconds, then dramatically lifts their head one vertebrae at a time and leaves it about halfway up. The remainder of the lift is all in the eyes, which look up with an annoyed, often evil look. This is followed by a somewhat muttered, clenched toothed, "Yes?" The underlying message is one of annoyance and self-importance.
When I arrived at the office, the message was clear as well: "Get out of my way; I've got important things to do." No time for chit chat, I headed straight to the office and got to work.
I have resolved never to act like that again. I am taking a cue from my dog…minus the tap dancing and wiggling at least.
How a father greets his children when he arrives home is important. How a wife greets her husband when she arrives home, and vice versa, is important. How a boss greets his team when he arrives to work or when someone knocks on his door sends a message to the team. Those we greet (or don't) are either welcomed by us or turned away. Repeatedly turning people away, rather they are our children, spouse, or those who work with us or for us, only leads to separation.
Team members quit. Children withdraw. Spouses find someone else who welcomes them openly each day.
That is how crucial this piece to the leadership puzzle is. It single-handedly can improve employee retention, improve children's relationship with their parents, and save marriages. And it is so easy to do.




Here are four ways to improve how you greet and receive people.
Plan it and rehearse it. Before arriving at the office or at home or wherever, plan and rehearse. It only takes a minute or two. Visualize what it looks like to greet people and receive them warmly. I have written about visualization here, here, and here. Read those for more help on visualization.
Practice it. Just as you would practice a speech or practice a sport, I suggest working on this. It's important, so you must invest the time. I've practiced everything from handshakes to repeatedly practicing looking up from my desk with wide eyes and a smile and then getting up. Practice entering a room…by entering a room. 
Smile. Very simply, when you are opening a door, put a smile on your face before you do so…and keep it there for a few minutes. When your wife calls to tell you she is down the street, start smiling. There is magic in a smile.
Stop what you are doing and focus. If at all possible, when it is time to enter the house, get off the phone. If you are entering the office, get off the phone. If your wife is getting home, get off the phone or put down the book. I know it's not possible every time and that is OK. But if at all possible, make the entrance and reception the focal point of at least one minute of your time. Wait a few minutes and end the call in your car. Whatever you are doing, stop it and be all there for this important part of the day.
Consider how you greet and receive those people who follow you or you want to follow you. And resolve to act like a dog.
How can you improve the way you greet and receive people important to you?