Pinterest is averaging nearly one BILLION visits per month. They have more than 400 MILLION active monthly users. It's users are active and highly engaged buyers. It's a huge opportunity for affiliate marketers…and also one of the most underused social media platforms for affiliate marketing. Today, I'll share why Pinterest is such a great tool for affiliate marketing and how to leverage it to boost your commissions.
Click Here for The Written Transcript of This Episode
NEW EPISODE: "Book Launch Party: An Interview with Matt About Turn Your Passions Into Profits" Listen here now!

Links Mentioned in this Episode
A Primer on Pinterest Affiliate Marketing in 2022
Text Me: (260) 217-4619
Don't Miss An Episode – Subscribe Below
Previous Episodes of The Affiliate Guy
10 Ways to Get Your Affiliates Fired Up Before a Launch or Promo
How to Provide Great Swipe Copy for Your Affiliate Program
The Dark Side of Entrepreneurship: Overcoming Setbacks, Pain, Fatigue, and Failure
7 Reasons Why Entrepreneurs Live Longer
Lessons Learned from a Multi-Million Dollar Affiliate Launch
How to Hire an Affiliate Manager
How to Use Pinterest for Affiliate Marketing
Can you believe that Pinterest is averaging nearly 1 billion visits per month with more than 400 million active monthly users? Its users are active, highly engaged buyers.
It's a huge opportunity for affiliate marketers, and also one of the most underused social media platforms in affiliate marketing.
Now, today I'm going to share why Pinterest is such a great tool for affiliate marketing and how to leverage it to boost your commissions.
So, full disclosure, I have never been on Pinterest a day in my life. I don't know the first thing about Pinterest from a first-hand experience.
Now, I had to do a lot of studying, and I asked some of my friends who are experts on social media on Pinterest, just as I did with the TikTok episode.
I really relied on the kind of coming at it from a newbie perspective. I did not come at this from an expert's perspective.
I know everything there is to know about Pinterest. No, I came at it from I don't know a thing. So let me learn so I can share with you.
I consulted with about almost nine people. I was going to say almost a dozen, but nine people on Pinterest.
Then I started using it just to experiment with it to record this episode and I learned a bunch of stuff along the way as well.
So I want to share that with you today because I believe that it could be a huge tool for affiliate marketing, primarily the way to think of Pinterest. If you've never used it, think of it as a visual search engine, all right?
It's primarily just one giant inspiration board. So people go there. I hear from my friends, it's so funny. I have friends who are like, ex-military, right?
We coach soccer together and he's like, Yeah, I get these recipes off Pinterest. This guy has biceps the size of my head. He's like, I'm on Pinterest. But it's just weird, right?
But think about it. They go there to find ideas for projects, recipes, wardrobes, and vacations. But it's a place where people go primarily when they're at a purchasing phase.
They can start forming these purchasing decisions. And I think that's what makes Pinterest such a viable option for affiliate marketing.
Your audience is already halfway there. They're already three-quarters to an intent to purchase.
They just need a nudge in the right direction. They just need to know which way to go. They're at the street sign that's basically the road is diverging in two directions
They're going to make a purchase. They're going to buy. They just need to know what to buy.
Or they need that one last little nudge in that right direction, just go over here and buy.
So that's why I think it's such a viable option. It's just where people enter the ecosystem more than any other social media platform.
They're closer to a buying decision than when somebody gets on Facebook. When I go to Facebook, I'm going there for relationships, for connections.
To get started with affiliate marketing the right way, download my free quickstart guide to affiliate marketing. Grab your copy here!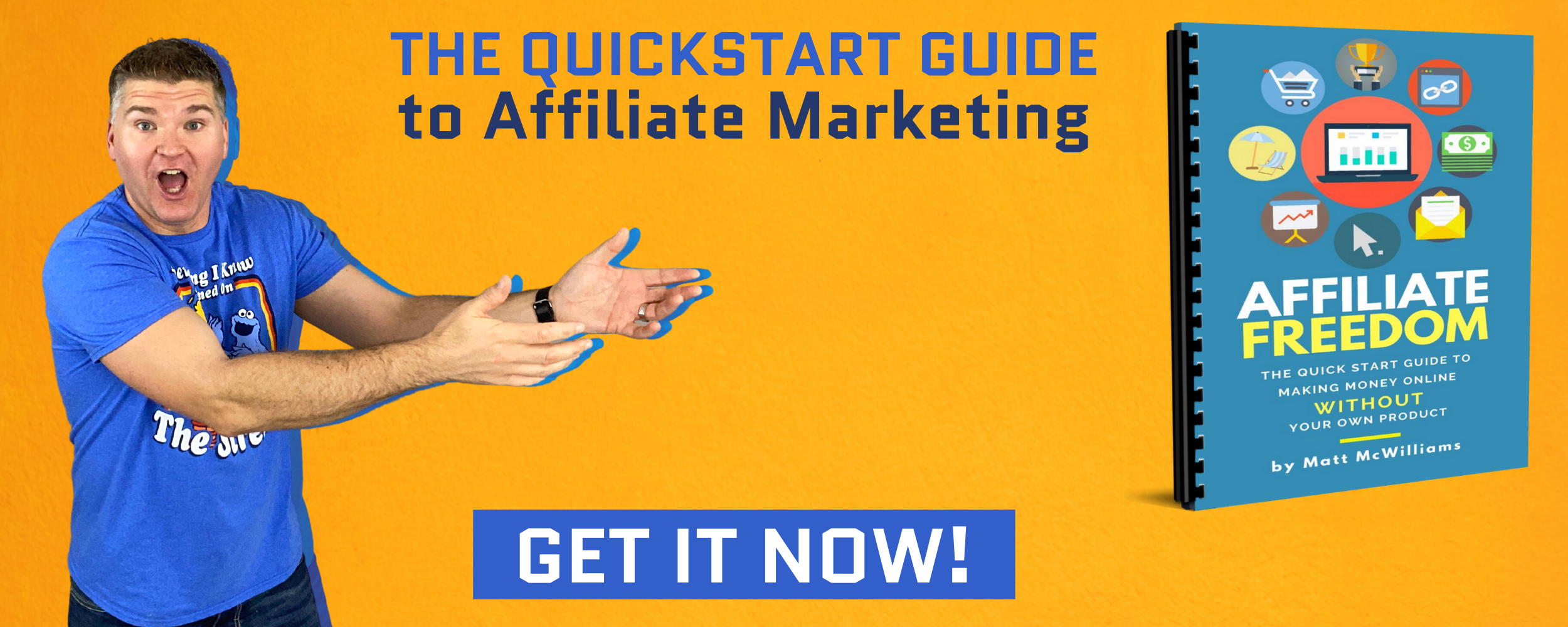 We'll talk about that in an upcoming episode about using Facebook for networking. That's why I'm going there.
I'm not going there. You know what, I'm going to Facebook. What I really want to see today is some ads or some posts that lead me to buy something that I woke up this morning not thinking about.
The people who go to Pinterest at some point during their day began to think about making a purchase oftentimes. Or they're thinking about, again, wardrobes.
What's a wardrobe? It's buying. Recipes, even recipes, like you may need to buy a certain ingredient.
So that's basically how Pinterest works, these pins, these images, the videos, they're linked to an external website. And then again, this is for people who don't know the Pinterest users.
They save these pins on their boards, and then basically they're creating their curating.
Really is a better way to say that. These online inspiration or idea boards, when you're using them as an affiliate marketing tool, you can use in so many ways.
You can boost brand awareness. It's also a great place to showcase recommended products that cause people to purchase them.
It's different from Facebook and Instagram, we think, it's videos and photos and you can like and share posts.
How is this any different from pretty much every other social media platform?
Facebook, of course, isn't primarily focused on visual content. Instagram has focused primarily on visual content that you yourself generate.
Pinterest, the difference is not only can you upload and share your own pins, but you can browse like, there are 240,000,000,000 pins right now, and you can add those to your boards very easily.
One advantage that Pinterest has over other social media platforms when it comes to affiliate marketing is just its visual nature.
As I said, it's a visual search engine. Visual search engine. But it's not just about the visuals. It's not just about the photos and the videos.
There are pins that link to tutorial articles, side-by-side comparisons, recipes, other types of things, and inspiration for all types of things that people could be looking for.
Like, I looked up a search for soccer uniform designs because as I was going through this, this exercise, I was in the process of designing a soccer uniform for our daughter for a little teenager put together for a beach soccer tournament.
All of those photos are linked to external sites or blog posts. If you see something you like, you click on that pin, it takes you to the external link.
That could be an affiliate link. So it's got a lot of similarities to search engines in this regard. People want to rank for soccer uniform designs.
So you want to use SEO principles, and search engine optimization principles to improve those search rankings?
That's going to drive traffic to those affiliate links. So you apply the same principles in your post you want to make sure to use keywords and things like that.
You want to make sure that you have a great title, you want to make sure that you describe the image well and use that.
If you want to optimize for soccer uniform designs, make sure the word soccer uniform and designs are in your post at least twice without keyword stuffing.
One of the big themes I kept hearing is, like, that Pinterest is not a fad. It's been around for a while, and yet it's still growing.
So a lot of social media things that kind of peaked in, say, 2016, 17,18,19 I think Twitter they've gone down.
And the thing is, Pinterest is actually growing in popularity among younger audiences. More millennials and quote-unquote Gen Z users, especially women, are embracing Pinterest.
It's pretty cool to see in 2020, 80% of millennial women in the United States used Pinterest.
It's 80%, of four out of five mothers in the US. Were active Pinterest users.
Overall, women makeup about 60 65% of the platform's audience in 2020, a large part due to the pandemic, shopping on the platform went up almost 50%.
It's crazy, right? This is a pretty cool stat.
To give you some idea of the potential, 29% of their Pinners, who are Pinterest users earn between 50 and $75,000 a year, and 40% earn more than $75,000.
If you compare that to users on Twitter, Reddit, and TikTok, even we talked about Facebook and Snapchat.
Like, the point is, on Pinterest, they spend more money. They have higher spending power.
More than half of Pinterest users say that they go to the platform specifically for purchase inspiration. I think it's technically said that shopping is their number one priority.
So it's the difference between someone walking into a store, they have a shopping intent there, right?
They're walking into a store and somebody just googling some search terms, googling certain search terms.
Maybe they're just a little bit interested, but they walk into the store. It's crazy, right? 48% have shopping as their top priority.
So how do you get started with affiliate marketing on Pinterest?
Well, number one, first of all, it's super easy. If you haven't yet, create a Pinterest business profile.
So if you've got a personal account, you can just turn that into a business account.
Just Google Pinterest business, and it'll take you right there. Just go through, and follow the directions. Super Easy allows you, like, all kinds of stuff.
Gives you access to analytics and ad tools, and audience insights. You can monitor engagement, like what's working, and which Pins are working best.
You can create ads, all kinds of stuff, right? If you've already got a Pinterest business profile, you simply go in. You already know how to do this. Probably just create a new pin.
If you're new, just go to the Create tab, and select Create a pin. I think it says, Create Pin. You can use tailwind or buffer as well, as other scheduling tools if you want to schedule them.
And then you just add your details. Now, we talked about this earlier, right? How to SEO optimize your content.
You want to optimize your content, so you want to add a title and a pin description, and then you want to optimize them for SEO.
So get as niche as you possibly can. I mentioned soccer uniform designs, not just soccer uniforms.
If you're promoting workout equipment, maybe not workout equipment, but have a pin specifically for low-cost elliptical machines. Have a pin specifically for the best at-home rowing machines.
Like, narrow it down as much as possible and then mention those keywords not only in the title but in the description.
Don't keyword stuff, but you really want to focus on a three, maybe four-word keyword string.
In other words, you're probably not going to rank for standing desks. I'm using a standing desk right now.
But what about the large electric standing desk? There aren't many of them. Most of the standing desks I've seen are too small for me.
So if I'm looking for like, a large electric standing desk, that I might find your post. Large electric standing desk, that's four words.
So you're optimizing for all four of those words and then make sure that those descriptions are detailed.
Make them remember Pinterest users came to the platform to look for something, solve their problems, and give them the answers or the inspiration they need in your description.
That's key, you've got to solve their problem in the description. Most standing desks you got those two words in are too small.
How are you supposed to be able to fit multiple monitors, a keyboard, a mouse, a planner, and whatever else you have on your desk.
So if you need a large standing desk, this is my favorite one. I said large electrical standing desk.
There are plenty of large ones, but they're only standing one. They're not electrical. They're not adjustable.
There's another keyword, right? Maybe a large adjustable standing desk.
Again, we're not looking to necessarily take this one pin and turn this one pin into a multi-million dollar affiliate marketing thing.
But if you get five people a day to visit that pin, one of whom buys and you make a $100 commission, you make $36,500 a year from that one pin.
Okay, what if only three people a week by and it's only $50? Well, you still made about $5,000 a year. Pretty good deal for a single pin, right?
You can use hashtags. Hashtag standing desk, hashtag office furniture, and things like that make these pins easily discoverable.
Now, one, this is something I heard from multiple people. I heard the opposite.
I heard conflicting advice on this, is what I'm saying. So I don't know the answer. I can't really find like, a definitive answer on this.
There is a chance that the Pinterest algorithm is hiding posts that contain hashtags because they're so often used and abused by spammers.
So just test it out. I don't know the answer. That's just something to think about. Yeah, they're completely optional, but just see what works for you.
I heard multiple people say you got to use hashtags. They make it discoverable. Others said my posts with hashtags ranked nowhere. Nobody ever sees them.
So there you go. Just something for you to look out for. Make sure that your posts are adhering to Pinterest guidelines.
Make sure you read those. And I'm not going to say, don't do this, do this, because those might change tomorrow.
And I want this podcast to live for at least a few years. You add your affiliate link under the destination link. So super easy there.
My recommendation is that you set up a redirect, of course, so that if that ever changes, you don't have to go edit the Pins.
So if I said, let's just say, mattmcwilliams.com I'll use one that exists.
If I do a Pin promoting ClickFunnels, mattmcwilliams.com/cliffefunnels, then if that link changes, click funnel says, hey, we're changing our affiliate platform.
You have all new links. I don't have to oh, my gosh, where do I have that crap? It's in 74 different places and I got to go change it to 74 different places.
No, I had to go change one link in Pretty Link in WordPress. It takes me 20 seconds. Done.
I had to do that earlier. I had a link, it was broken. It's in at least five different locations. Probably ten if you include social media posts.
And we have future social media posts scheduled, and we have to go find those and change them.
It would have taken 15 to 20 minutes. Instead, I just went into WordPress pretty link and typed in the one. Boom changed it.
So make sure you use the Pretty link for that as much as possible. When you're using Pinterest, make sure that the links you send them to are detailed sales pages, not like direct order.
I think that goes without saying. Don't send them directly to an order page, even if that's what the affiliate program recommends.
It's probably not the best. When they're coming from Pinterest, make sure you use to send them some sort of informational page, a sales page.
When you're creating graphics for the Pins, remember what I said multiple times.
Pinterest is a visual search engine. Your image should be eyecatching. It should really encourage them to click on it.
On Pinterest, they have the portrait orientation, right? So it's two x three.
So ideally, as of this recording, I'm hesitant to say this, but in this recording, the ideal image size is 1000 by 1500 pixels.
Anything larger, you might not see it all that's going to affect the performance.
So 1000 by 1500, we don't see that changing. It hasn't changed much. So just make sure that you're using compelling images.
If you add text to the image, make sure it's super easy to read.
Don't put sentences on there. It's like a few words, five, six words at most on the image.
Just make sure it's just something that you go to, wow, that's a cool image. That stops the scroll, so to speak.
Again, it's a search engine. So if you think about it, they're searching for your whatever.
What's going to stop them on yours? What's going to really make this stand out?
So then you basically choose, are you going to publish it immediately or publish it at a later date? Super easy. Publish the post.
The great thing about Pinterest, one of my favorite aspects is there are no limits on how many affiliate pins you can create.
So each post, you can create several different eye-catching pins. And over time, you might promote the same product 20 times using different pins.
And then one of them is the one that catches on. One of them is the one that catches on and starts getting found.
So that's the cool thing about that, are you can circle through, and maybe every month or so, you promote the same thing but using a different angle, a different image, things like that.
Ready to turn your passions into a profitable business? Check out my new book here!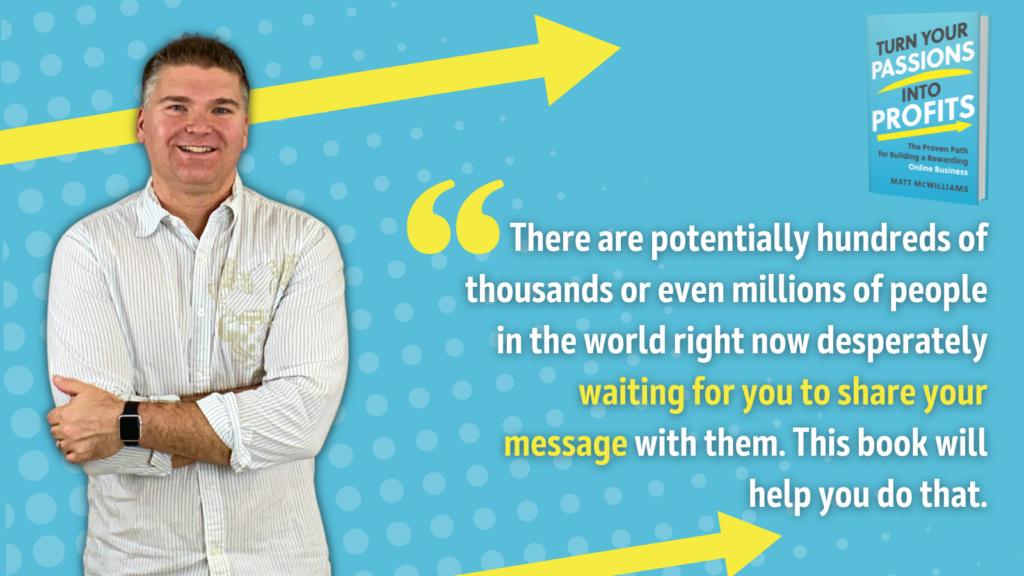 The big thing here is, the big thing with Pinterest. Of course, if you want to actually grow, you've got to grow your following.
So you follow other profiles, and you share their content. You join group boards.
Once you join a group board, all of your followers are going to be added to it.
That's a good way to gain visibility for your profile and as a result, for your pins, right?
So just make sure these group boards, again, you're looking for, if you're niche down, say, three levels, you want to join group boards that are one level up.
So in that group board, you're the go-to for ergonomic office equipment, or in the gardening group board, you're the one for organic hydroponics or something like that.
You're the one for specifically growing organic food in a greenhouse in the north. That's your thing.
Like you're a level down in terms of niche, but you're going up one niche for that group board.
The other thing is, I mentioned this before, but scheduling those things, just make sure that when you schedule them, they go live at a time that's going to be best for your audience.
So if your audience is primarily, let's just say, stay-at-home moms and dads, right? That's a different target time than people who work from home.
People who work from home might kind of check in an office might check into Pinterest in the middle of the day versus somebody who's working from home in the sense of their homeschooling, their kids.
That's a very different audience. Obviously, if they're working from nine to five, they're probably more likely to be on Pinterest over the weekend.
That's just something to keep in mind. As far as analyzing Pins, this is something you've got to do.
Just like with any marketing, you've got to track and analyze your Pin's performance. So go in every week or so.
Pinterest analytics is really good from what I can tell, and see what's working, what you need to do, what keywords are working, and what types of images are working.
Are you going to learn something in your first week? Probably not. But if you learn that, wow, I put ten with people and ten without.
The ones with people did 50% better on average than the ones without. Maybe that should tell you something.
If you notice that your audience really responds to red. Now, is that because your audience really responds to red, or because you only had three reds out of 20?
So they stood out? I don't know if every poster is red, maybe they wouldn't respond like that.
They responded better to images that have words on them versus not, or vice versa.
They responded better to this font than that font on the images.
You've got to know what works so you can tweak your content, you can tweak your strategy, and can make better-informed decisions.
Ultimately, the key thing, in my opinion, based on what I learned from Pinterest in general, but definitely with affiliate marketing, is consistency.
Consistency. Don't post three pins in a day and then go four days without posting, and then two pins in a day, and then a day without posting, and then five, and then zero for a week.
Don't post every day for five days and then take a week off consistently.
Early on, commit to a consistent schedule. I would under commit. I would say I'm going to post let's just say this works for the audience.
I'm going to post Monday, Wednesday, and Friday, every single week. Monday, Wednesday, and Friday. I'm going to post a board, three boards a week, three days.
Now, if you go, wow, this is really working, and I've got time, then go five days a week and then seven days a week, and then two boards a day, seven days a week.
I don't know. The idea is to be consistent.
Another big thing is you've got to look at trends.
Just like every social media network, trends are always changing, but they are good indicators of what people are searching for at any given moment.
So make use of trending keywords. Use these trends to find out what people are searching for and tap into them to make sure that within your niche and they work for your target audience.
You don't want to just try to tap into a trend.
The current trend is whatever, I don't even know, wearing your clothes backward like we used to back in the early 90s with Crisscross.
Just because that's the thing but you're in the gardening niche doesn't mean you're going to try to take advantage of that.
But if that's something that would resonate with your audience, then take advantage of it.
All right, last three things here. Make sure you disclose your affiliate links.
This is always required, so label your pins with sponsored or affiliate.
Something like that lets people know you're not trying to hide anything.
This is an affiliate link. You may even provide a little bit more detailed explanation.
Like the links in this post are affiliate links. If you click any of them, that means I make money, but that doesn't affect my recommendation.
Something like that. Just make sure you're not trying to skirt the rules on that.
Second to last thing, test, test, test. As always, make sure that you test your links.
If you're linking to any affiliate link, make sure that you not only test the link beforehand but test it from Pinterest. Make sure it goes to the right place.
Make sure if you're using one of the things I would definitely make sure you're doing, if you are using a link to post on Pinterest, post about the same product on Pinterest, Facebook, Instagram, and email for the Create sub IDs or something. Depends on the affiliate system that they're on.
Most of them are pretty easy specific links where you can know, hey, we made five sales from Pinterest, zero from Instagram, one from Facebook, and seven from LinkedIn.
And you know, that's something very powerful, because just because they're sharing, just because they're clicking, doesn't necessarily mean they're buying, and you want to know that stuff.
And then the last thing, I think this goes without saying, but through all this, make sure that you're following the affiliate programs rules.
If they say, for instance, as we do with many of our programs, you can't use the talent's image.
So if you're promoting Ryan Levak, you can't use Ryan's image in your Pinterest ads or in your Pinterest posts because it creates brand confusion.
They might think it's him. Now, the caveat to that is if you were at a conference with Ryan and you have a picture with them, we'll typically authorize just ask us if you can use that picture.
We'll typically authorize it. But don't try to come across as the talent.
If it's a personal brand type thing or something like that, where it's somebody's course, make sure you read their guidelines. If you have any questions, ask the affiliate manager.
The last thing you want to do is make thousands of dollars and then have it all taken away. So different programs have different rules.
It's their prerogative to make their rules, so just make sure that you check with them.
So hopefully you found this to be as valuable. I know I found a ton of value in learning about this.
It's something I'm going to play around with and maybe see if it could be a part of our repertoire over the next few years.
I think it has huge potential, that's for sure. It might not work for my niche and it works for yours or vice versa.
The idea here is, to try it out. If you're not using it at all, try it out.
If you are using it out, do me a favor, text me your best tips or if you have questions about anything, you can text me as well – 260-217-4619 I'd love to hear from you.
Want to learn how to make passive affiliate income from product review posts? Get my free guide on how to write a review post that ranks and converts and learn how we bring in more than $10,000 every single month in passive affiliate income! Get it here!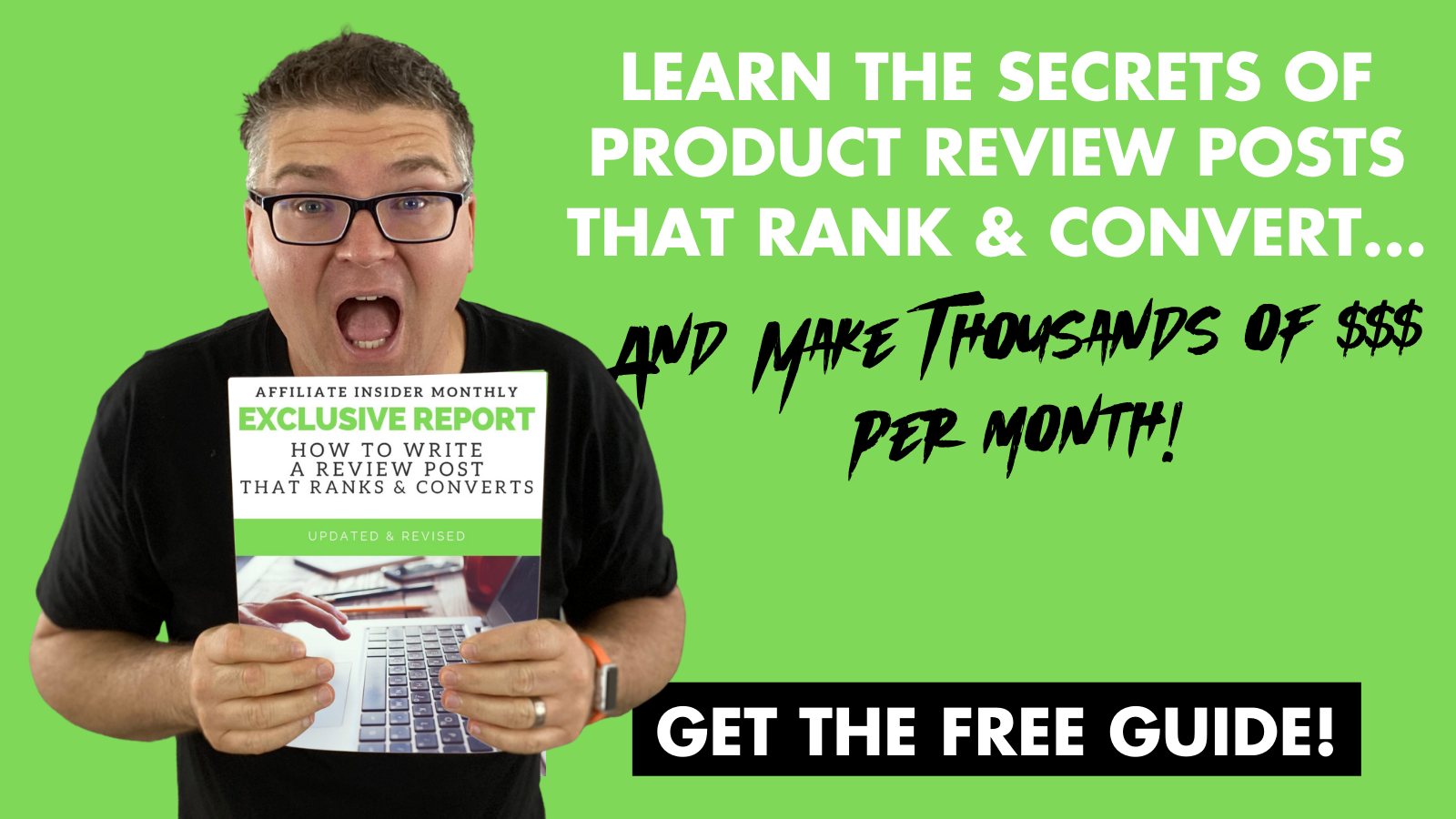 I'm curious what's working for you? Maybe I can share those on a future episode as well.
Speaking of future episodes, make sure you hit subscribe so you don't miss the next episode.
I got an interview with Dana Derek that I am super excited about. Man, I just cannot tell you how excited I am about this episode.
I finally get to introduce you to someone who's made a huge impact on my business.
If you want to learn how to connect with potential affiliate partners, and potential clients, and like the VIPs in your niche, the next episode is for you, and as I said, I'm super excited about it.
So make sure you hit subscribe so you don't miss that episode because that's going to be a good one.
I'll see you then.