Our daughter gets it. She's not even three years old yet, but she knows two things. 1. Where money comes from. 2. How to melt her daddy's heart.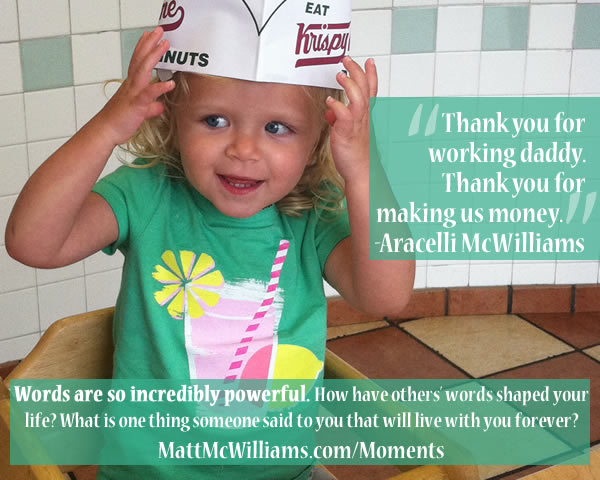 "Thank you for working daddy. Thank you for making us money."
With those eleven words, the tears flowed.
Tears of thankfulness. Tears of love. Tears from being overwhelmed. Tears of knowing that she gets it.
Of all the days to say that she chose this day. Or was it chosen for her?




363 days out of the year, I am energetic, positive, and generally love my work. This day was one of the other two. I'm not sure why, but it was.
I arrived at home early so that Tara could take our dog to the vet. I took Aracelli up for a nap and that's when she said those heart-melting words.
At first I cried. Then I smiled and gave her a big kiss on the forehead. Then I wrote this.
As she sleeps, I write. Soon, I'll help a client do something amazing. And I'll do it with the energy and passion I am known for.
All because of a little girl's words.
Special note: Aracelli, if you ever read this and in case you've forgotten how much your words meant to me that day, thank you. I'll never forget them.
Words are so incredibly powerful. How have others' words shaped your life? What is one thing someone said to you that will live with you forever?