Thinking of buying Push Button Influence by Steve Olsher and Alex Mandossian? Make sure to read this first. You'll kick yourself later if you don't. Full review and more than $1,200 in bonuses below.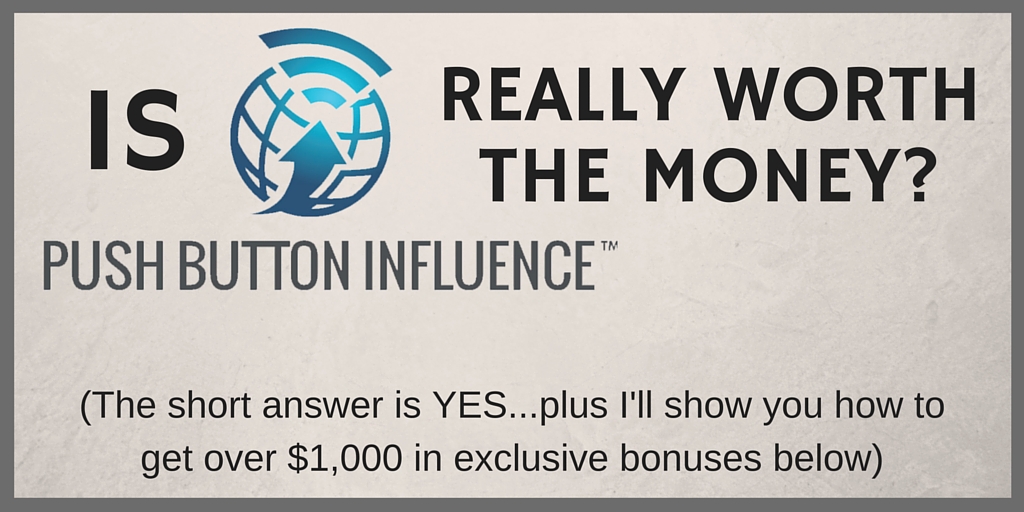 Ok, so since you are reading this post, you must have asked yourself the question…what's up with Steve Olsher and Alex Mandossian's course, Push Button Influence? My goal with this review is to answer any questions you have.
First off, a full disclaimer: Steve is a friend, and I am affiliate for he and Alex' course. But, to be clear, though, that does not affect what I share below in any way. What it does mean, however, is that if you buy through my link, I will get a commission. It also means that if you purchase through my links in this review, you will earn access to my two exclusive bonuses, worth over $1,200. These bonuses are not available anywhere else. <<Skip to the bonuses>>
So, now that we've got all of that out of the way, here's my full review of Push Button Influence by Steve Olsher and Alex Mandossian.
Who Are These Guys?
If you're on this page, you probably already know a little bit about Steve Olsher and Alex Mandossian…but maybe you don't.  So let's start there — because it does affect the value of their course, Push Button Influence. 

Steve Olsher is a serial entrepreneur.  He has created four multimillion-dollar companies. He has been an online entrepreneur since 1993 (I think that was right after Al Gore invented the internet!)
Steve has written several books including What Is Your WHAT? Discover The ONE Amazing Thing You Were Born To Do and Internet Prophets: The World's Leading Experts Reveal How to Profit Online.
He is also the creator of Internet Prophets LIVE!, host of the #1 rated podcast, Reinvention Radio, and creator of multiple online training programs including The Partnership Formula, NICHETIZE! and The Internet Prophets MasterClass.
Needless to say, he IS a New Media Influencer and definitely has been "around the block" with regards to learning how to become an influencer using the new media outlets.
Alex Mandossian has created an impressive list of products dating back over a decade.
Among his most popular products are Audio Generator, Instant Video Generator, Ask Database, Ultimate Internet Bootcamp, Ultimate Membership Seminar and recently Hangout Marketing Secrets.
Alex's blog has hundreds of thousands of subscribers and he's shared the stage with people like Richard Branson, Harvey Mackay, Donald Trump, Tony Robbins, Robert Kiyosaki and Suze Ormand.
Alex understands the online space and is very good at leveraging new media to increase his impact and influence in various markets.
What's Good About Push Button Influence?
1. Steve and Alex walk the walk.  As you can tell from their bios above, Steve and Alex are the real deal.  Anyone that has been in the new media world since the late 1990's has probably forgotten more about being a new media influencer than most other people have ever learned!
Seriously.  They have both been very successful in leveraging themselves as new media influencers, and in Push Button Influence (PBI) they will share their playbook with you.
2. PAID Beta Testers.  One of the really great things about Push Button Influence is the fact that Steve and Alex have tested the program with PAID beta testers.  Translation: People actually paid money for the course already…and their feedback, questions and ideas have been built into the current version of the program
3. Basic Goodness.  Everything you have come to expect in a great program can be found inside the program.  What do I mean by that?
PBI has video trainings, mp3 recordings of the trainings, PDF transcripts of the training, easy to use course dashboard, fantastic, personalized service and much, much more!
4. Accountability.  This is seriously one of the coolest things about Push Button Influence.  Steve and Alex have put together an awesome way to provide accountability for those who go through the program.
I talked with Steve on the phone recently and he explained how this accountability works and, I have to admit, I was blown away!  It's so different than what most people are doing.
He called it "Game-ification".  Steve and Alex have created a really neat system to make a game of actually completing the tasks within the course.
The basis of this is that Steve and Alex understand that the program only helps you if you actually complete the course. So they created this "game" of completing tasks inside the course.  Each task is given a point value and they are having an ongoing leaderboard, milestones, and prizes for those who are completing the most tasks and actually completing the recommended tasks!
This is such a cool idea and definitely shows that Steve and Alex are focused on actually helping you succeed…not just selling you a course!
5. Live Event. In addition to the online course and community, Steve and Alex understand that there are some things that are just better taught in person.  That is why as part of this course you will get a free ticket to a live event!  Steve referred to this as "Module 9" — meaning it builds upon the other modules and allows you to get in a room with other students, learn and ask questions as well as have the opportunity to connect with influencers that Steve and Alex have relationships with!
Needless to say, this event alone is highly valuable! 
What's Not-So-Good About Push Button Influence?
This is an honest review.  With that in mind, there are some parts about PBI that appear to me to be downsides.
1. I haven't gone through the course. Push Button Influence is a brand new course.  I have not been able to actually go through the course yet.  While they were creating the course, Alex and Steve gathered a group of 53 beta testers who paid to be a part of the beta version of the course.  So while I haven't personally gone through the course, they are creating the course with real feedback from real people.  I know Steve and have had several conversations with him about what the course will entail and I'm convinced it will be second to none, but I still have not gone through the course itself.
2. Game-ification.  This isn't really even a downside…unless you don't like competition or having other people see where you're at.
If that is the case, you may view this as a downside of the course.  But otherwise…it might not even fit in this category (it's not a downside for me…).
Who is Push Button Influence For (and Who is it NOT For)?
Who it's for:
PBI is for anyone who has a message that they want to share.
This includes:
Authors
Speakers
Coaches
Consultants
Professionals
Small business owners
If you find yourself in one of these categories and you want more exposure to get your message out to the world, Push Button Influence was created for you!
Who it's NOT for:
I believe a lot of people can benefit from what Steve and Alex have put together, that being said, it isn't for EVERYONE.
This is not a quick fix or a over night solution.  It takes real work and dedication.
That begin said, PBI is NOT for you if,
You aren't willing to invest the time into making it work
You aren't willing to invest the money into the course to learn (as of this writing, the course costs $1,997…it could be more by the time you read this.)
You want everything done for you (Alex and Steve's course will give you step-by-step instruction, but it requires you do put in the effort)
You don't like the idea of game-ification accountability.
In short, this course is very effective, but it only works if you do.
What is Included in Push Button Influence
The core of PBI is 8 value packed modules.
1. Content – This module will cover the basics of crafting your message and branding.  
2. Technology – This module will cover the various types of platforms available to the New Media Influencer: written, audio and video.
3. Planning – This module will cover topics such as creating an editorial calendar, curating content and increasing your productivity.
4. Repurposing –  This module will cover how to repurpose your content using syndication, simulcasting and amplification. 
5. Production – Pretty straight forward, this module will address the production of your content.
6. Engagement – This module will take you through how to engage with your audience and community.  It will also teach you how to get in front of the right person…and then how to get the right person to say yes!
7. Networking – This module will help you learn how to connect with the people that will help you become an influencer — other hosts, the media, JV Partners, Guests and other influencers. 
8. Outsourcing – Tools and Resources to help you accelerate your success.
9. Live Event. Live event to help take your learning and progress to the next level.
Push Button Influence Bonuses
When I was talking to Steve the other day he told me that their bonuses are really worth more than the course itself.
He said they really wanted to give you bonuses that would actually benefit you and apply to what you're learning in Push Button Influence.  So these bonuses are actually going to help you become an influencer!
In the pre-launch content, Steve and Alex shared their Authority Website Blueprint.  The major bonus you'll get with the course is they will build an Authority Website for you! That alone is probably worth more than you pay for the course itself!
They are also giving you the ability to get extended free trials for both ClickFunnels and Webinar Jam — So services that you will actually use as you are establishing yourself as an influencer.
My Exclusive Bonuses
Bonus #1 – 1 Free VIP Ticket to Networking with Purpose Live! ($197)
If you purchase through my affiliate link for Push Button Influence, you will also get a free ticket to my next Networking with Purpose Live event. The first Networking with Purpose Live was a HUGE success…the next one will be even bigger!
Getting in front of the right prospects requires the right connections… That's why I'm GIVING you access to the next Networking with Purpose Live event. This live online event will show you how to build, grow, and nurture your network to help you grow your awesome blog!
I share my own experiences, techniques and connection-building strategies PLUS I invite some of my connections that are networking experts to come and share their techniques and strategies with you as well.
The cheapest ticket for this event will cost $99, but you'll get a free VIP ticket, which gets you access to the live event and a bonus group coaching call two weeks later.
Bonus #2 – **Surprise Bonus to be Announced Later** Valued at $1,000+
So really, the only question left is, What are you waiting for?
Click here to purchase Steve Olsher and Alex Mandossian's Push Button Influence and get ready to get more exposure than you ever thought possible as a new media influencer!