"How can I change the world when my life is so messed up?"
So, your life isn't perfect. Join the club.
This is something I hear so often. People who question their ability to be a world changer just because their lives aren't right out of a black-and-white sitcom from the 1950's. Their lives aren't bright, shiny, sterile, and wrapped up in a pretty little bow.
In other words, their lives are real. Their problems are real. And yet, somehow, they can't change the world? I don't think so.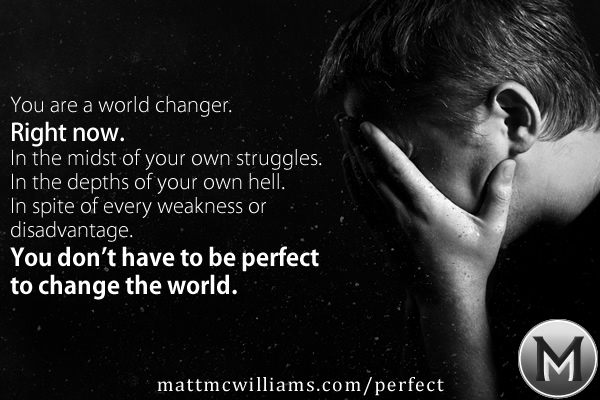 You are a world changer. Right now. In the midst of your own struggles. (Tweet That) | Share this Graphic on Pinterest | Share on Facebook
The notion that you have to be perfect to change the world is ridiculous. In fact, no world changer in history (save for one) was perfect.
3 examples from history
Abraham Lincoln
If he were alive today, Abraham Lincoln would probably have spent the past twenty years watching soap operas in a Snuggie while popping anti-depressants. He was prone to severe and debilitating bouts with depression that often led to suicidal thoughts. But he described his depression in a letter to a friend as "a misfortune, not a fault." That is the attitude that allowed him to be a world changer.