In this world nothing can be said to be certain, except death and taxes.

Benjamin Franklin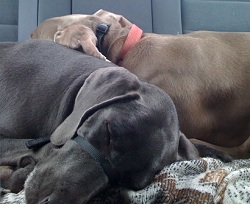 Our girl Weimaraner Jasmyn died on April 15, 2010. She had undergone surgery to remove a tumor that was choking her. It was cancerous.
Later that day as we were walking into the vet hospital, we got the call that her heart had stopped. She was nine years old. We just missed getting to say goodbye.
For much of the previous year and half, I found myself annoyed with her dog habits and needs. Being a dog somehow did not give her the same knowledge and abilities as I had, as though God actually created her to be different from me. People are that way too. We are not all created equal, but we should be treated as equals.
She used to slobber on me from time to time. I was always annoyed by that but now I would give anything to be slobbered on by her right now