How do you find a community to support you when you need it most?
How do you transition from work you can hardly stand to work you truly love?
How can you share your voice with the world?
That's what I talk about with today's guest, a World Changer just like you me, Tammy Helfrich.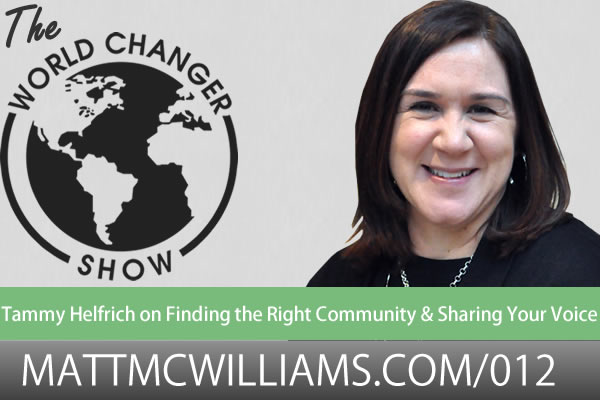 Learn how to find the right community and share your voice. Listen to @tammyhelfrich's interview with @MattMcWilliams2. (Tweet That) | Share this Graphic on Pinterest | Share on Facebook
About Tammy
Tammy is a writer, podcast host, and connector of people. She loves to share stories of people who are making a difference in the world around them. She left a great job in Corporate America earlier this year to shift her focus and invest full time in people and community. She is passionate about helping people become who they were created to be.
She has successfully built a community of supportive people, both online and offline and shares how she did that. And she is certainly sharing her God-given voice with the world in powerful ways.
You're going to be educated, inspired, and ready to act after this episode.