I hear three excuses when it comes to reasons why people don't write thank you notes. I'll explain each below and how to overcome them.

1. I don't have time to write them.
Yeah, that's crap. You do have time. Even if you're a slow writer, you have to get the stamp on perfect, and have to whittle your note cards directly from the tree, they take five minutes.
Find five minutes TODAY and write one. Don't know how to write a five-minute thank you note? See excuse two.
2. I don't know what to write.
OK I will make this simple for you. Here is the formula I use and an example "thank you" email:
Greeting
First paragraph: One sentence. "Thank you for…"
Second paragraph: Two sentences. What it meant to me, how I will use their help, I couldn't have done it without you, etc.
Third paragraph: One or two sentences. "Thank you again" and any closing remarks.
Closing and signature
Here is an example:
Hi Mark,
Thank you so much for the referral to .
I had a great talk with Joe and we are planning another call next week to finalize the contract. I look forward to working with such a great company.
Thank you again and please let me know when you will be in Chicago next. I would love to swing over and catch up over lunch.
All the Best,
Matt
3. I don't have anyone to write to.
Really?
You don't have anyone to thank? No one helped you at all this week?
Did someone at work offer a helpful piece of advice? Say thanks.
Did your spouse cook dinner? Make the bed? Do a great job helping the children get ready for school? Tell him or her thank you.
Did your garbage man pick up the garbage? Thank him.
"Thank you" opportunities are all around.
So go out and find someone to thank.
Write that first note today. Do not delay. Do not make excuses. Write.
Then tell your friends about the Revolution.
Tell them to join. Together we are creating cultures of gratitude and changing the world.
Until next week,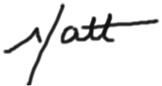 Matt McWilliams