"Thank you."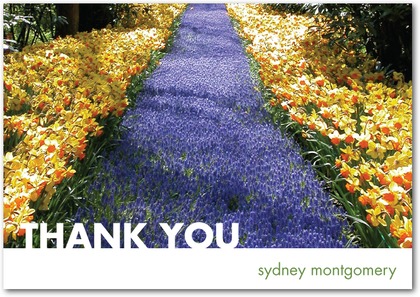 Two words not said enough, by bosses, by spouses, by friends, or by strangers on the street. Well, today we can change that.




Why today? Because it's Thank You Thursday!
One of my favorite authors, Jon Gordon, wrote about Thank You Thursdays a while back and it is something I have put into practice almost every Thursday without fail.
Every Thursday, I write at least one handwritten thank you note. I usually also send at least one thank you email. That is a minimum of 104 out of the blue, well thought out, intentional "thank yous" every year, usually three to four times that many.
I absolutely believe in the power of the handwritten thank you note. I believe in making the time to write them. I believe in thinking about someone who deserves a "thank you" and thoughtfully writing him or her a note to express my appreciation.
I also believe in making things simple, especially when I am writing five or six in one sitting. Here is the formula I use and an example "thank you" note:
Greeting

First paragraph: One sentence. "Thank you for…"

Second paragraph: Two sentences. What it meant to me, how I will use their help, I couldn't have done it without you, etc.

Third paragraph: One or two sentences. "Thank you again" and any closing remarks.

Closing and signature




Here is an example (names have been changed):
Hi Mark,

Thank you so much for the referral to .

I had a great talk with Joe and we are planning another call next week to finalize the contract. I look forward to working with such a great company.

Thank you again and please let me know when you will be in Chicago next. I would love to swing over and catch up over lunch.

All the Best,

Matt
Let's start a Thank You Revolution!
Since I first published this post, I started the Thank You Revolution. You can learn more and join here. I also released my book, Two Powerful Words: Revolutionize Your Work, Your Relationships, and Your Life with the Power of Gratitude! The book is full of inspiring stories, practical tips, and helpful resources to get you started at writing thank you notes and keep you going. You can get your copy here.
How do you say "thank you" to your team, peers, friends, and family?