I recently began using a really cool free plugin for GMail called Rapportive.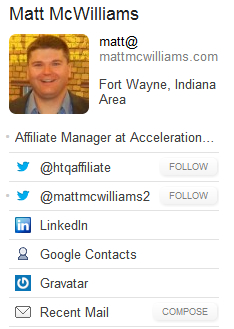 This isn't a post about how awesome Rapportive is, but let me first say that it is awesome.It is, by far, my favorite GMail plugin. This story will show one of the cooler uses of it.
A few weeks ago I got an email from an affiliate of one of my clients. This person was asking for more information about an upcoming promotion we were doing. She was going out of town, she said, and wanted to know if I could give her the information early.
I began to reply to her email letting her know the details and asking her to keep them under wraps when I glanced over at the right side of my screen. It was there that I noticed her Rapportive profile. Rapportive gleans information from other sources such as Twitter, LinkedIn, Facebook, and elsewhere. It looks something like the image on the left of mine.
Her current job title was that of Affiliate Manager for one of our largest competitors. This was the same competitor that had literally been copying my newsletters and promotions for six months. Imitation is the sincerest form of…ticking me off.
I thought to immediately kick her out of the program but thankfully a good friend called me as I was about to do that. As I told him the story, he reminded me of the old adage, "keep your friends close and your enemies closer." I picked up on where he was going with that.
To me, what this person did was unethical. It's one thing to keep an eye on the market. It's another to outright lie to get inside information.
My question: What would you do if you find out a competitor was spying on your business?
Let me know your thoughts below. How would you have handled this?