If you have an audience that wants to learn how to craft a signature talk so they can share their story on the global stage then this affiliate program is for you.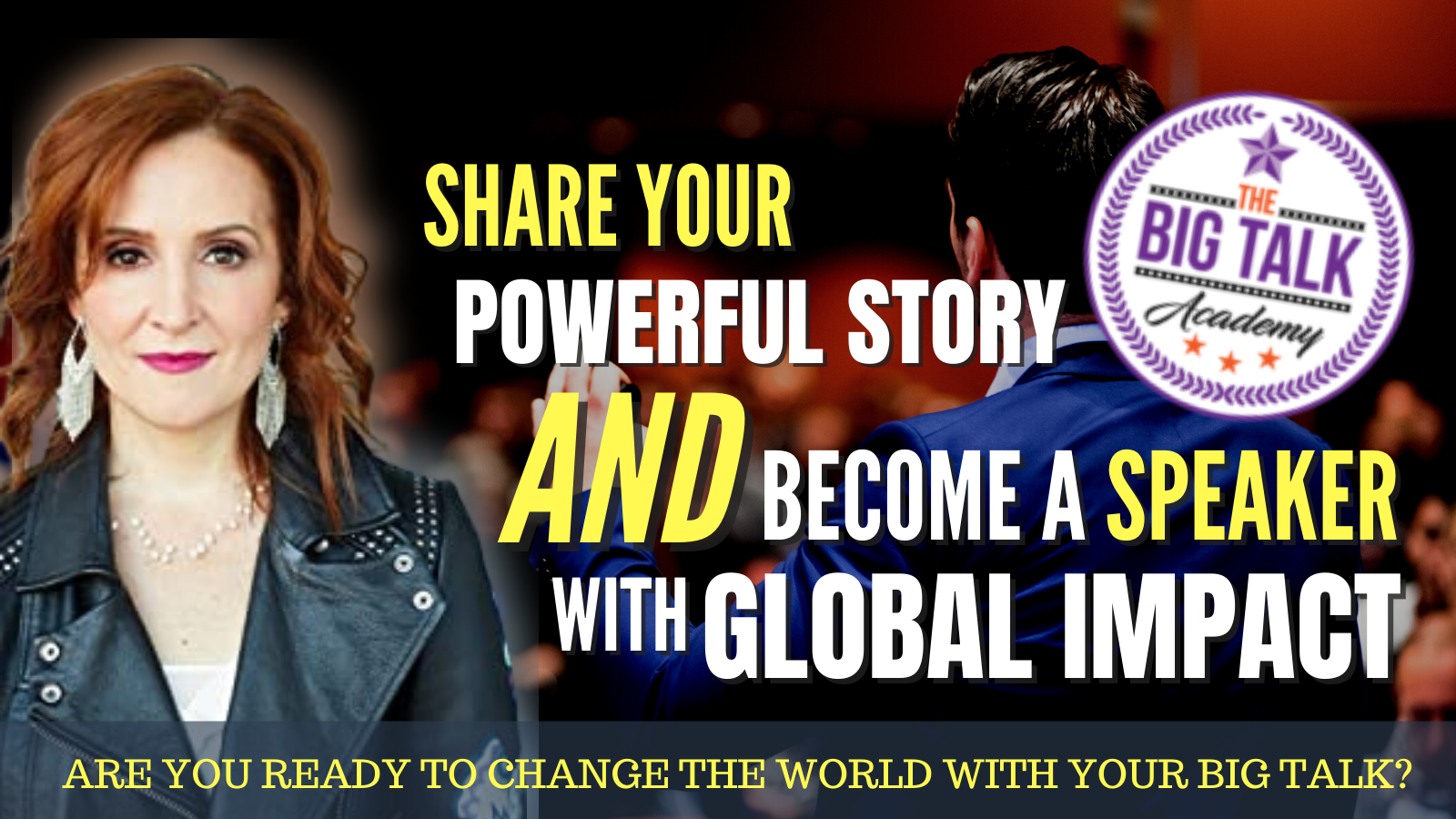 Our client, Tricia Brouk is launching The Big Talk Academy to show brilliant, talented and passionate people how to become a great speaker. These are people who already consider themselves speakers in their own mind and hearts and they want to share an abundance of valuable ideas. 
Why try to figure it out on your own and waste a lot of time when you can get everything you need to know to command the global speaking stage by leveraging Tricia's knowledge and experience?
I'm very excited about this affiliate opportunity because:
1 – She's walked the talk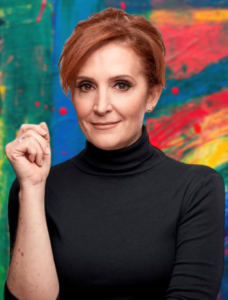 She's an international award-winning director, author and Executive Producer of events like Speakers Who Dare and TedxLincoln Square and The Big Talk Live. Her clients are from all over the world and she's helped thousands of speakers craft big talks and elevate their speaker game. Her razor-sharp business acumen, grit, courage, artist's soul and generous heart equip her with everything she needs to help her clients excel.
2 – She knows what it takes to get to the top…and stay there!
In less than three years, she's put  50+ speakers onto 15+ TEDx stages, most of whom went on to the TED.com main stage. Ten of her speakers took to the TEDxFarmingdale stage in 2020. Her ongoing support gives her clients the confidence and strategies they need to stay on top of their game. They benefit from first-hand access to her performance expertise that includes over 30 years on national and international stages.
About Big Talk Academy
In this 12-week virtual, intensive certification program, participants learn the skills they need to identify a big idea, craft a fully written talk, and perform a Big Talk so they can get it in front of the people who are making the decisions.
The program provides laser-focused guidance on uncovering the right, most impactful ideas needed for a Big Talk. Whether it's a members' first, second, or tenth talk, they'll receive the tools, techniques and resources they need to hone in on the most effective elements of their story and message.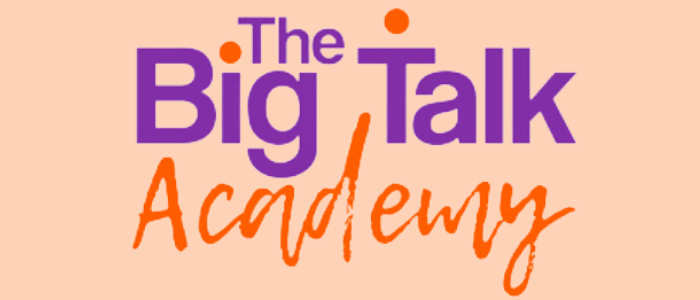 They get step-by-step guidance in writing and delivering a talk that speaks to the heart of their ideal audience and inspires action—so they walk on stage with total command of the material. No more second-guessing, creating in a vacuum, or asking friends for feedback…(again).
The "open mic night" gives them an opportunity to speak in front of an audience, vet topics and approaches with expert feedback and input from a circle of speakers with their same commitment to mission, values and purpose. No more practicing alone in front of dogs (or cats), wondering how the real audience will respond.
The Big Talk gives members the "real deal" on how to masterfully pitch their talk (and future talks) to organizers, decision makers, and producers. Learn the difference between a Keynote versus a TEDx talk—and how to write both. 
They'll learn to master fear and self-doubt so they always feel confident when taking the stage.
Members of The Big Talk Academy get:
AN ONLINE COMMUNITY OF SPEAKERS WITH DIVERSE VIEWPOINTS
Immediate access to The Big Talk online community, filled with world-class speakers who are excited to support them. This private community is also where they receive daily support from Tricia as they progress through the certification curriculum.
BI-WEEKLY GROUP COACHING SESSIONS WITH TRICIA
Twice each month, they'll gather via Zoom video conference, where they can ask Tricia anything: about their talk, opening, or content, and get her opinion on conferences and TEDx events. They'll get guidance for their upcoming pitches, performance notes, and expert instruction on organizing ideas for maximum impact. 
PERSONALIZED FEEDBACK
Big Talk Academy classes are purposely kept small so members get the experience of working with Tricia personally throughout their 12 weeks together. She's worked with speakers who have spoken at Google, Pinterest, The United Nations, Congress, the FDA, the Fearless Women's summit and countless TEDx stages. Her speakers have gone on to be represented by the same bureaus who represent Mel Robbins, Suzie Orman and Bob Woodward. She's even worked with a speaker who testified at President Trump's impeachment hearings. They're going to be getting guidance curated with THEIR talk in mind, as she draws on her experience and her network to support them in getting their message heard. 
VIRTUAL SHOWCASE
Once a student's idea has been built out into a full presentation, they'll get exclusive access to apply to a curated virtual showcase. This is their chance to perform their Big Talk for Tricia and influencers and also get "live" direction and feedback for their polished performance. 
CERTIFICATION
Successful completion of The Big Talk Academy results in them being officially certified as a Big Talk Graduate. They'll be listed on a special website where top meeting planners visit to seek out the best talent for their stages. They also get a The Big Talk Academy Speaker badge that they can add to their email signature and website, letting potential meeting planners know that they've been professionally trained by an acknowledged expert and that their audience will be in safe hands. 
Target Audience:
Professionals

Thought Leaders

Entrepreneurs

Authors

CEOs

Founders
What's Included:
Two (2) monthly group calls with Tricia.
Audio prompts recorded by Tricia that provide insight.
Access to curated videos of talks for reference.
Modules and daily bite-sized lessons for additional guidance.
Private Facebook group will provide support from Big Talk Academy coaches and other members.
Opportunity to perform their big talk at the Virtual Showcase for influencers, TEDx organizers and media.
Opportunity to be featured on The Big Talk YouTube channel and The Big Talk Podcast.
Certification  and inclusion in the The Big Talk Speaker Directory.
Launch Dates:
February 18 – March 4, 2022
August 4 – 18, 2022
Commissions:
$1000 per sale/20%
More About Tricia:
Tricia Brouk is an international award-winning director. She founded The Big Talk Academy and was the executive producer of TEDxLincolnSquare. She curates the Speaker Salon in NYC,  hosts The Big Talk award-winning podcast and her book, The Influential Voice: Saying What You Mean For Lasting Legacy, was #1 pre-order new release on Amazon.
Tricia was awarded Top Director of 2019 by the International Association of Top Professionals and Top Ten Speaker Coaches in Yahoo Finance in 2021 and the Empowered Women Award in 2021 by the IOATP. She was recently featured on the cover of Brainz Magazine. Her documentaries have received critical acclaim—winning numerous awards including Best Documentary Short at The Olympus Film Festival and Los Angeles Movie Awards. 
Testimonials