So, you just heard about Searchie, the latest from Stu McLaren's team. Want to make sure it's right for you? Make sure to read this first. You'll kick yourself later if you don't check out this full review.
So…the big question…what's up with Stu McLaren's new tool, Searchie? This review will answer many questions you have.
First off, a full disclaimer: I am an affiliate for Searchie and I consider Stu a friend. But, to be clear, that does not affect what I share below in any way. It does mean that if you purchase Searchie through my link I'll get a small commission (gotta love capitalism, right?).
Ok, now that we've got the boring disclaimers out of the way, onto the fun stuff…here's my full review of Searchie from Stu McLaren.
What is Searchie?
Let's start with some other questions first:
Do you produce any type of audio or video content?

Do you have a podcast?

A YouTube channel?

A membership site?

A course?

Do you do Facebook Lives?

Anything involving you talking into a microphone or camera?
If you answered yes to ANY of those, then Searchie is for you.
Searchie is THE solution to content overwhelm for your ideal clients.
With Searchie, you can transform your audio and video content into a powerful search platform. What does that mean?
Your content is searchable and your audience can search inside your video and audio to find the exact moment you said a specific phrase in your last Facebook Live.
Or, they can find every instance in your podcast where you mentioned a product you offer.
Really, the possibilities are incredible.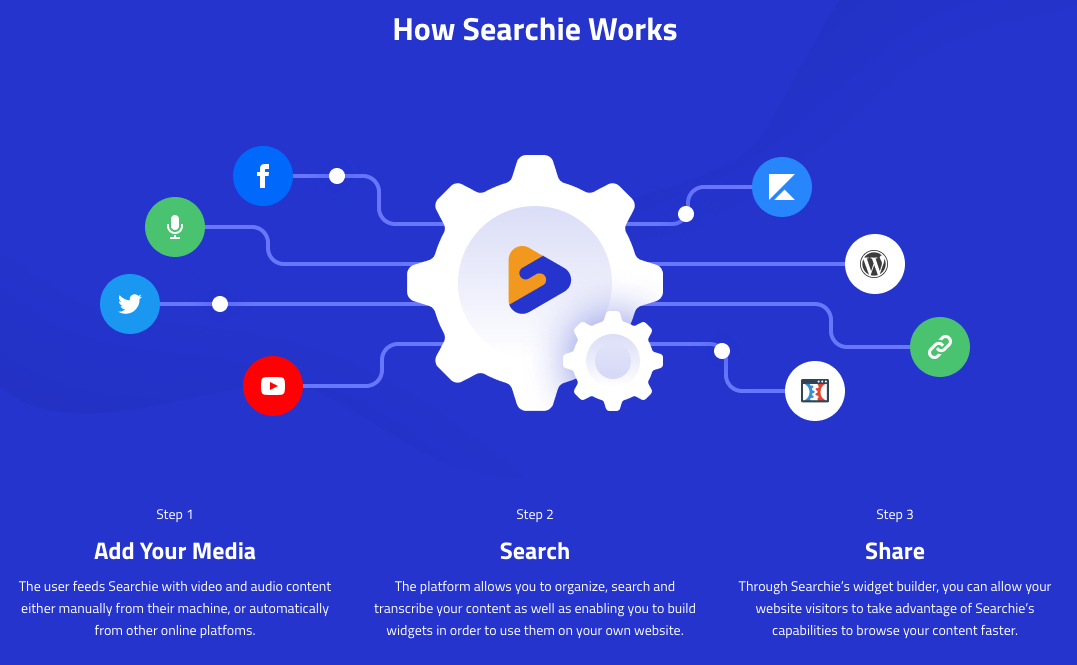 What's Good about Searchie?
1. Stu McLaren is the real deal
Stu's resume already speaks for itself.  The guy is a legend in the internet marketing space.  As a matter of fact, he's one of the guys that I've looked to for several years when it comes to entrepreneurship and internet marketing.
His client list reads like a red carpet event for internet marketers — Michael Hyatt, Ruth Soukup, Donald Miller, Jeff Walker, and many more.
His Tribe course about growing your membership has helped tens-of-thousands of creators share their expertise and change lives.
All of that is to say, Stu is putting out an incredible product, you can bet is top-notch…as a matter of fact, if I wasn't convinced, I probably wouldn't be writing this review!
2. It's Something Online Marketing Actually Needs
Searchie is an incredible piece of software that is not only used by Stu's team, but has been tested by the best in the business.
How many times have you been out and about listening to a podcast or watching a video and you don't have a way to take notes?
Then when you get home, you search for the nugget of wisdom and can't it. Or you completely forget to go back to it.
Just as frustrating as it is for you, imagine how much your audience is missing out on from your content.
Searchie saves you and your audience hours of sifting through video.
It boosts engagement with your subscribers because your content lasts longer. Did you say something incredible three years ago that is now buried in an archive somewhere?
Now that content is usable again when you add it to Searchie.
Stu has HUGE amounts of research and backing that goes into this system.
3. Unmatched Support
I love how dedicated Stu and his team are in making sure that those who buy Searchie are supported every step of the way.
I mean, just look at the support they provide have ready for you the moment you join:
Seriously…that level of support isn't available inside many paid products.
And guess what, their support even uses Searchie to help you get the most out of Searchie!
There's an entire Help Center available with suggestions about how to get the most out of Searchie.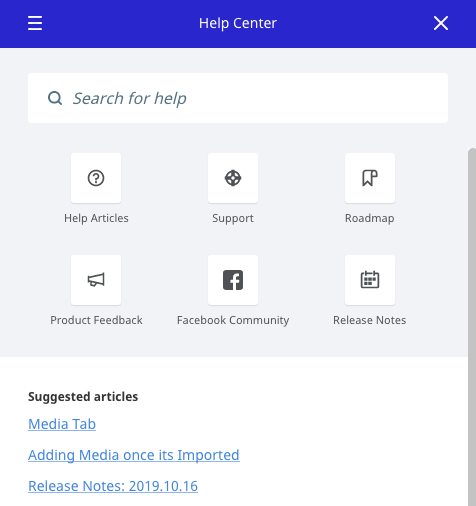 What's NOT Good About Searchie?
1. Still a Relatively New Product
Searchie has only been around for several months and just came out of beta (or testing).
This means that there aren't tens-of-thousands of people who use it yet and have worked out all the problems. But, there have been hundreds of top online business people who are successfully using Searchie to save time, engage their audience, and reduce support requests by up to 80%.
2. There's Almost Too Many Ways To Use It
This isn't a "not so good" part of Searchie necessarily, but because this is so new people are still trying to figure out all the best ways to integrate it into their business.
People are using it for:
Documenting team calls and processes
Creating Vaults of videos for future products
Index their online courses
Create searchable archives of podcast episodes
Transcribe their video and audio to "write" new blog posts in no time
The list goes on and on.
3. I Haven't Reviewed Everything That's Possible
This is an honest review, so it is important for me to tell you that I have not looked through all the features available myself.
I have, however, been watching Stu for a long time and I can tell you that he never does anything halfway, so have no doubt that everything Searchie does is awesome…
In fact, my team and I are currently going through our own archives and completely updating how we deliver our courses.
And the results so far are AWESOME!
I honestly can't find any other "bad" things about the Searchie — and believe me, I tried.
But Stu has left nothing to chance…it really does come down to whether this product is right for you or not…if it's right for you, then it's awesome.  If it's not right for you, then, well, it's not right for you and you shouldn't buy it!
Who is Searchie For (Who is it NOT for?)
Who Searchie is For:
Stu McLaren's Searchie is for anyone who currently has an audience and business and wants to save time, serve their customers better, and reduce support.
This includes:
Podcasters
YouTubers

Coaches

Speakers

Authors

Designers

Bloggers

Consultants

Experts

Influencers

…anyone else wanting to add a video or audio to their business
In short, if you use any audio or video and are looking for a way to simplify your business, then Searchie is probably for you!
Who is Searchie NOT For:
As with many of the products I review, many of the reasons that Searchie would NOT be for you revolve around YOU and YOUR choices.
This course is NOT for you if one or more of the following are true:
You're unwilling to invest the time necessary to create audio and video content.
You're unwilling to make the monetary investment (as of this writing, Searchie costs $99/month).
You think this will take care of your entire business while you sit back and drink cocktails. You still have to do the work.
You don't want to simplify your business by saving time and reducing customer support.
You already have a product that does what Searchie does. I'm guessing you don't.
In short, if you aren't willing to jump in with a desire to learn from Stu and put the work to developing your own audio and video content, then I would strongly recommend that you NOT purchase Searchie.
What Do You Get With Searchie
As of this writing, there are three different levels that work for all types of businesses.
Essentially the difference comes down the hours of upload and the number of content widgets you can create.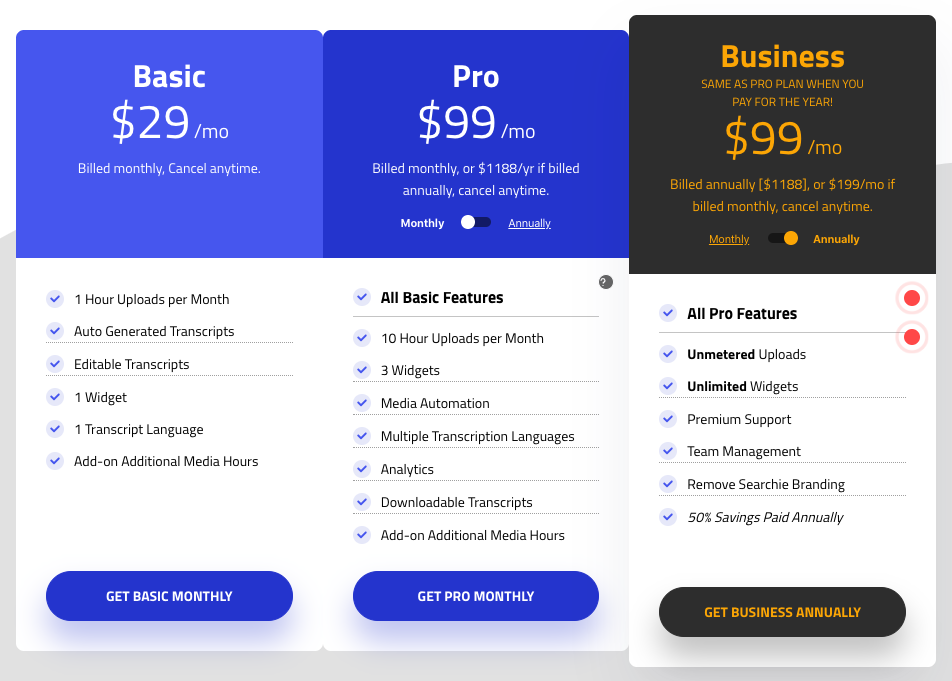 In all the Searchie plans, you'll be able to auto-generate transcripts. This alone is a huge game-changer for most businesses.
Searchie is already saving us massive amounts of time in our business (and we've barely implemented it)…
That's time we get back to:
– Work on the parts of our business that matter
– Spend time with our families
– Focus on our health
– Enjoy hobbies
– Have time to read, think, and plan
– Do whatever the heck we want to!
If you produce any type of audio or video content, Searchie will dramatically increase consumption and engagement AND cut the time you spend on support and mundane, everyday tasks.