The following is an excerpt from a political speech that you will never hear.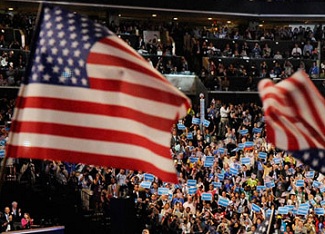 My fellow Americans,
Life is hard. Get used to it.
Life is unfair. Get over it.
Some people in this country will make more money than you. Some people will be rich and some people will be poor. The poor man is entitled to none of the rich man's money and the rich man should choose, by his own desire or moral obligation, how he spends his money. Coercion is no way to provide charity. Private charities are better at helping people anyway.
Some will argue that we are entitled to things like Social Security and Medicare because we paid into them. I have a better idea. One that worked for the first 170 years in this country. It's called a personal retirement fund. No longer should you send your money to a bureaucrat with the loose promise that you might get some of it back in forty years at 2% interest. No longer should there be countless strings attached to your money. It's yours. You keep it. You save it. You are responsible for it. Go ahead, I trust you.
Unemployment benefits? What kind of a name is that? There should be no benefit to being unemployed, It should hurt. Bad. So much so that you wake up every morning at 4:00 looking for a job and go to bed at 11:00 pm exhausted from a 19-hour day just looking. Unemployment should be painful because pain is the fuel that drives action and action leads to success.
You want some money when you lose your job? Keep what you're putting into "unemployment insurance" and put it into a savings account. There's your unemployment insurance, minus the bureaucratic mess. Go ahead, I trust you.
That's right. I trust you. I trust each and every one of you to act like adults. And when you don't, that's when we step in. Not to save you from yourself, but to save you from others.
At some point in life, you will be faced with a decision. Buy a big screen television or save for medical expenses when you are 70. It's a tough decision but one that I cannot make for you. It's not my job to take your money and save it for you. Only you can do that.
Some of you will choose wisely and reap the rewards. Some of you will make the wrong decisions and suffer the consequences.
Some of you will read the books you need to read to achieve success and create wealth. Some of you will choose to escape to a world of reality television and live in lack.
Some of you will end the relationships that are toxic to your well-being. Some of you will cling to the familiar and never know true contentment.
Some of you will delay pleasure, save wisely and live in abundance later in life. Some of you will choose instant gratification and later live in poverty.
Some of you will choose to work hard, make sacrifices, and pay the price for success. Some of you will be lazy and live every day with the hope that someone else will pick up your slack.
All of you will have struggles.
Some of you will lose your jobs and blame your boss. Some will blame the government. Some will blame anyone and everyone but themselves. But others of you will consider it an opportunity and will stop at nothing to find a new and better job.
All of you will know death. All of you will know pain. All of you will desire at some point to have the hurt taken away. But I cannot do that. No government can. Sorrow and loss are as much a part of life as breathing. So are joy, prosperity, and vibrancy.
All of you will, at least in the deepest parts of your hearts, long for more from life. You will long for success, wealth, contentment, and love. You will find none of those in me. You will find none of those in our government. You will only find them from within and from God.
I cannot and will not make the necessary choices for you. Your prosperity and the prosperity of your family and this nation are in your hands, not mine.
I pray for you and for our nation. May God bless us all. And may we accept His blessing and use the gifts He has given us well.
What would you like to hear a politician say that you've never heard before?