"I've been at this company for close to 14 years. This is pretty much the nicest thing anyone has ever done for me here."That is the type of reaction you can get when you are a part of the Thank You Revolution.
Below is a post that Bob Winchester wrote yesterday. You can comment on his post here.
That quote above is from his post. The "nicest thing anyone has ever done for me here" in 14 years!
As a Revolutionary, I know you would never question the power of
thank you notes, but reading that, don't you dare doubt the incredible impact of a simple thank you note. To say that lives are changing is no stretch…they are.
So before you read Bob's post, I want to do a little check-in with you.
Are you writing at least one thank you note to someone each week?
Are you feeling more gratitude as a result?
Are you seeing any benefits or rewards from writing them?
Are any of the 15 "promises" of the Thank You Revolution taking place in your life yet? Read the "promises" here.
Which of the "promises" most excites you?
Are you sharing the Revolution with others, like Bob?
Without further ado, here is Bob's post:
---
Saying Thank You is fairly common.  Saying Thanks is even more common; so much so that it's almost meaningless.  We often say it in passing as a gesture or a platitude.  So, how do you really say "THANK YOU" so that your true gratitude is expressed?  Here's an idea that when practiced will revolutionize your ability to pass on your appreciation!
A while back, a fellow blogger and Entreleader named Matt Mcwilliams wrote a post called, "The Thank You Revolution".  Matt's post was inspiring, but I have to admit that I didn't really take it to heart.  It was about writing Thank You notes.  Thank You notes weren't sexy or new.  This was old hat.  I did that years ago when I was younger and more energetic.
Then, I saw him write about it again and read the comments.  People were getting really pumped about this.  What's up with that, I thought?
Once I started thinking about it, I realized that I hadn't received a Thank You note…pretty much ever.  If someone was to do that for me (and really mean it), it would be special.  I'd probably tear up and get all warm and fuzzy inside.  That just doesn't happen at work, right?
And then the light bulb went off!  If I could spend a few minutes once a week making people feel appreciated, why not give it a shot?
So, I did it.  Bear in mind that this was very recently.  The reaction was nothing less than amazing!  Here's what my first recipient said:
"I've been at this company for close to 14 years.  This is pretty much the nicest thing anyone has ever done for me here."
This is coming from a guy that is, let's just say more of a comedian than a poet.  It touched him and it touched me.  And it wasn't contrived; this guy deserved it!  He was working his tail off and nobody was showing him the appreciation he deserved.  I feel very blessed to have been able to show him the gratitude I felt for his work and dedication.  Took me five whole minutes.
So, I'm in!  Even though I've got my own revolution here, I just joined another one…"The Thank You Revolution"!
Question: Are you brave enough to start a revolution in your work, family, or circle of friends?  Got five minutes?
Matt also has an ebook that I would recommend on this topic.  If you have a chance to check it out, you'll be glad you did!
---
Thank you Bob!
With Gratitude,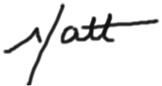 Matt McWilliams
Matt McWilliams.com | Life. Leadership. Love. Learned the Hard Way