Thinking of buying The Appointment Generator by Josh Turner? Make sure to read this first. You'll kick yourself later if you don't. Full review and more than $5,000 in bonuses below.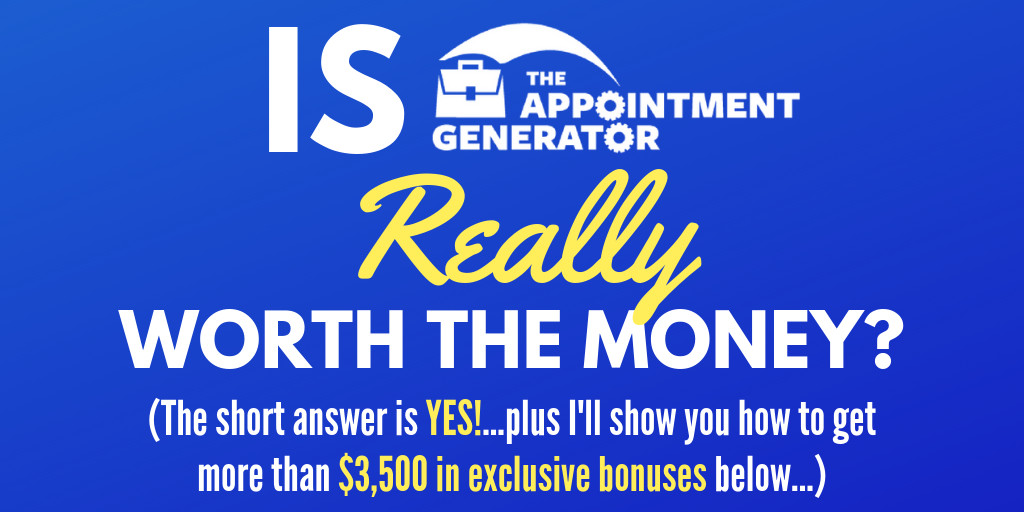 Ok, so the fact that you are reading this post means that you've asked yourself the question…what's up with Josh Turner's course, The Appointment Generator? I hope this review answers any questions you have.
First off, a full disclaimer: Josh is a friend, and I am affiliate for his course. But, to be clear, though, that does not affect what I share below in any way. What it does mean, however, is that if you buy through my link, I will get a commission. It also means that if you purchase through my links in this review, you will earn access to my two exclusive bonuses, worth over $5,000. These bonuses are not available anywhere else. <<Skip to the bonuses>>
So, now that we've got all of that out of the way, here's my full review of The Appointment Generator by Josh Turner.
Got Questions About The Appointment Generator?
Click Here to Chat Live with Me
What's Good About The Appointment Generator?
1. Josh Turner Isn't Just Another Marketer
Josh Turner is extremely unique in the internet marketing space for a few reasons.  But the BIGGEST is the fact that the majority of what he and his team do is a "done-for-you" agency where he helps people and corporations generate leads for their businesses through LinkedIn. And I'm not just talking about companies and people you never heard of…I'm talking Microsoft, Neil Patel, Dane Maxwell and countless others.
The bottom line is that The Appointment Generator (TAG) is real-life training that was created through hours upon hours upon hours of actually DOING what is taught in this course.
2. Those Who Can't Do, Teach…Unless You're Josh
Those who can't do, teach…unless you're Josh.  Then you do both.  Seriously.  There are some people that are unbelievable at actually DOING things, but are horrible teachers.  Then there are people who are unbelievable at TEACHING how to do something…but never reached the highest levels of success in that field.
Then there is Josh.
As I said above, The Appointment Generator is the culmination of everything Josh Turner knows about lead generation through actually generating countless leads for clients AND teaching people and businesses alike how to generate leads for themselves.
3. Solid, Straight Forward Training
When you open up The Appointment Generator the first thing you see below all the modules is a welcome video from Josh.  I LOVE this video.  It is Josh standing in front of a whiteboard walking you through the complete TAG system.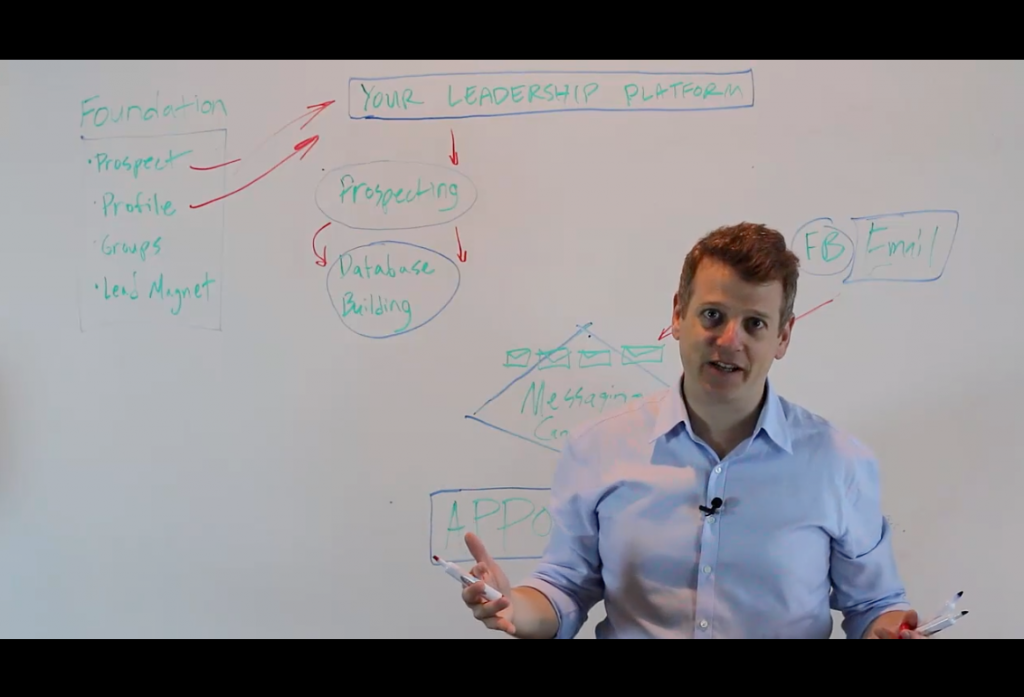 I don't know about you, but there is just something awesome about good ol' fashioned training with markers and a whiteboard.
From this very first video I knew that I was going to LOVE Josh's style of teaching and I knew that Josh KNEW what he was talking about.
There are over 30 videos that walk you through everything from creating your lead magnet to using advanced email systems (don't worry, it sounded confusing to me too…but Josh makes it super simple!)
4. Bonus Trainings
Who doesn't love bonuses?  I get excited when when I find $5 that I forgot in a pair of jeans…so you can imagine how excited I was to see that The Appointment Generator has $18,926 in BONUS trainings included with the course.
As if a complete system to generate, follow up with and turn leads into customers wasn't enough (would've been enough for me…), Josh gives you bonus trainings that cover subjects such as "The Sales Generator" and "The Traffic Generator" to name a few. And each of these has amazing courses from industry leaders like: Brian Tracy, Eben Pagan, Ryan Levesque, and more.
On top of this Josh has invited some of his friends that are experts in this arena to provide guest trainings on other sales tactics as well.
5. In-Person Calls with Josh Turner and His Team
As part of The Appointment Generator course, you will get access to weekly coaching and Q&A calls with Josh and his team for 3 months.
This is one of the aspects of TAG that I am most excited about.  As you are working through the course, you'll have the ability to get on calls with Josh and his team and get in-depth training and ask questions so that you can implement the TAG system fully within your business.
What's Not Good About The Appointment Generator?
I have to be completely honest with you… I LOOKED for something that I could point to that wasn't absolutely fantastic about Josh Turner's The Appointment Generator, but I honestly couldn't find anything.
I looked and looked, but I worked in the insurance lead generation industry for several years and I wish we had had this program when I was! 
I could say that the program costs a couple thousand dollars or that it's not for someone who hasn't started a business yet…but that isn't something that isn't good about the program, it just isn't who this program is created for.
The bottom line is, Josh has put a TON of time, effort and learning from helping countless clients into making The Appointment Generator the absolute best program of it's kind.  There really isn't a downside if you fit the target audience for this course!
Who is The Appointment Generator For (and Who is it NOT For)?
Who it's for:
In short, TAG is for anyone whose livelihood depends on selling prospects on their product or service (I know, that means pretty much everyone!). But seriously.  This program is for anyone whose business model requires them to make sales one-on-one with potential clients and prospects.
This includes,
Small business owners
Salesman
Sales Managers
Entrepeneurs
Solopreneurs
Coaches
Consultants
Who is it NOT for?
If you already know how to use email, LinkedIn and Facebook to generate more leads than you can handle then you probably don't need this program…but then again, who couldn't use a few more leads 😉
This program is also not for:
Those not willing to put in the work to set up the system
Those not willing to invest in their success
Those who do not have a product or service to sell
What it really comes down to is, The Appointment Generator is for those people who understand the importance of generating qualified business leads and are serious about putting in the work to learn how to generate more of them.
What is Included in The Appointment Generator
When I said above that TAG is the absolute best program of its kind, I wasn't exaggerating.  Here's some of what you'll find in the program (be sure to read all the way down to the bottom of this section…the last one is the best!)
Module 1: Putting Your Foundation in Place
This module is just like it sounds. You will lay the foundation that you must have in place in order to implement the awesome advanced strategies that Josh will teach you in the later modules.
Topics include:
Creating your ideal prospect profile
How to quickly establish commonality with prospects
How to turn your LinkedIn profile into a "client attraction magnet"
Module 2: Constructing Your Leadership Platform
This module is all about teaching you how to establish yourself as an expert in your field (because let's face it…we all want to hire the expert in any field!).
Topics include:
Become an expert by setting up a LinkedIn Group
How to connect quickly and authentically with members of the group
How to create, manage and run an effective Facebook Group
Foster maximum engagement from prospects on LinkedIn and Facebook
Module 3: How to Prospect Like a Pro and Build Your Prospect Database
Module 3 is where the rubber starts to really hit the road in TAG.  You'll take everything you've learned about your ideal prospects and begin building your prospect database.
Topics include:
Learn Josh Turner's Advanced LinkedIn People Search
Become a master at interpreting LinkedIn Search Results to weed out bad prospects
Learn how to start productive Facebook conversations with qualified prospects.
Module 4: Create Your Powerful Prospect Messaging Machine
This is a super detailed module that will help you efficiently communicate with your prospects in a way that will actually get results.
Topics include:
Learn how to maximize your email response rates
Learn to use the seven different messaging scripts that will make your prospects WANT to interact with you
Create an effective tracking system so you can keep track of your entire system
Module 5: Email Lead Generation Strategy
This is like the Ph. D. of email lead gen!  In this module you will learn tips and tricks that will make you a pro at using email to generate qualified leads.
Topics include:
How to use mail merge to speed up your email marketing
How to keep track of the emails and conversations you have using mail merge
How to track down hard to find email addresses for your top prospects
1-on-1 Support
The one-on-one support that comes with The Appointment Generator is takes this course from simply awesome to oh-my-goodness-this-is-flippin'-awesome!
Here's the type of support that comes with this course:
A dedicated coach to help you implement all aspects of the TAG system
Individual welcome call to answer any questions and get you started on the right foot
Daily office hours.  That's right, you can call your coach DAILY to walk through what you're doing, ask any questions and determine what to do next
Individual check-in calls.  Because Josh and his team are dedicated to YOUR success, your coach will periodically call you just to check in, see how you are doing and answer any questions you have
Seriously, this type of support is unheard of in the world of online courses (probably because, like I said above, Josh isn't a typical internet marketer…and TAG isn't a typical online course!)
Not One, But TWO Guarantees
By now you've probably realized that Josh Turner doesn't do anything halfway…and his guarantees are no different.  Most people offer you a simple 30 or 60-day money back guarantee, but Josh goes one step further:
Here's the 2 Guarantees that come with The Appointment Generator: 
30 Day Test Drive Guarantee
If you decided that TAG isn't for you within 30 days, Josh will refund your money.  Simple as that.  All they ask is that you "test drive" the course…meaning you must have completed the homework for Module 1.
The "We Won't Let You Fail" 10 Appointments per Month Guarantee
This one is cool… if you do the work, and are not generating at least 10 appointments per month, then Josh's team will get on a 1-on-1 call and do what it takes to work with you until you get it working.  They're all in to help you succeed!
Double Your Money Back Guarantee
If you do the work, check in with Josh's team to get help along the way, and you don't at least generate FIVE times as much income as your investment in the program within your first year, then Josh will refund 100% of your tuition AND give you an extra $2,000.
If those two guarantees don't give you confidence, I think you're literally incapable of being confident (joking…kind of…but seriously….these are awesome!)
Josh's Bonuses for Purchasing The Appointment Generator
I am offering you some, IMHO (In My Humble Opinion), amazing bonuses…but we're not to them yet.  First I want to share with you the bonuses that Josh is offering you.
Bonus #1: The Sales Generator – A Collection Of The Best Systems In The World To Turn Your Leads Into Clients: $11,395
Josh knows his stuff.  But he also knows a TON of people who know their stuff too.  When you join The Appointment Generator, you'll have access to several online courses with top sales experts that will give you actionable tips to implement into your business!
Bonus Courses Include: 
"Sales Conversion Mastery" from LinkedSelling (Value = $4000)
"Stage to Scale: 1 Hour Launch Mini-Course" from Pete Vargas (Value = $997)
"High Performance Selling" from Brian Tracy International (Value = $402)
"Presentations That Pay" from Eben Pagan (Value = $497)
"The Lean Approach to Landing Leads" from Ryan Levesque at the ASK Method Company (Value = $499)
"Mastermind Millions: How to Create and Fill Your Own Ultra High-End Mastermind Programs" from Christian Mickelsen (Value = $5,000)
Bonus #2: The Traffic Generator $7,531
Josh has exclusively curated a set of traffic generating courses you can't get anywhere else online. These bonus courses give you the roadmap to generate more traffic to your website. And more traffic mean's more appointment and sales. What's not to love. This is the perfect bundle to help you build upon what you start with The Appointment Generator.
Bonus Courses Include:
LinkedIn Ads Funnel Workshop from the LinkedSelling Elite Digital Group (Value = $2985)
THREE incredible traffic resources from the "King of Content" himself – Jeff Bullas (Value = $1,255)
"The 7 Traffic Campaigns Every Business Should Run" from Rob Warner at Invisible PPC (Value = $497)
"Presentations That Pay" from Eben Pagan (Value = $497)
"Pure JV: The Art & Mastery of Joint Ventures" from Charles Byrd (Value = $297)
"Ecstatic Marketing" from Jeanna Gabellini at MasterPeace Business Coaching (Value = $1,000)
I just got word that Josh received approval to include these amazing bonuses (totaling $11,143 in real street value) for EVERYBODY who joins The Appointment Generator by the deadline.
Here's what you'll get:
Bryan Kreuzberger's Breakthrough Email System
The world-leading cold email system for generating appointments. Over $100 million in sales have been created with Bryan's system. For some reason, he has offered to include it for everybody, so this is a big win for you.
It sells every day on his site for 3 payments of $700 ($2,100 total value).
Justin Livingston's Facebook Ad-Vantage
This is the Facebook training that the world's top marketers have used and still use to this day. Justin took it off the market 2 years ago, and now only offers it to his private clients. If you want to learn how to get high-ticket clients from Facebook, you will want this.
Before he pulled it off the shelves, it sold for $1,997. Now? Priceless.
Ted McGrath's Story Attraction Formula
You will learn how to design your personal story to perfect your enrollment and sales conversations to attract droves of new clients. Including the 6 simple stories that convert more customers…you'll be able to seamlessly integrate these into your sales scripts and be rockin' in no time.
Ted sells this program normally for $497.
Marisa Murgatroyd's Web Conversion Training
It's called "11 Tweaks to Turn Your Business Website Into a Money Machine" and it will help you convert more visitors into leads and clients. Brilliant stuff in this 11-module course.
Sells on Udemy for $97.
Jeff Bullas, the king of content, has 3 amazing bonuses:
1. Free Access to Jeff's 7 Steps to Blogging Mastery Course
2. Jeff's book on driving free traffic from Twitter.
3. Jeff's book on 101+ Tips and Tactics to Grow Your Web Traffic
Total Value for all 3: $1,255
Lisa Sasevich's "Discover Your Unique Branded System"
This is an exclusive training just for those who join The Appointment Generator.
Includes an audio training, worksheet and 2-hour group coaching call with the Queen of Sales Conversions, Lisa Sasevich. This is the #1 thing you can put in place to establish yourself as an authority and be successful at converting all the appointments you generate The Appointment Generator.
$1,000 value for this exclusive, private event with Lisa.
Danny Iny's "High-Conversion Webinar Deconstructed"
You'll learn the secrets of how to deliver a high-converting webinar from one of the masters. This has been seen by almost nobody, and you'll get it for free.
$200 value
John Corcoran's "Power Networking System" and Private Client List Building Training
When you join TAG, you'll get access to John's training just for his premium clients, on how he added 21,000+ email subscribers in 2015 using webinars. They pay $4,000 for this. You'll also get his Power Networking System, which sells every day for $97.
Total value for these two programs: $4,097
I just did the math.
The total value of all of these programs is $11,143.
My Exclusive Bonuses
Now onto the exclusive bonuses I mentioned earlier on.  If you purchase Josh Turner's Appointment Generator course through my affiliate link you will get 4 exclusive bonuses…and the best part: even if you decide that The Appointment Generator is not for you, you still get to keep these bonuses.
Together, they are valued at $598 $797 $3,090 (new fourth bonus below!).
Bonus #1 – Destroy Your Limiting Beliefs Self-Coaching Guide ($399)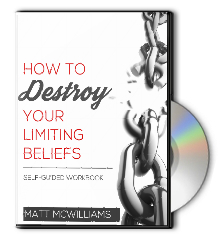 There are four types of limiting beliefs that you will need to overcome and I teach you how to do so in this self-coaching plan.
Until this year, this workbook was only available to my private coaching clients, but I know how critical it is to conquer your limiting beliefs to do something awesome (and daunting) as what The Appointment Generator offers.
Bonus #2 – Replay of my Live Event, Networking with Purpose Live! ($197)

If you go through my affiliate link for The Appointment Generator, you will also get a free ticket to my next Networking with Purpose Live event plus you'll get the replay of the last event right away.
Getting your amazing online course in front of a large amount of potential customers requires the right connections. That's why I'm GIVING you access to the next Networking with Purpose Live event. This live online event will show you how to build, grow, and nurture your network to help you launch your bestseller.
I share my own experiences, techniques and connection-building strategies PLUS I invite some of my connections that are networking experts to come and share their techniques and strategies with you as well.
The cheapest ticket for this event will cost $99, but you'll get a free VIP ticket, which gets you access to the live event and a bonus group coaching call two weeks later.
Bonus #3 – My Affiliate Marketing Training Course, No Product No Problem ($997)

In my first two years of blogging, I made more than $134,000 online in affiliate commissions before I ever had my own product. And you can, too!
You shouldn't wait to start making money from your platform. Start monetizing now with affiliate marketing.
You get to learn what your audience wants, how to sell, and develop the confidence you need to grow your business…all while getting paid to do so!
80+ video lessons in 9 Modules. Bonus lessons. Checklists. Templates. Success Stories.
Everything YOU need to succeed in affiliate marketing is inside this course.
And you get it FREE when you purchase The Appointment Generator through my affiliate link.
Bonus #4 — 7-Figure Affiliate Launch  ($1997)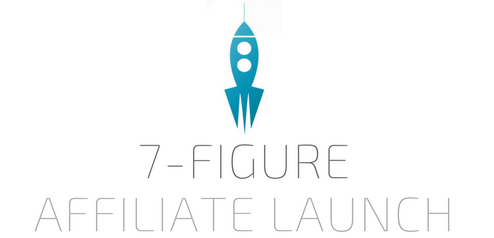 I've spent the past decade-plus running affiliate programs for online entrepreneurs like Michael Hyatt, Ray Edwards, Brian Tracy, Lewis Howes, Jeff Goins, and more.
The absolute NUMBER ONE way to sell more of your course is through affiliates. And I teach you how to run your own affiliate program and launch in this course.
You will learn ALL of the strategies and secrets of the top affiliate launches.
This course normally sells for nearly $2000, but it is yours for FREE when you buy The Appointment Generator through my link.
The total value of my exclusive bonuses is $3590. 
But Wait, There's More…
I asked Josh for something specifically for MY audience as a bonus.
Two years ago, Josh did a launch of The Appointment Generator that did more than $4 MILLION in sales.
How'd he do it? Well, he actually shared HOW, but only if you know him well or were an affiliate partner like me.
He shared his "Launch Diary" with a few of us and it was AMAZING! A crazy, but insightful look behind the scenes of a mega-million dollar product launch.
This "diary" is more than 60 pages long and is literally priceless. He does not sell this or give away, but I asked him to be able to share it with YOU as a favor to me, because I know how much it helped ME!
So, you get his "Launch Diary" AND an exclusive video I did with his affiliate manager, Ryan, to share how they did it. They completely open up and are transparent about what went right, what went not so right, and what they would do differently.
If you want this bonus, you have to buy The Appointment Generator through this link. It's not available anywhere else (neither are any of my bonuses!).
So the only question remaining is, What are you waiting for?
Check out Josh Turner's Appointment Generator NOW!
STILL HAVE QUESTIONS?
Click Here to Chat Live with Me