So you started a blog. Now what?  If you've followed me for any amount of time, you know I am a big believer in monetizing from day one. After all, brick and mortar stores start selling stuff the day they open their doors, why shouldn't you? So how exactly do you turn your blog into an affiliate marketing machine? In today's post, I will share 7 (now 10) simple ways to get started today.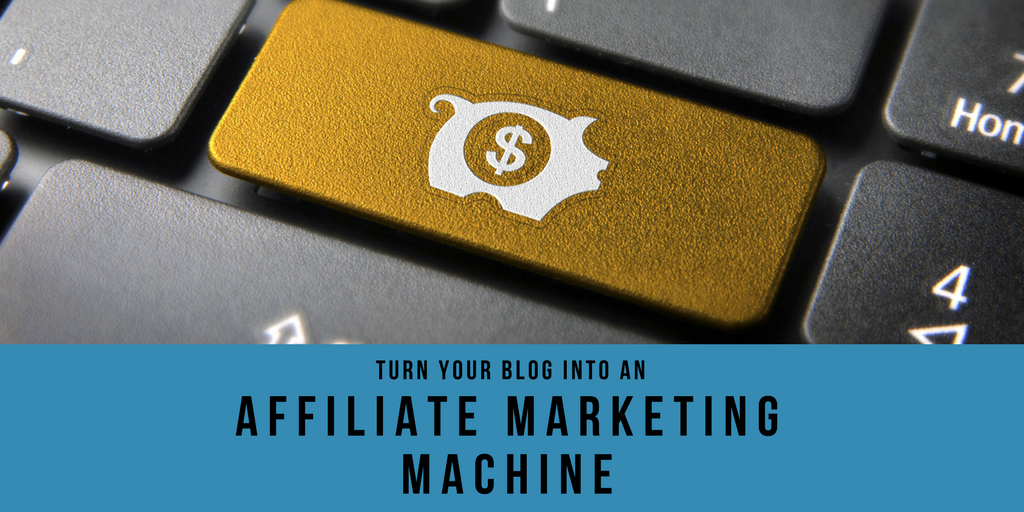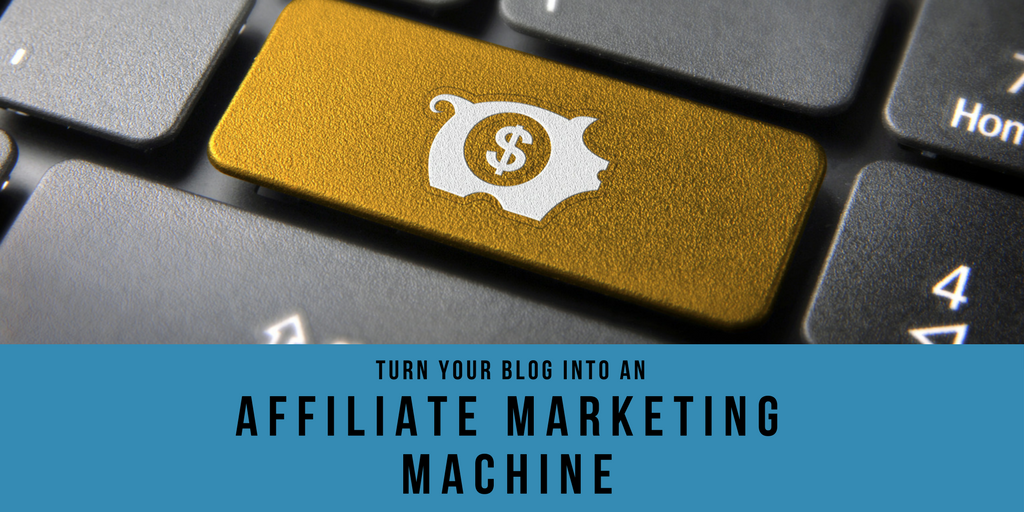 This post was originally published in July 2017. It has since been updated with 3 MORE ways to monetize your blog and other awesome content!
There are a lot of people who start a blog with the intention of creating a profitable business. Unfortunately, too many never actually get there.
It's hard to have a full suite of products to offer your audience on day one. That's why I believe that if you are a blogger, you should harness the power of affiliate marketing to immediately start earning money.
In today's post, I'm going to share with you 10 simple ways that you can start using affiliate marketing to earn money with your blog.
I have used each of these with great success and you can too!
1. Amazon Links
Amazon is one of the simplest ways to begin monetizing because they sell everything.
The Amazon affiliate program is easy to join and super easy to use. Anytime you mention a book or a product on your site, be sure to go to Amazon and grab the affiliate link. When you do, make sure to use their Site Stripe to grab your link.
This makes it ridiculously easy to link to any page you are on within the Amazon site. It literally takes less than 10 seconds to link to any page. Here's what it looks like: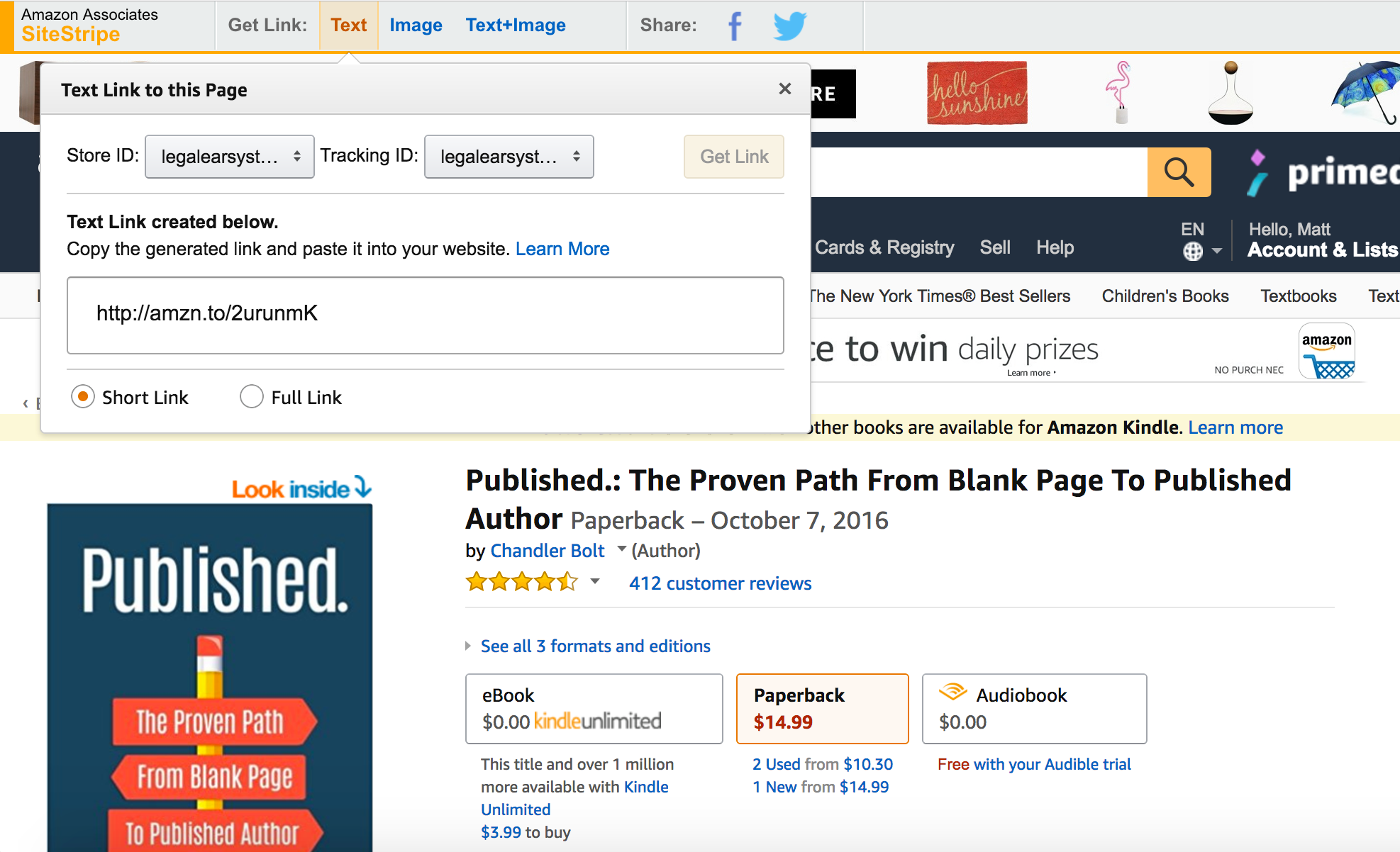 When you are already talking about a book or a product, using an Amazon affiliate link is one of the simplest ways to begin monetizing your site.
2. Sidebar Ads
No sidebar ads are not dead. People still see and click on them. My blog is proof of that. Some of my best traffic comes from the sidebar ads you see on the right side of my posts. The key with sidebar ads is to make sure that they are relevant to the content on your site.
For instance, I write about affiliate marketing, it would not make sense for me to have a sidebar ad for facial cream. Regardless of how smooth and soft the cream may make my face, it isn't relevant to my audience.
Here's an example of a sidebar graphic that Russell Brunson provides for promoting his book, Expert Secrets (which I highly recommend by the way):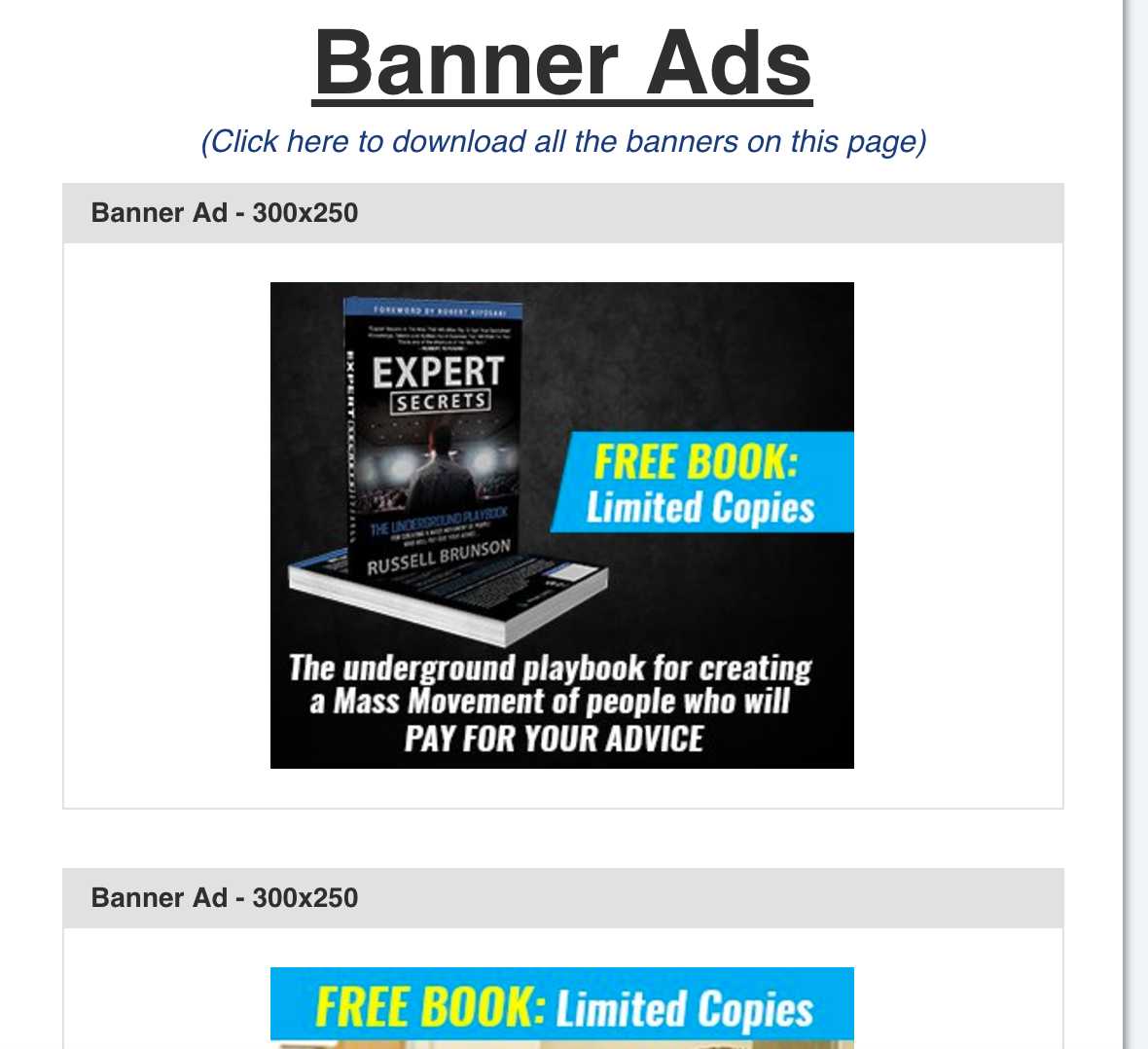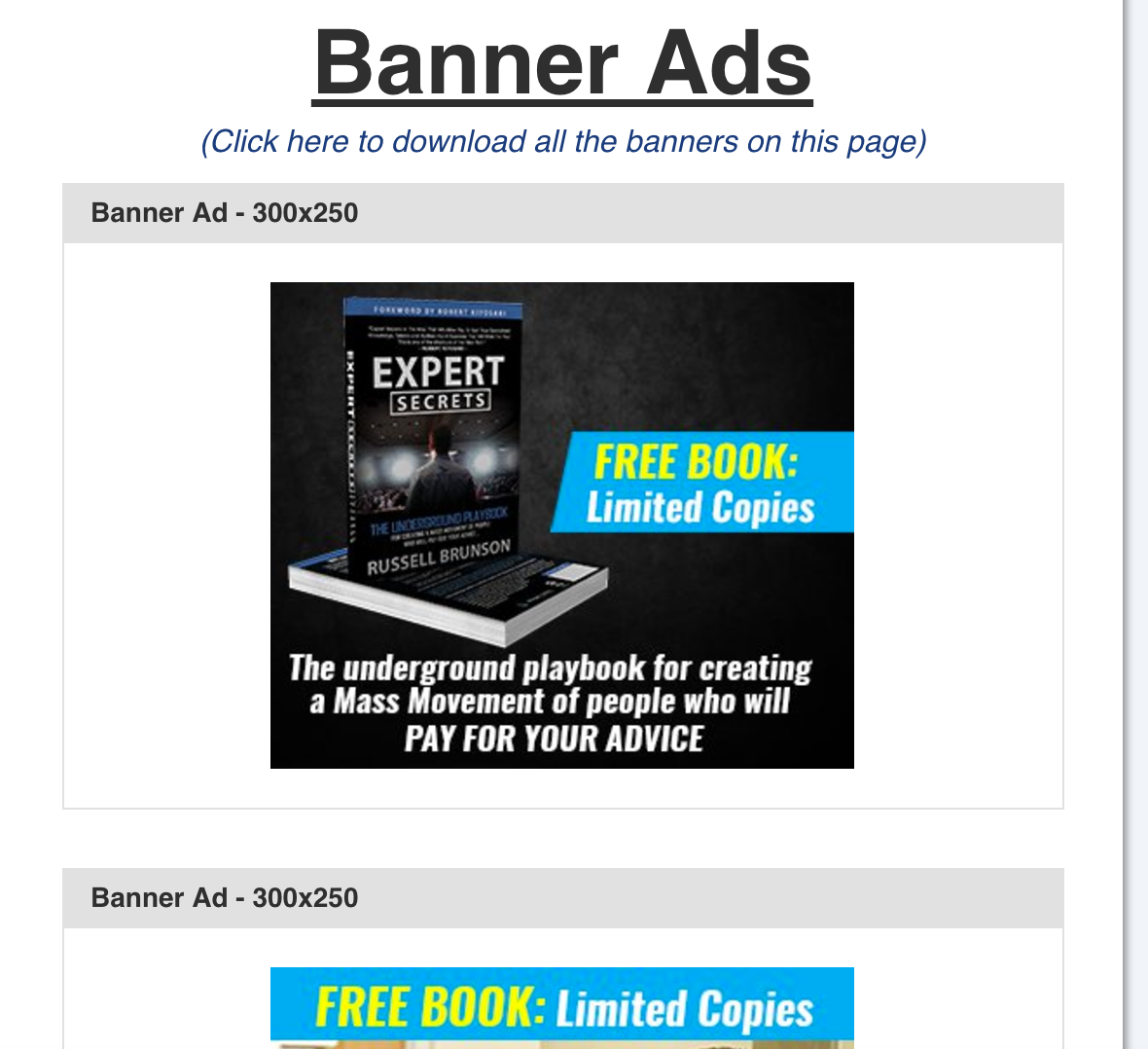 Most affiliate programs and promotions will provide sidebar graphics for you to use to promote their products.
If the person running the affiliate program watched this video, they'd know to include them in their affiliate center. 🙂
3. Resources Pages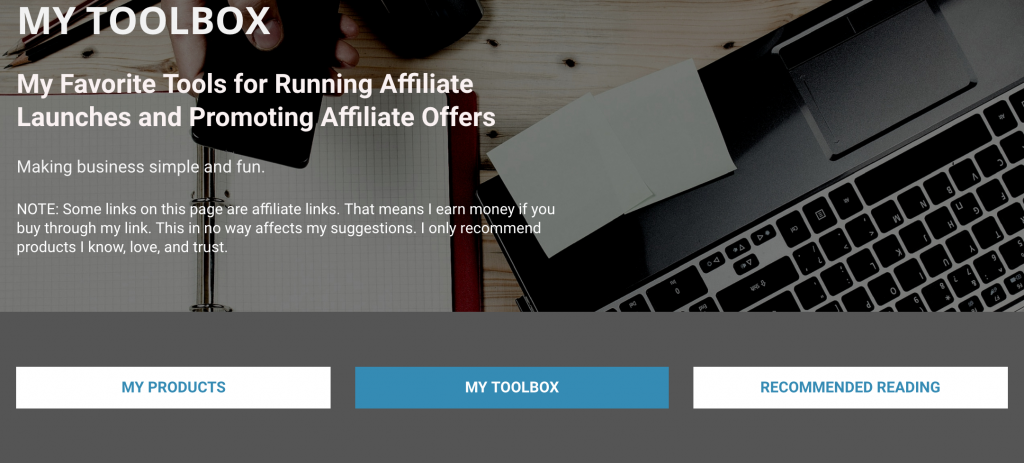 I have talked at length about resource pages. I showed you how to put together a killer resource page that is crazy profitable and how I recently had my first $10,000 passive income month using affiliate links on my resource page.
So I won't go into a lot of detail here, but your blog should absolutely have a resources page.
Go take a look at my resource page to get a quick idea of what I'm talking about.
In fact, having a resource page is so important that we are currently running a contest through April 30th to see who can create the best resources page and the winner will get prizes valued at $1,311.32. Click here to enter the contest.
CONTEST: Learn more and enter the Resource Page Contest today!
4. Product Reviews
On your blog, write some posts where you do an in-depth product review.
These types of reviews have been worth well over 6-figures in income to me over the past 18 months. And the best part, once you write them once, the work is done! I still earn commissions on products that I wrote reviews for 2 years ago!
I did an interview recently with Sandra Stachowicz on how she earned $7,355.68 in a single month by writing product reviews.
Here are two of my biggest takeaways from the interview:
Write like you are writing to a friend. This is a new friend, or potentially a person who is going to make you a lot of money. They are looking for guidance and it's your job to guide them like you would guide a friend.
Give them ways to contact you. This builds trust. Put LiveChat on the page or give them a way to contact you on Facebook…or even call you (yes I have done this!).
And even if the people don't use LiveChat, contact you on Facebook or they don't call you when you provide this information, it builds trust and they are more likely to buy online.
This right here builds trust (and results in some awesome conversations):


I have 9 more takeaways in the post I wrote following my interview with Sandra. Read the full post here.
5. Product Comparison Guides
Product comparison guides are great for your readers. It allows you to compare multiple products at one time.
Think about where your audience is. Maybe you have fitness instructors who need help setting up an email list. You have some that are beginners, some are intermediate and some are advanced. You could compare MailChimp versus ConvertKit and talk about why you might use one or the other. Is one better for a beginner and another better for someone that is intermediate or advanced?
Product comparison guides are perfect when there are more than one product or tool that may be right, depending on the person's circumstances.
6. Go Through Your Old Posts
This might be the easiest way to get started in affiliate marketing.
Odds are, if you're a blogger, you have a lot of old content published that is getting consistent traffic, but you are not monetizing with affiliate marketing.
Go to your Google Analytics and look up some of your popular posts.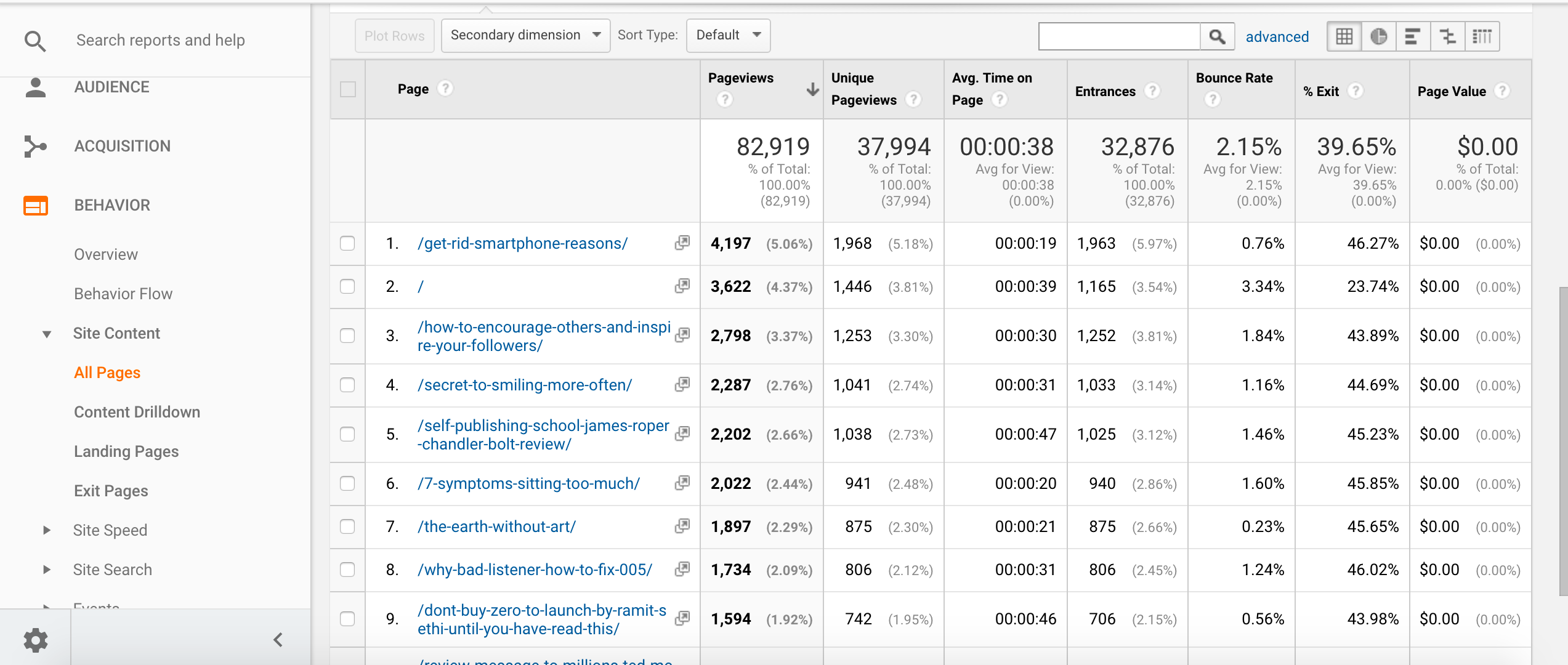 Once you've found your most popular posts, look for places where you can add affiliate links to those posts.
Do you mention a specific product or tool in the post?
Add a link.
Is there someplace where you talk about a specific topic that a product or tool would fit with the topic or make a process easier?
Add a link.
Make sure your old posts are optimized by adding links to relevant and useful products and services.
7. Tools
This is different from your resources page. In this, instead of a resources page, you're going to focus on sharing a "tool of the week" or "tip of the week" (or month).
For this tool or tip of the week, write about a specific tool or service that you are using right now that you are loving, like I did in this post.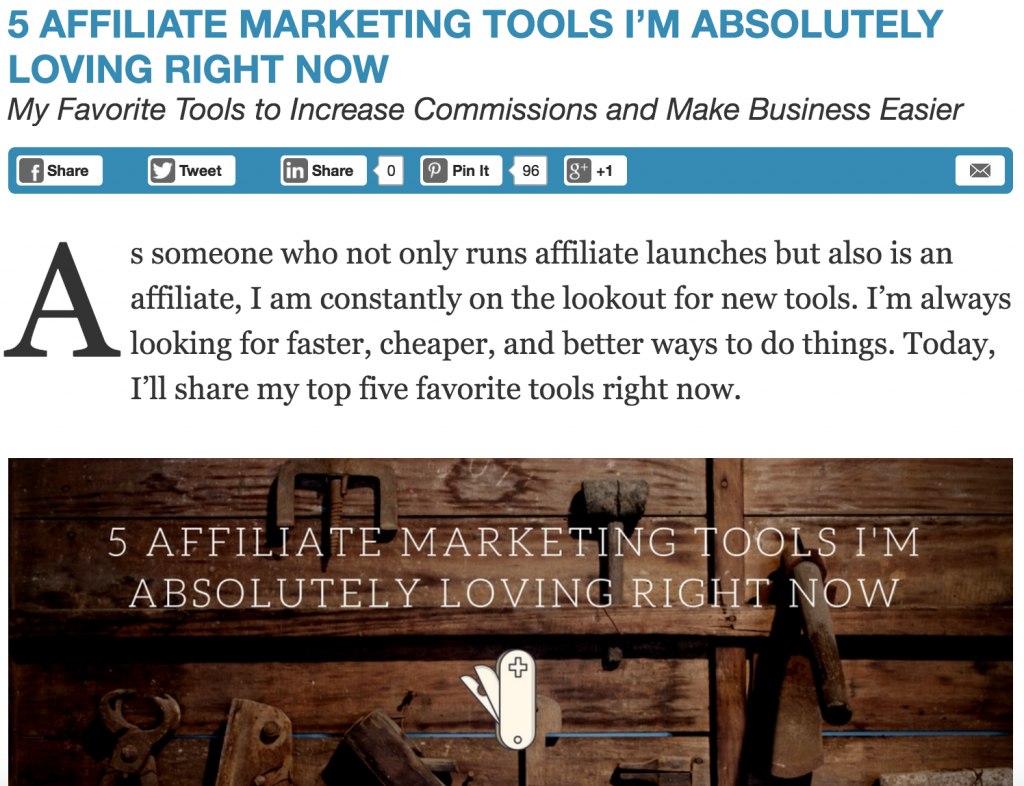 This is a great way to point out new tools that you just discovered or that are working really well for you.
Then be sure afterward to add them to your resources page!
Admittedly, I don't do these regularly enough, but if you do, your audience begins to expect it. They look forward to your tips and tools.
8. Always Look For Places To Include Affiliate Links
When you are writing content, think of ways that you can include relevant affiliate links.
For example, in #5 above, there are any number of examples I could have used for creating product comparision guides.
Why did I use MailChimp and ConvertKit? Because I could link to my affiliate links for both services (see, I did it again! haha).
This has become second nature for me, I am ALWAYS looking for ways that I can include affiliate links in my content.
Once you get to the point that you're always looking for ways to include affiliate links I PROMISE your affiliate commissions will increase!
SPECIAL OFFER: Get my friend Jonathan Milligan's training "Make Your First $1k in Affiliate Marketing with Your Blog" FREE. – Jonathan sells this course for $45 on his site, but agreed to give YOU access for free for a limited time!
9. Do A Written Interview With The Product Creator
Is there a product or course that you think would be a good fit for your audience?
Do a written interview with the product creator.
The product creator may not have time to do an actual interview, but if you email them a list of questions, they will be willing to write their answers and you can use that as a written interview on your blog.
Then you can use that interview as content to promote the product to your audience.
If it is a product that is available evergreen, it can also provide ongoing passive income for you as well.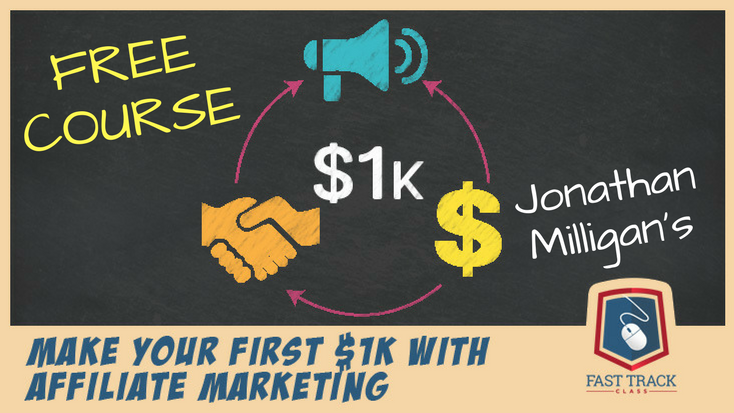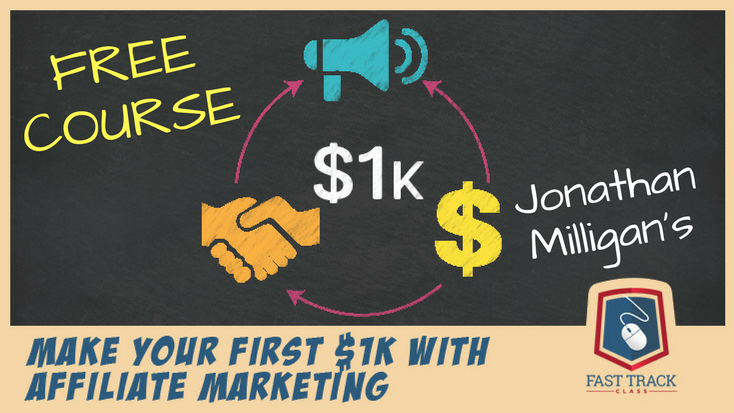 EXCLUSIVE OFFER: Get Jonathan Milligan's Training 'Make Your First $1k With Affiliate Marketing' FREE. (Limited Time)
10. Always Be Growing Your List
This is just a good practice for your blog in general, but make sure you are ALWAYS asking people to optin to your list.
By getting people to optin to your list they become part of a traffic source that you own and control, which means you can email them about upcoming content, resources and tools you recommend (see #3 and #7 above), and affiliate opportunities that you share with them (You can see my favorite ones here).
That being said, you don't want to be obnoxious with your optins – make sure they make sense within the context of the content.
For example, in just this post I included at least 2 opportunities for you to opt into my list…but they aren't obnoxious and in your face…they make sense with the content, so you probably didn't even noticed them (bonus points if you can find all three…haha).
In addition to those three opportunities, every piece of content I link to in this post (over 15…) will have at least one opportunity for you to optin once you get to it.
Don't miss out on the chance to get someone onto your email list, it will help your business in countless ways, including increased affiliate earnings!
BONUS TIP
This tip applies to many of the tips above, but doing this single thing won't necessarily make you any more money, but it WILL save you a TON of time and make your life a lot easier.
Anytime you promote a product or service, be sure to cloak your link using a service like Pretty Link (you can learn more about Pretty Link on my Resources Page – big surprise, right?)
RELATED POST: Should You Cloak Your Affiliate Link?
The simple reason for this is if you EVER want to change the link, you only have to change it once…rather than going back and finding every single time you use that link across your entire blog.
Why would you want to change the link? Well, what if the product your promoting shuts down their affiliate program? Or you find a better product that you'd prefer to promote? Or the company changes their tracking system and sends you a new link?
There are many reasons that you may want to change a link, and when (not if) it happens, you'll be glad you cloaked your link!
The best part? The free version of Pretty Link will do everything you need it to do (I have hundreds of cloaked links and I don't even use the paid version!).
You now have 7 easy ways to turn your blog into an affiliate marketing machine.
If you use even a few of these simple ways you'll be well on your way to a profitable blog and business!