How's your energy level right now?  Do you need a boost? There are two types of people in the world…those who need an energy boost right now and those that will need an energy boost at sometime in the future.  Today, I am going to share with you 5 Caffeine-Free Ways to Boost Your Energy and be more productive.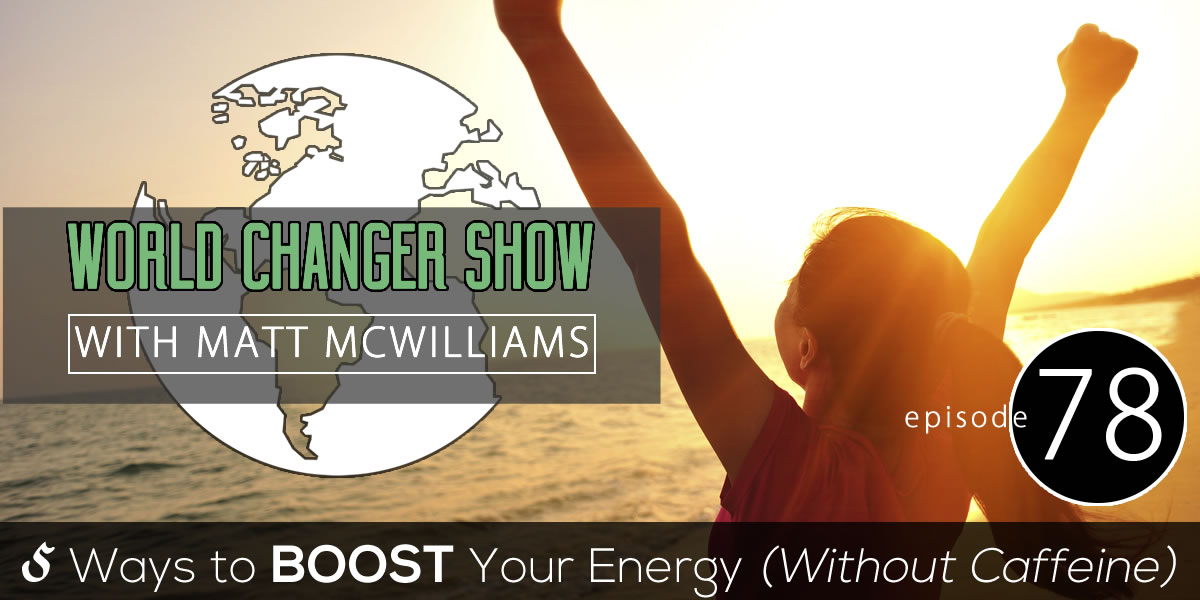 I'm going to go out on a limb and guess that at some point in your life, you have had a lack of energy…Let's face it…Changing the world can be exhausting.  Between work, family, entertainment and activities and everything else that you are doing every day, there is bound to be times when you feel like you don't have the energy to get through the next 10 minutes…let alone the rest of the day!
Of course there are way more than 5 ways to boost your energy…I want to hear what works for you. Leave a comment below with your go to energy-boosting habit, strategy or tip.
In today's episode, I go in depth about my top 5 ways to boost your energy without grabbing that 4th cup of coffee…and it might sound like an exaggeration, but one of these ways literally changed my life! You can listen to the full episode below.
Go Green
Get up and move
Relax
Get the right lighting
Be cool
Action item: Pick one of these tips and put it into practice.
Action item 2: Leave a comment below and share what you do to boost your energy.
Listen to this episode
Episode Links and Resources
POST: How to Retain More of What You Read
Taiwanese Report on the effect of plants on your mood
Quote
"The higher your energy level, the more efficient your body. The more efficient your body, the better you feel and the more you will use your talent to produce outstanding results."
Ask Me a Question
If you have a question, comment, thought or idea, you can leave a voicemail for me or contact me via email.
Subscribe to the Podcast
Share the Love
If you enjoyed the show, please rate it on iTunes and write a brief review. That would help tremendously in getting the word out and raising the visibility of the show so that we can inspire other World Changers just like you.
Next Episode
Join me for episode 79 with someone who is determined to live a life of no regrets.  He has known the pain of losing a child and the joy of living life on his own terms.  He has written best selling books and shared the stage with some of the foremost leadership experts of the past few decades.  He's created a business that helps people lean into their fears, make a difference and live without regrets.  Don't miss this interview!
Upcoming Announcement
I will have an exciting announcement to share with you in Episode 80! It's something that I've been working on for a few months now and it's going play a big part in taking the World Changer Show to the next level! You DON'T want to miss it!
What do you do when you need to boost your energy?